RIA News
announces the results of voting in the microblog of the well-known in Turkey columnist of the radical Islamist newspaper Akyt, Abdurrahman Dilipak. Dilipak, who is also known for his, if I may say so, pro-Erdogan materials, invited the readers of his Twitter page to answer the question of who they consider to be selling oil from DAISH.
Answers were offered in the following format: "Russia Putin", "Syria Assad" and "Turkey Erdogan." The result, apparently, was clearly not the one that Mr. Dilipak wanted. Approximately 78% of users chose the third answer, i.e. Turkey Erdogan.
Interestingly, the Turkish observer hastened to remove both the survey itself and its results, remaining clearly dissatisfied. However, representatives of the diplomatic mission of the Russian Federation in Turkey, who copied the results a few minutes before their removal by Mr. Dilipak, managed to draw attention to the survey.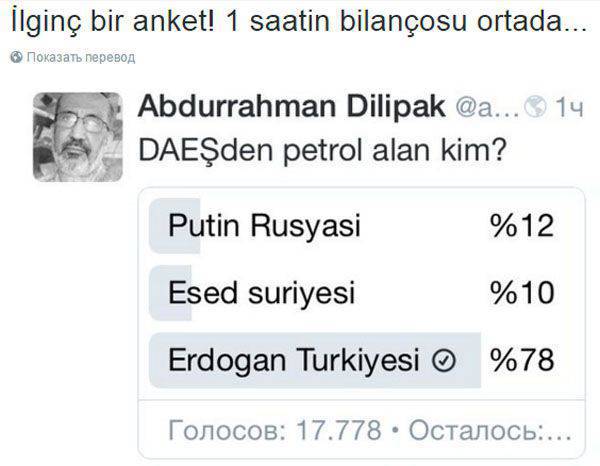 Representatives of the Russian Embassy in Turkey published a note with the words "A curious survey! And its result in one hour ... ". More than 17,7 thousand users managed to take part in the survey.