Next year, the Ministry of Defense will begin to receive UAVs capable of covering a thousand kilometers, reports
TASS
message source in the DIC.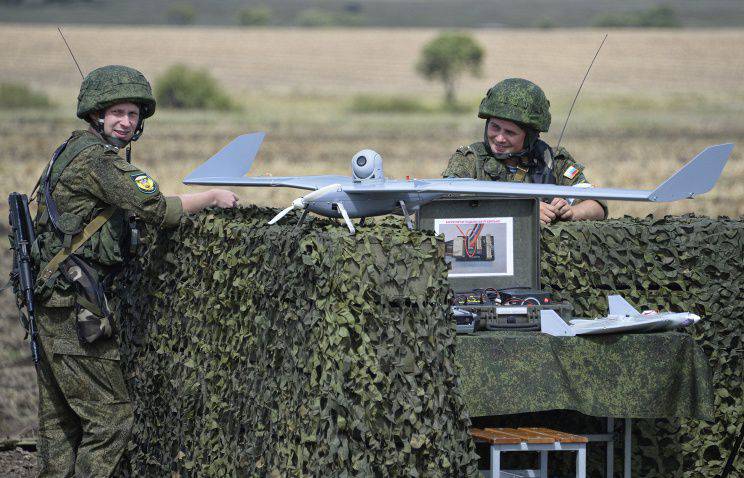 "They will increase the fuel stock, as well as installed new fuel-efficient engines. In addition, the unmanned aerial vehicle will receive an onboard complex, allowing the glider to climb to five kilometers, after which the main engine will shut down, and the drone will simply plan to idle for up to three kilometers, after that the engine will turn on again, and the unit will rise five kilometers " - said the source.
"Due to this, the flight range of the drone will increase to a thousand kilometers," the source said. "At the same time, it will not be controlled from the ground, but will fly autonomously along a previously planned route." Track UAVs will be using the GLONASS system.
"This is done to ensure that it is in a passive radio-electronic field (invisible to radars). That is, during the flight, he does not transmit anything, all the information that the drone receives is recorded on board. After the drone returns to the base, intelligence information is read from it and intelligence information is received, "he explained.
The army will also begin to supply drones equipped with equipment that allows you to integrate them into a single battle management system. This was reported to the agency by the representative of the United Instrument Making Corporation.
"The drones, which will be supplied to the Russian army from 2016, will be equipped with new avionics, which integrates the drones into automated troop control systems," the source said.
According to him, this equipment "provides navigation independent of GPS / GLONASS, as well as high-speed data exchange with command and control centers and all combat units."
"This avionics laid the concept of" network-centric wars ", so that each UAV becomes part of a single digital battle management network," the source said.