The concept of a global strike developed in the United States, which implies the rapid destruction of the enemy's nuclear potential, is impracticable in practice,
RIA News
Statement by Yury Solomonov, General Designer, Moscow Institute of Thermal Engineering.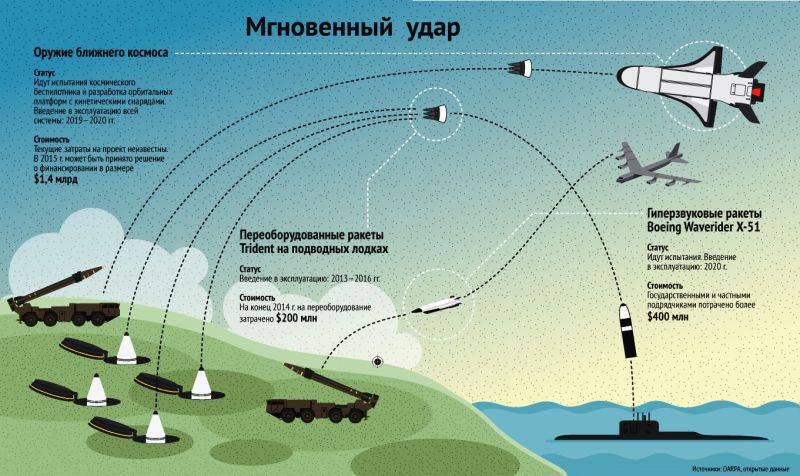 According to this concept, from the territory of America non-nuclear high-precision strike using hypersonic carriers is applied to targets throughout the world. All targets must be destroyed, approximately within an hour after launch.
"The American philosophy of global strike is frankly stupid, because the time is very long — cause irreparable damage for an hour. But existing systems detect flying objects in 5-10 flight minutes. This is already a war, these systems cannot be used ",
said the general designer, who led the development of rockets "Topol", "Yars", "Bulava", etc.
Meanwhile, this idea is replicated, and Americans spend a lot of money on it.
According to Solomonov, "a global blow will not be implemented in practice, but some fragments are valuable for other developments, for advancing engineering thought, including in the civilian industry."
He noted that "a quick global strike is not the first impracticable military concept developed in the United States."
"The Americans in the implementation of the strategic defense initiative (SDI) could not do anything except the scam, which was unmasked by US Congress in 1989, and those from the US Department of Defense, who frankly lied, were simply imprisoned. And the USSR reacted, took it at face value and spent huge amounts of money to fend off these tales, "the designer added.