Hello my dear readers!
I confess, I have been thinking for a long time whether it is worth writing today, because there is no place even for a cockroach in your information space. Passions boil. And here I am, with my thoughts ... But since thoughts are a kind of reflection of everything that is happening with you, then, here you are ...
I look at
news
the tape that we are most concerned about: why Putin was late for photographing the presidents, Russian-Turkish exchanges of "courtesies", the demands of Russian truckers, etc. ... Of course, what was happening on the Russian-Turkish front eclipsed everything. Including the remains of the brains of some of our figures.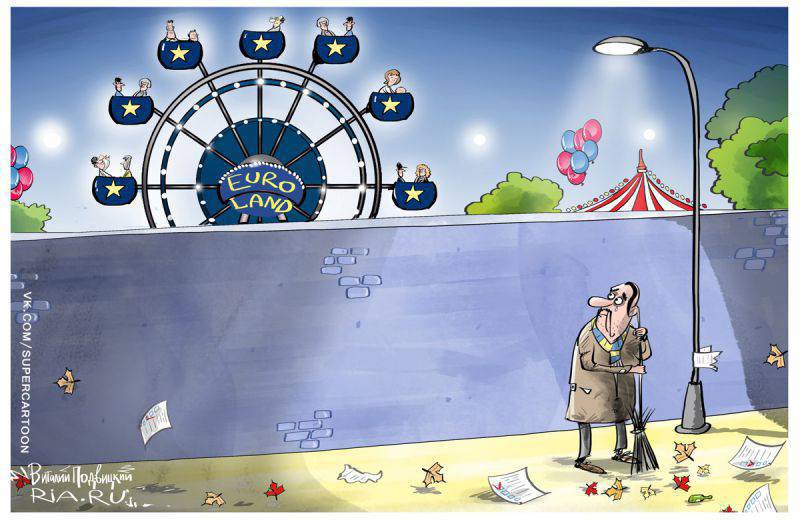 The fact that all dichlorvos dolbanutye, starting from Turchinov, began joyfully jumping from the news of the attack on the Russian bomber, everyone saw this. Well, here only two pairs of legs at once to dissolve, because there is nothing to say. So I will not.
But the fact that the second part, starting from Poroshenko, began to scream loudly that Ukraine is ready to replace Russia in the Turkish market, this will be voiced. Because he was a witness. He sat quietly and quietly went crazy. And from the volume of screams, and from the point. They say that yelling is not tossing bags. But some deputies turned purple as if these bags with cement were dragged on themselves.
It is clear that the stars were, where do without them. But they were so quickly shut up that no one really had time to say anything. For screaming another Peremoga. That's just why it is not clear.
It is difficult to say what the oravshie used. But it is also difficult to say how Ukraine can replace Russia for Turkey. Gas no. There is no oil. No coal. What else is on the list is necessary, you can not watch. We have nothing. Reality, I'm sorry.
And most importantly: you do not need to be a great cockroach of mind, just to take and count. And to understand that for every dollar that Russia paid to Turkey, there are 5 dollars that Turkey pays to Russia. And what can Ukraine offer to take the place of Russia? Apparently, only "Natashek."
And we also will not offer money that the Turks will not suffice in exchange for their products. It is clear why.
That's how we live. As in the old Jewish song "Seven Forty." With an increasing pace. That's just the essence of the text is very different.
"The train of happiness rushes,
How long will the journey last?
That no one can tell us. "
In general, it would be time. Peremoga after Peremoga, and everything goes so far. And the further, the more it seems that our train really goes downhill.
I'll tell you about one more mine, which has already been laid under our rails. And not only laid, but also undermined. Mina in the form of a tax reform project published by the Ministry of Finance that can really finish off the Ukrainian economy already completely.
What is there? In short, there will be no liberalization and reduction of the tax burden, there will be no internal and external investment, there will be no simpler life for surviving enterprises.
Telling tales about a possible future budget hole in 200 billion UAH. from the adoption of the proposed alternative law 3357, developed by the parliamentary committee Southerner and a group of experts, the law 3357 trying to bury. Also quietly and without honors.
And I can only add to the promises of the Cabinet of Ministers about the future reduction of the tax burden, that in the latest published version of the budget from 30.11.15, for some reason, its increase in 2016 by 47 billion UAH was pre-arranged! Although today we see the current budget surplus and "record" amounts of balances in the Treasury. What says inflation is not in 12% budgeted, but almost in 50%!
And at the same time, the "project of the Ministry of Finance" proposes to raise the basic tax rates, struggles with the "simplification" and spins the flywheel of inflation further. Not paying attention to the loss of budget from inefficient activities:
- losses of state enterprises in 120 billion UAH;
- losses in social funds in more than 50 billion UAH;
- loss of "administration" of VAT in 70 billion UAH (according to the ex-head of GFS Belous);
- losses from servicing a huge number (hundreds of thousands of meters only in Kiev) unnecessary for the state apparatus, DUSI, various institutions, foundations, academies, etc., of an incredible number of buildings requiring repair, heating. At the same time, they are clogged up with muddy tenants who officially pay pennies but have suspiciously long contracts! And this is only in the capital of the loss of more than 25 billion UAH.
That's how we live. The wheels are spinning, the train seems to be rushing somewhere, and somewhere ... Of course, we definitely will arrive somewhere. To native palm trees. On which all together we will get. Those who survive, of course.
Already not even sad. Just as a fact, you mark another peremog, knowing in advance that it will turn into a very zrady.
Crimea de-energized? Peremoga! So they, the Crimean, let their occupiers supply! So the occupiers will supply someone with brains still in place, they understand this very well. And they understand that we are unlikely to be cherished and cherished, as before. And winter is coming ...
Donbass blocked! Peremoga! Let die, separable klyatyh! And they do not die out. And get paid. In rubles. As if the ruble against the hryvnia is not quoted, it is better to have a ruble than not to have a hryvnia.
Aircraft shot down a Russian. Peremoga! So they, who are against the Russians, are our brother! Well, yes, came "brother" Erdogan to Poroshenko. Well, Petrusha licked him from feet to ... well, you understand. And what has changed? Erdogan many who licked. Only a few people can boast of the result.
Wild game, however, wild. We rejoice in every mote in the eye of a neighbor. And we do not notice logs in our eyes. No them. The log today on the road is not lying. And even more so in the eye. A log in the conditions of the coming winter is a very valuable thing. More substantial than some pemog will be. If for a single human person.
So much for Ukraina.net catalog. Ukraine is a catalog, but nothing else. There is no budget. No money left. No coal. Gas no. But the saddest thing is that there are no brains either.
But the train goes to a brighter future.