Not even several hours had passed since the briefing of the representatives of the Russian Ministry of Defense, which presented photo evidence of the transfer of huge amounts of oil from the territories controlled by ISAH (ISIL), to Turkey, as the voice of the Pentagon. US military official Elissa Smith announced that the United States
do not have
data on the links of Turkey with the smuggling of oil DAISH.
RIA News
cites a statement from a Pentagon representative:
We reject assumption that the Turkish government is in collusion with the IG to smuggle oil. We have not seen any evidence to support such allegations. Moreover, Turkey is taking steps to enhance the security of its border with Syria, along with international partners. Our goal here is to block the smuggling of (oil) IG.
Smith:
We consider our NATO ally Turkey as a key partner in the coalition to combat IS. As is the case with all our other partners, and as the President (US) noted in Paris yesterday, we continue to discuss with Turkey what else they can do within the coalition, and how we can better cooperate to ensure victory over the IG.
What else can they do? .. Well, for example, to heal a couple of thousands of militants in their clinics, bomb the formation of the Kurdish militia, send under the guise of humanitarian aid a hundred or two tons of ammunition to terrorists DAISH and "al-Nusra" - and all this with consents of the "key partner" from the USA. They are already doing it, Ms. Smith, and Washington is well aware of it, and therefore the coalition is beating not at the DAISH oil fields, the Aleppo water pipeline ...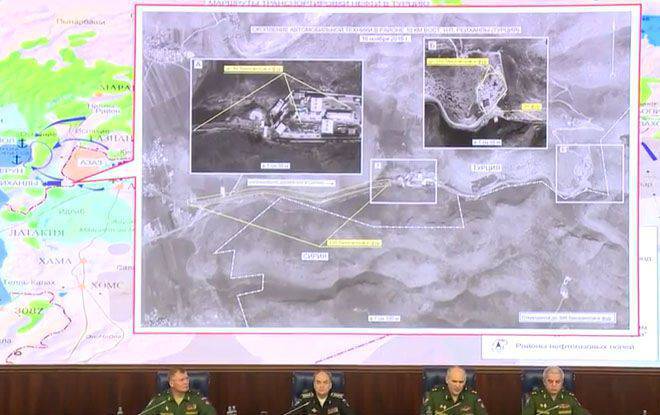 It was difficult to expect any other statements from the Pentagon, because, as the well-known wisdom says, the crow does not peck out the crow. A lot of crows flew into Syria ...
Meanwhile, Turkish President Erdogan declares that all the charges against him are "false", and further hypocrisy, crossing all borders:
Turkey has not yet lost its conscience to receive oil from a terrorist organization.
Perhaps Turkey has not lost yet ... but Erdogan himself ...