A truly surprising and blatant decision in every sense was made by the French Ministry of the Interior. French media reported that the country's Ministry of Internal Affairs and its head, Bernard Kaznev, personally, decided to ban fans from visiting a football match between the local Bordeaux club and Kazan's Rubin. The French Interior Ministry issued a report stating that Russian fans are prohibited from attending the final round match of the Europa League group stage, which will take place on December 10.
At the same time, Mr. Kaznev motivates his decision by the fact that the French authorities are concerned about safety. Moreover, the message Kazneva states that the danger can be (attention!) And the Kazan fans themselves.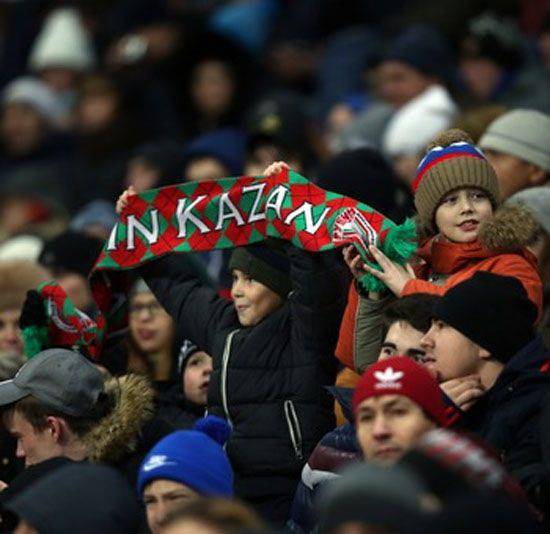 A letter was sent to the President of FC Rubin from the French Ministry of the Interior, which, inter alia, states:
We attach to this letter a decree of the Ministry of the Interior, prohibiting the fans of the FC Rubin team from moving between any frontier points of France (airport, railway, road border) and the Bordeaux commune.

Article L. 332-16-1 of the Sports Code, which comes out of the 60 article of the 2011 March Act 267-14 of 2011 on ensuring internal security, allows the Ministry of Internal Affairs to prohibit individual or collective movement of people who are fans or who behave as such and can bring significant damage to public order.

People who do not comply with this ban will be subject to a six-month prison sentence and a fine of 30 000 euros. In addition, they will be subjected to a total ban on visiting the stadium for a period of one year, unless some other reasoned decision is made.
Since fans usually arrive on the eve of the match, the ban takes effect on December 9 at noon and December 10 expires at midnight.

This ban will ensure the safety of people, in particular the fans themselves, and the favorable course of a sports meeting ...
"Favorable course of the meeting" without fans? ..
The official website of
FC Rubin
regretted by the decision of the French authorities, which leads to the fact that they are again and again trying to introduce policies to the sport against the backdrop of security statements.
If Mr. Kaznev cannot ensure the safety of sports competitions in France, then either these competitions need to be transferred to another country, or Kaznev himself must write a resignation letter.