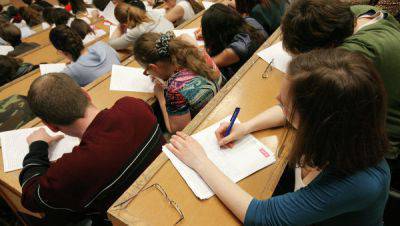 Today it is not about the armed forces or deputies. By the words "the future of the Luhansk region" I mean those professionals who will have to work for the good of their republic. It is specialists, because the issue of personnel hunger is one of those that are the cause of the vague situation that exists today.
Indeed, it was quite easy to equip power structures. Although there are enough distortions. But even the people of Lugansk themselves admit that the legal system of the LC is in the deepest crisis. One should not even talk about the rest of the structures, since the farther from the front line, the less attention is paid to them.
So where to get these same frames?
It begs the answer - to educate and prepare. It seems to be all for this. But let's look at the existing picture, which I will draw using my sources in the formation of the LC.
Today in Lugansk operate 4 university. Medical, agricultural, engineering and pedagogical. The list is not bad. It lacks only legal. But this is only at first glance.
Institutions are bled in terms of teaching staff. To date, the level of equipment teachers is 40-50%. At present, however, there is some inflow back from Russia, but at the same time there is an outflow to the territory of Ukraine.
And not the worst shots are leaving. And leave for a good reason. In the LC, it is impossible to protect a scientific degree. That is, either out of a sense of patriotism, a person should forget about the work done for several years, or go where it can be done. Absolutely not going to judge these people. Scientific work is something from which it is personally very far. But, apparently, not everyone wants to throw. And this is understandable.
Yes, and with the protection of ordinary diplomas from graduates of Lugansk universities, everything is also sad.
In 2014, all forms of education were free. As a result, a large crowd rushed in. 20-25% were one of those that "everyone ran, and I ran." In addition, there was an additional factor that stimulated admission: Lesia Lapteva, the first Minister of Education of the LPR, promised that everyone would receive Russian diplomas. Alas...
Lapteva is no longer at his post, which greatly pleased the whole teaching party. But there are no diplomas either. There are some of the lucky ones who got into experimental programs with Russian universities. Part defended in Novocherkassk, part in Kostroma. But only defended. No graduate 2015 of the year has received diplomas. The bureaucratic reconciliation of the difference in watches, objects, etc., actually killed the root experiment. And among Russian universities, of which there were few among the volunteers who want to help Lugansk students, the desire was also reduced by an order of magnitude.
Diploma ... but is it so important? In principle, one of my interlocutors, not yet graduated, but sort of like an expert in the field of IT technology, said: "In order to demonstrate my level of knowledge, I need half an hour and a computer. So I am without" crust "live". Everything is clear with programmers.
But logical reasoning, the young medical specialist will not be able to say that. "Give me the patient, the scalpel and half an hour ..." The analogy is clear, right? Does not pass.
Of course, the Ministry of Education of the LC can issue its certificates confirming the training of a person. Which will be valid on the territory of the LC. But this is already a reservation for the TMR scenario. Honestly - I would not want to. Not such a big problem - to re-certify Luhansk residents in Russian universities.
Yes, it is quite possible that many young professionals would like to work in Russia. What is the problem? Internship, practice, internship - who is bad? I personally have no special doubts about the fact that they mostly return to their majority. In the worst of times, they did not run away. But this is also a matter of relevant work with young people.
Yes, 2015 is a very different year from 2014. Yes, correspondence courses have been paid. Exceptions are made for staff MO and MGB. The rest - for the money. For 4 (FOUR !!!) thousands per year. Honestly, when I saw the number, I was hysterical with laughter. As a payer for a full-time student in Russia.
And scholarships for students (who deserve it, of course) are also paid. 1 400 rubles. Also as if without comments.
With the salary of teachers, too, everything is relatively adjusted. They gave me these numbers.
In 2014, the faculty received a salary in October for September (in UAH). The next, in October, paid 2015 in April. November and December are "forgiven."
In January, 2015 gave 50% for January (in UAH), February and March were also "forgiven". In April, gave the October and the part for April.
And then something happened, and from May to the present began to pay every month. In rubles.
Behind these dry lines are months of lack of money with increasing prices under blockade conditions. Engineer - 2500-3000 rub., Assistant, teacher - 4000 rub., Associate Professor - from 5000-7000 rub. (depending on the length of service). This is a paycheck. Last year, everyone worked on the 1,5 rates. And in reality, the load was both 2 and 2,5 bets on the bayonet ... that is, on the head. But the ceiling of receipt - 1,5 rates. But also that joy.
Weathered, survived. Saved. Now would hold.
With the financing of small things for uni type: paper, textbooks, consumables, maintenance, garbage collection, etc. - Problems. With paper especially. And consumables and spare parts for office equipment - a complete nightmare.
Since there is no normally working treasury, everything is sad with the allocation of money for the maintenance of universities. But in war, as in war.
But corruption has decreased significantly. The level fell back to the first half of the 90-x ... Ie, the lack of system fees in the vertical. And constant reminders about the MGB are doing their job. Plus, the people have become much poorer - with nothing to take. And what can be taken, it is better not to get involved. Here in this issue overtook Ukraine ...
In general, the patient is more alive than dead. But the patient really needs help. And it's not even money. The thing is in the attitude towards those who prepare Lugansk universities. And they are preparing their future in the first place. And, by the way, ours too. We like to live with them side by side. And I want it to be literate people, unlike Laptev and similar creatures. Able only two actions of arithmetic - to take away and divide.
The future tomorrow is laid today. This law is the same for Russia and Donbas.