Representatives of the so-called "Majlis of the Crimean Tatar people" - an organization that receives funding from overseas sources, unanimously said that the imposition of sanctions by Russia against Turkey in connection with the attack of the Turkish Air Force on Su-24 Of Russia. " Nariman Jelyal, who called himself the first deputy of the "Majlis", expressed "extreme regret" that the Crimean Tatars in Simferopol took part in the rally, on which Erdogan's "effigy" was burned, and that the Turkish embassy was thrown with eggs and stones in Moscow.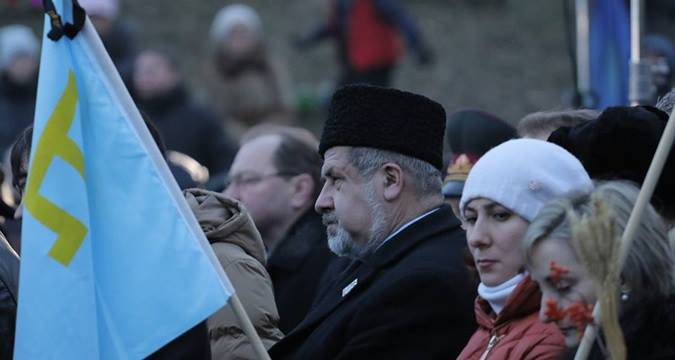 And this statement of Ali Khamzin, the head of the external relations department of the so-called "Majlis":
The burning of the effigy of Erdogan in Simferopol by the "public" (the word is quoted in quotes in a material published by the "Majlis" itself - note "VO") is at least a manifestation of the extreme form of the incorrect attitude of the Crimean and Russian authorities to Turkey (...)

By the way, the Stalinist regime, when the population was being destroyed, liked to insure itself with the active support of "Soviet society", who squealed in ecstasy "to shoot the enemies of the people" (...)
Further, Khamzin states that "there is nothing special about the strike of the Turkish Air Force on the Russian plane, and therefore" the difficult stage of relations must be overcome as soon as possible ":
In relations between states, anything can happen ... and even such a fact as a downed plane!
Moreover, there is a clear fault and Russia, which began to bomb IS in Syria only with the approval of the United States, but without deigning to coordinate its actions with Turkey, as with a good neighbor. It's a pity, because Turkey proved it, openly refusing to support international sanctions against Russia!

But today it is difficult to predict something when the State Duma is seriously discussing the issues of the forced accession of the CIS countries to a certain neoSovok! Let's hope that the mind in the Kremlin will prevail, and Turkey is clearly ready for political dialogue.
I wonder where it all came from representatives of the self-proclaimed and unrecognized Crimean Tatars living in the territory, in fact, of the Crimea, information about Turkey's readiness for political dialogue? And why all of a sudden such concern for the interests of Turkey and no concern for the interests of the Crimean Tatars themselves, who, among other inhabitants of the peninsula, are deprived of the opportunity to consistently receive electricity after the terrorist acts committed with the filing of representatives of the same "Majlis"? Probably, all the hype due to the fact that the Majlis is actively feeding from the hand of "friends" from Ankara ...