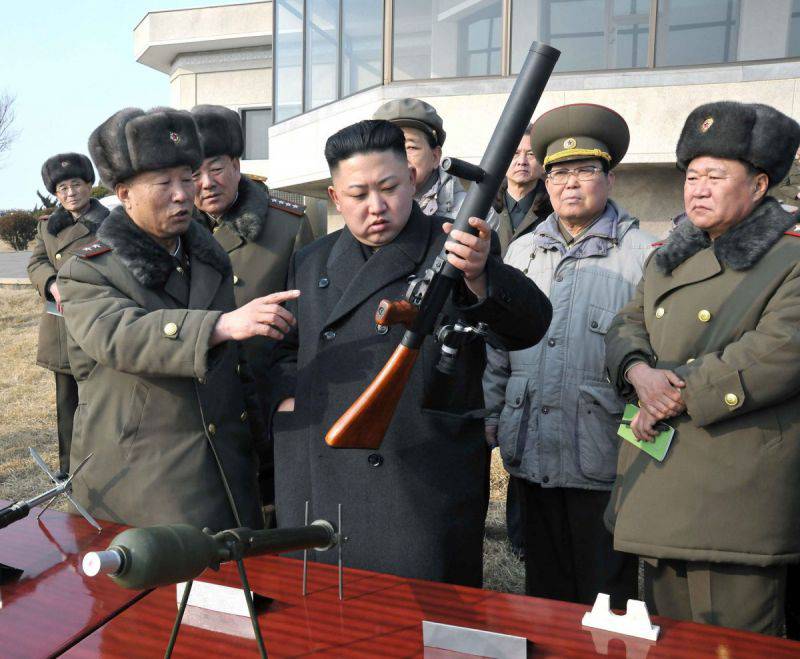 A long time ago, I read how a group of students, having decided to "troll" an average person, walked through the streets of Kiev with slogans and banners of the North Korean regime. Apparently, then it was fun. In general, Ukraine always seemed to me to be a peaceful, gay and free country. And it seemed to me that, unlike Russia, it is waiting for some kind of its own, unusual future. It should have turned out to be something interesting for this South Russian people! I was really interested. I considered the first maidan to be a ridiculous accident, a mistake. Well, there were idiots, staged indecency, but Ukraine is a big country, the inertia of events will move it in a completely different direction. Couldn't Maidan be the only future for an 45-million country? There must be something else in the fate of the Ukrainians. Something positive and interesting. Therefore, the second Maidan was for me a complete surprise.
And this was by no means pink idealism - Ukraine was a large civilized European state with a high level of literacy and education. Compact, relatively warm country with access to the Black Sea. Or rather, like this: the entire south of Ukraine was washed by the non-freezing Black Sea. The country is much less problematic than Russia. There is no Caucasus. (The Caucasus is good! But it's problematic.) The population is quite homogeneous, the language is understandable and beloved by all Russian. Developed industry and advanced nuclear power as the basis of energy balance. See how interesting it all began? There is no open border with China and the world of Islam, there is no military threat. Enumerate the benefits can be infinite. What about "stolen nuclear
weapons
"I will say this: it means not a" grand piano in the bushes ", but a big headache and serious" games of big boys ". There are no small quiet countries with a nuclear bomb in the subfield. Nuclear suitcase - this is not a means of resolving disputes "in the communal kitchen." Ukrainians have never guessed that the presence of nuclear weapons would make them a target for NATO simply out of a sense of self-preservation.
In general, nuclear weapons do not start from a good life, so without it in Ukraine it was better and calmer. At first there were no serious conflicts within the country. Debts too. Life seemed simple and wonderful. So, forgive me, what did the Ukrainian "Vlad" do with such an indecent 22 of the year, that everything ended in a terrible and absolutely incomprehensible to an external observer catastrophe? Frankly, I do not know the answer to this question. All I know is that such a country was doomed. A country where their own citizens are beginning to be killed "in batches," and all this is welcomed. Where is the democratically elected president forced to flee abroad a year before the elections, which he did not cancel. And they are trying to intercept and kill him. Where they begin to dump the monuments to the founder of the Ukrainian state and smash them into pieces, where the police begin to kill and cut alive.
You see, I'm not interested in the ideology of those who perpetrate mass murder. Irrelevant this. Actually, what happened in the "country of 404" is very much like a typical American horror film. Pass thrash. Well, as the plot goes: at first everything goes well, then a fun suburban trip turns into a nightmare, by the end of the film only a few (s) survive. Blood and corpses unlimited. Ukraine did not become Europe, it became a living nightmare. A nightmare where people disappear, but no one is looking for them. The most surprising thing is that many try to look for some kind of politics and ideology there (in Ukraine). It is not clear, well, what could be the ideology in the "Texas Chainsaw Massacre," what kind of politics could there be? Some people (ludeny?) Cut others and get pleasure from it.
There is no longer a Ukrainian state (if it ever existed) there is a certain territory of Ukraine, where anything can happen, to talk about integrity, which is quite funny. All claims of Ukrainians for the return of the Crimea and Donbass are completely groundless: there is simply no one to return and nowhere to return. Ukraine is not. Already not, unfortunately. State institutions are completely destroyed or discredited. So, one interesting question inevitably arises: what will happen next with the territory of Ukraine? You see, Russia proceeded from the fact that once the Ukrainian economy is tied to it, then a complete break is impossible. We were wrong - possible. Ukrainians thought that once they became "part of the West," Western living standards would spread to them. They were wrong - no one is going to develop them. The leaders of the West proceeded from the assumption that they would seize political control over Ukraine, and that the economy would continue to be supported by Russia, in order to impose sanctions. They were wrong - Russia uncoupled the Ukrainian trailer.
That is, everyone was wrong - both white, and red, and green ... And the forester came - "supercrisis in Ukrainian." The territory in the center of Europe without a working economy and legitimate authorities (let's not disturb the shadow of the president's pan - it's not easy for him). I just feel that most did not realize the scale of the problem. All right, Europeans think dolls from the TV for them, but Russians have the same clouding of their brains. People ask: "When will Ukraine collapse?" The question is wrong - it has already collapsed. Just as in the human body, some processes go by inertia after the death of the organism. But there is nothing to rejoice here: we got a huge "gray zone" near the borders. Weapons, drugs, terrorism, trade in living goods. This is not a fantasy, this is a harsh everyday life.
In the modern society of the "first world," one ordinary member consumes a lot of resources: bread, meat, gasoline, electricity, jackets and televisions. And consumes until the most natural death. Pensions, you understand. By the way, this was not always the case: most of the human
stories
the amount of resources available for consumption was strictly limited, and the number of ordinary members of society was easily and elegantly regulated by cold, hunger and disease. Option: hunger, thirst and tsetse fly. Brezhnev socialism has spoiled us all very much (without irony): we all think that we have the right to work, rest, medicine, education and self-improvement to the level of the 70 elf. And the ruler must give us all this. I must be obliged from the word, otherwise we will be dissatisfied, we will take to the streets and deal with public European integration.
But it was not always, or rather, it was almost never. The ruler usually had one duty to his subjects: to rule over them. Sounds insulting, intolerant? But that's exactly how it always was. I write "Brezhnev socialism" because Stalin was completely different. And even Khrushchev (and especially for "extra" officers "). In general, Brezhnev is the great and largely underestimated ruler of Russia. A kind of Soviet Augustus Octavian (joke). So, returning to our Banderovites: what to do if there is a "European-oriented" population, and there are no resources to support European living standards? In this situation, by and large, there is nothing unusual: most of the human history of the services of doctors were available only to the elite. That is, seriously treating a person in the mass was "unprofitable" for society. It was easier to "make" new ones. It sounds extremely cynical, but that's how it happened.
I once read such a writer, Veresaeva (by profession of a doctor), and so, in Russia at the beginning of the 20 century, the main part of the doctors worked in capitals and large cities. For at least half of the population of Russia, the doctor was not available in principle. And even in large cities, not everyone could pay for his visit. These were not the horrors of tsarism, but objective economic realities. Yes, I also want a "smart home", two cars, a helicopter and a visa-free Schengen (here the situation changes faster than I write articles). The question is not "Wishlist", the question is where to get resources for these "Wishlist". A person's life depends on the political regime, because - "Panda, get out!" Here our Ukrainian friends are absolutely right - it depends, it also depends. But any regime is based on available economic resources. And this is also true. And it is the availability of these same resources that determines the possible types of modes. That is, first of all, all the same resources, and only then a formidable / good tyrant / president.
It is possible to develop the economy, but this is a long and ambiguous affair. You can rob someone from the neighbors (the magical cause of most wars). But this is a dangerous, costly and unpredictable matter of results (if you do not believe it, ask your German comrades). It is also possible to withdraw part of the "population" from active consumption, lowering slaves, serfs or "non-citizens" to the level of slaves. Wow option too. But returning to Ukraine and trying to choose a rational option for further existence, I involuntarily turn to the example of North Korea. And it's not about the love of oriental exotic. The point is this: the first is that this territory cannot be left entirely without control (fraught), the second is that Russia will never finance it, the third is that the West has no extra money for anyone. And what will be the solution? Formerly developed country with a formerly developed industry and a former educated population. And there is no money at all from the word ... Only Juche, only hardcore.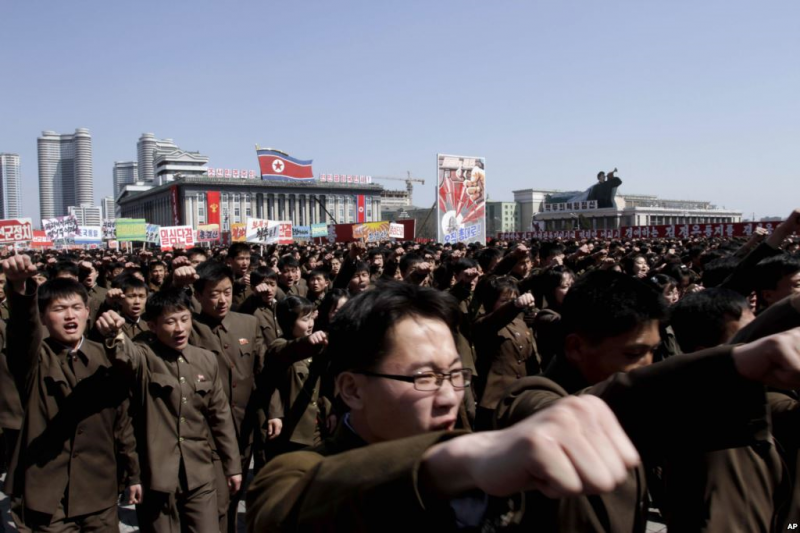 Strong discipline, powerful ideological pumping, poor rations, lack of hot, and perhaps restrictions on cold water, even in large cities. Problems with heating (perhaps its absence), interruptions in electricity (perhaps, on schedule). Degradation of education and medicine (return to pre-WWII level). In North Korea, too, was created a powerful industry, which then went bankrupt. And there was a rather peculiar "post-industrial" society. So, Ukrainians need not only and not so much to study the realities of France (even Russia is completely irrelevant for them as a model). They need to study the experience of North Korea. The ideological idol is Bandera Ban, further down the list. Instead of building a bright future - endless integration into the EU. North Korea's main enemy is South Korea, with a much higher standard of living (although the North Koreans have not switched to "their" language). So, Ukraine will have a main ideological enemy - who would you think? - Russia!
The story is actually rewritten, reality is distorted with the help of Goebbels-TV. The streets are being renamed, monuments are being demolished ... In the "eastern provinces" salvoes of war with the "main aggressor" thunder, recruits leave for the front, funerals come back ... I want to reassure Ukrainians: they will never lose the war - the war in Donbass will be endless. The regime does not need a victory, it needs an endless war with an enemy that can explain everything. In general, in order to experience the future of "European Ukraine", it is necessary to re-read (namely, re-read, this is a great book about Western civilization) "George Orwell's 1984". The morning of an ordinary Ukrainian will begin with a "teleplay of hatred": the separatists, the aggressor country, Putin and his atrocities.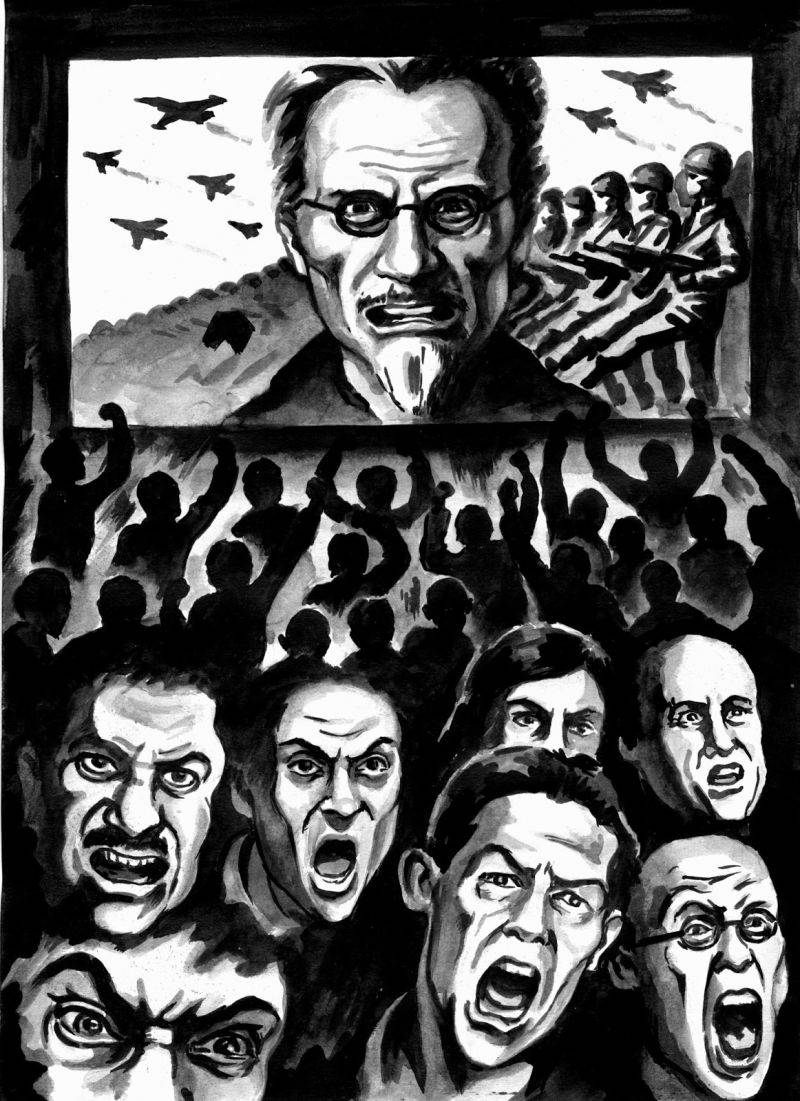 Poor breakfast, then pathetic attempts to "earn a living." I think, with the money of the European Union, massive "public works" will be organized for rations, rations will be plundered by local organizers. As we well understand, the borders of the "territory of Ukraine" will be tightly closed on all sides: barb, patrols, dogs. And on both sides of the border. A passport with a trident will become a stigma of infamy and second-rate, but it will be almost impossible for a Ukrainian to get some other document. It is clear that Ukraine will be governed by citizens with completely different passports (in the sense of everything).
This is not a fantasy - the flight connection with Russia is already blocked, the Crimea is blocked, Ukrainians are not allowed into Europe. Good
news
: the population of Ukraine (Reichskommissariat Ukraine?) will gradually decrease, 40 million is good, but too much. Need to save. The fact is that the Ukrainians stopped producing something useful for someone ... Or they were forbidden to do it (the refusal of Russian military orders is hundreds of thousands of unemployed and hungry). With an independent national government, they would be tried to somehow save them. But the "government of Ukraine" is under complete external control, and the Americans are not interested in spending money on someone's salvation. Therefore - "the best genocides". Understand, this is not a horror story, but a harsh economic reality. Some rogues seized power in Kiev (by murder), and a wave of murders swept the whole of Ukraine. And no one, I repeat, no one answered for it. That is, human life in Ukraine has ceased to be of serious value. But money just saved such value.
In the coming months, Ukraine is waiting for the beginning of some terrible transformations: the country is tightly minus in money and continues to spend them actively. And this is unacceptable for new owners of Ukraine. In essence, Ukraine repeated the path of Argentina. Once Argentina was quite a country of the first world. Sometime at the beginning of the 20 of the 20th century there was an expression in France: "Rich as an Argentinian". That was, that was. Now it is a thing of the past, but Argentina was a rich country. Now there is a third world. That is, the movement in geopolitics is possible not only "upward", like in South Korea, but also "downward", like in ill-fated Argentina. Again and again, it is clear that many Ukrainians keep in mind the thought: "Then I will leave." Too late, in the sense of quite late. Do not wait for Ukrainian citizens anywhere. Freedom of movement is a kind of liberal myth. Yes, on TV and on the Internet you can see two hundred countries and thousands of beautiful corners of our planet. And they are waiting for you there, they are waiting for you. Like a rich tourist with money. If so, then yes, of course. You come, leave your money ... and leave. When there were not enough people in the United States, Argentina or Siberia, they were very much welcome there. Labor on the undeveloped expanses is always needed. And it was just needed rough labor for the development of new lands.
Now most countries are well developed. Europe is generally chronically overcrowded: too many people, too little work. Emigration to Europe is some kind of strange nonsense when they emigrate to where people are already sitting on top of each other. Europe has ceased to be the center of the world and the colonial metropolis for a long time. Europe can only rely on its scarce resources to maintain its population (the colonial tale is over!). Europe does not need crowds of Ukrainians, not at all. Europe simply portrayed unlimited hospitality for political purposes. Just think: millions of Ukrainians want to go to Europe, Europe seems to be ready to accept them. Then, forgive me, what difference does it make for all of you, what laws and politicians will be after this in Ukraine? The Ukrainians, speaking of "European integration", smiling slyly, were preparing to rush into Europe as soon as they raised the barrier (where ours did not disappear!). The Europeans, speaking of European integration, smiled no less slyly, holding on to the string from this barrier ... As a result, it turned out quite funny: those who were needed by Europe had already left for a long time and without any Maidan. Those who "rode on Independence", Europe is not needed.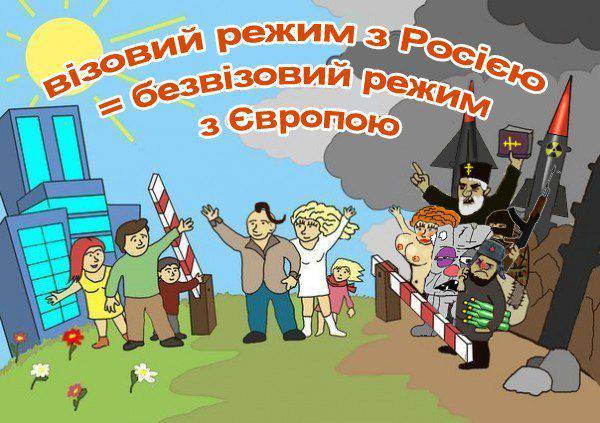 Just this illusion was beneficial to maintain in the heads of Ukrainians: "You are ours, literally tomorrow we will open the barrier." And Ukrainians trustfully began to build a "joint" future with the European Union. But the barrier remained closed. Of course, Putin is to blame. That's only during the Maidan and post-Maid "walks" Ukrainians completely killed their already weak economy. And they will not be allowed into Europe. So the Juche idea is salvation. Naturally in the Ukrainian arrangement. Well, you say, there is Russia! It is possible to go there as a last resort! Alas, it is already impossible for very many reasons: the main of them - Russia did not recognize the Maidan, the Right Sector, a new "owner" in Nezalezhnaya Street. Yes, in fact did not recognize. The right sector is tightly integrated into the new Ukrainian government, but in Russia they are criminals. Against a large number of "heroes of the ATO" in Russia criminal cases were instituted, and this fact cannot be dismissed. The Duma received a proposal to close the entrance to all participants of the "ATO". For us, they are punitive and criminals, such cases. After the "patches", the Ukrainians did not become their own in Europe, but became completely alien in Russia. New Ukrainian authorities in Russia through the central channels are sometimes frankly called "criminal." Savchenko is a marker. In order to survive in the "new Ukraine", its citizens will be compelled to persistently demonstrate loyalty to Ban Bandera and his followers, but this is exactly what they will do in Russia, at best, with "non grata" persons, at worst "defendants in criminal cases".
Here we are trying to frighten us that the new Ukraine will be a threat to Russia. But the opposite is also true: the Russian authorities are extremely tough to demonstrate a negative attitude towards the new rulers of Kiev. All cooperation has been terminated, the visa-free regime is ending, purchases of equipment critical for Ukraine in Russia are impossible. It's just a break in relations, a fence, a railway bypassing Ukraine, and that's forever ... there will be no return. The attack on the Ukrainian office in Rostov-on-Don is also a marker. Moscow very clearly demonstrates its disrespect for the "Euro-Ukraine". There is no people more patient than the Russians, but there are no people more cruel. Russia stopped worrying about the problems of Ukraine from the word at all. Sevastopol left, the pipe goes, industrial orders are transferred to Russian factories, tourism has died.
"Ukraine?" - "No, I don't know!" That is, the problems and their arguments from the citizens of Ukraine in Russia are of no interest to anyone. They asked not to interfere - that is not interfere. Thus, the Iron Curtain also forms from the East. 20 years of separate development were not in vain, Ukrainians are now very difficult to integrate into Russian society - too different value systems. We have ceased to understand each other. Just Ukraine is still largely living by inertia. The new reality will be completely different, it just has not come yet, but its individual contours are already emerging. Nazi Germany also did not originate in one week, or even in one year. In the middle of the 30's, it seemed to many that nothing terrible was happening, everything would "settle down". Yes, the new regime "settled down", but for many it cost dearly. Then the "glass", smack on the floor, smashed to smithereens.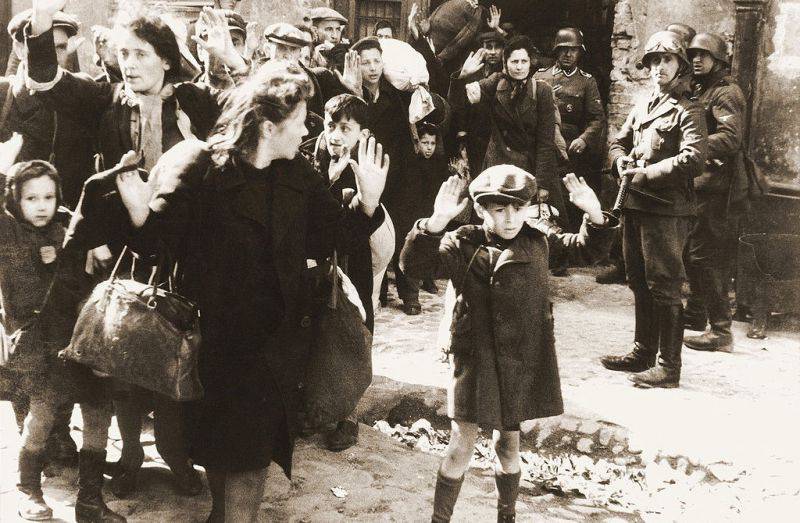 The whole problem is that the western curators of the "project of new Ukraine" are in a certain confusion. Westerners are able to plan well - this is a fact, but if the plan is developed and approved, then changing something is almost impossible. They will follow the plan "until it stops." So, the "new Ukraine" was planned with the Donbas, Sevastopol and the Russian market. Due to the actions taken by the Russian leadership: the Black Sea Fleet and the Pipe (with a capital letter) are no longer arguments in the dispute. We must pay tribute to Putin and the team - they have removed the critical issues. Ukraine 22, the year did not engage in any diplomacy - she sought to the West and blackmailed Russia. 2014 year put an end to this blackmail. This is a complete and final "divorce" with Ukraine. That's exactly what the western "friends of Ukraine" did not count on, they hoped that Ukraine would milk Russia endlessly. Plus, Donbass left with its coal and exports.
By the way, one of the main reasons for the punitive operation in the Donbas was precisely its economic value. And the IMF demanded this, in the sense of Kiev's control over the Donbas. No, they did not require direct text "bomb". At one time, they stipulated control of the main economic region of the country as a condition for obtaining a loan. And a bloody and senseless war began in the Donbas, which finally buried the Ukrainian economy and energy in particular. So the current situation was not planned by anyone in the West, because they are at a loss. Of course, they planned to lower the standard of living in Ukraine, but not so swiftly as it happened in real life. The worst thing is that it should be reduced even further, and at times. Otherwise, the debit with the loan does not converge. The West has never fed anyone at their own expense - forget it. All sanctions hysteria is an attempt to "return everything backwards." That is, to return to Ukraine the Donbass, the Crimea and the Russian market. By December 2015 it becomes clear that the miracle did not happen. Yes, the whole policy of the EU and the USA (to a lesser extent) since the moment of the putsch in Kiev is the hope of a miracle.
Plan "B" they simply did not have. As a result, they have a Ukraine that has become impoverished to the limit, where industry and energy have collapsed and which has irretrievably lost the Russian market. Irrevocably means forever. Plus, Europe suddenly had new big problems with refugees and terrorists. 1 December 2014 of the year German Foreign Minister Mr. Frank Walter Steinmeier said that perhaps the confrontation with Russia would drag on for 10 years. And in the spring of 2015, the invasion of refugees to Fortress Europe sharply intensified, in the summer it turned into a nightmare. It's funny, isn't it? And how did you breathe, how did you breathe ... With today's stream of refugees through 10 years, the Russian Federation will sign an "eternal peace" with the German Caliphate (Emirate?). In general, this is a bad sign for the German Foreign Minister to openly threaten Russia. The last such figure was hanged by the neck in Nuremberg. Well, Mr. Steinmeier is still ahead ... An exclusive silk lace with rhinestones from grateful burghers, for example. The biggest foreign policy problem of beautiful France before the November 13 regimes were Putin and Assad. Both dictatorial and intolerant. Then everything suddenly changed, and literally in the presence of the bewildered Hollande. The United States has already frankly plunged into their internal election campaigns. Not until Ukraine is the West.
Ukraine can only sympathize: as a result of all the intrigues, shelling and sanctions, it fell into the "third world", without any prospects of reaching the surface. But Ukraine, unfortunately, is not Africa - most of Ukraine's population lives in cities, and it is not possible to "resettle" them back to the "hut with cherries". Employment in the cities and the earnings of this population was designed to provide industry, which died. And without earnings to live very, very difficult. At the moment, Ukraine ranks first in the world in natural population decline and second in the world in mortality (after South Africa). This means that Ukrainians as a people are superfluous at this celebration of life. It was in Ukraine 50 million, now closer to 40, but there will be 30 ... This is inevitable. The future of Ukraine is a tightly closed totalitarian society with a beggarly standard of living, whose main goal is to reduce the number of members of society. In order not to consume a valuable resource. You say, "Warsaw ghetto?" That's right, but the Ukrainians themselves built it.