Necessary preface.
In his article "Why we began to write a little about the Donbass"We voiced a number of reasons that really didn't allow us to pay as much attention as this topic deserves. It so happened that it was at the time when the material was ready that a definite breakthrough occurred. And so long ago the topic of obtaining reliable information from Donbass was received second breath ". In place of retired fighters of the information front came others. Replenishment, so to speak. Very timely.

At once I will say that we are not planning to publish any devastating materials. Just do not want. Let's leave it to those who in excessive doses use gyrkinite in the morning. Our primary task is to show how the people of Donbass live today. Unvarnished Without constant holidays and rallies. This topic also somehow began to give a scent. However, if there are topics that carry a negative, but in the opinion of our correspondents deserve attention, we will not shy away. And you, dear readers, see this in the very near future.

I will introduce our colleagues from Donetsk. Group "Committee of social communications". On the affairs of this team will definitely be a separate material, I can only say that I have already published materials several times based on the information provided by them. Then they had enormous difficulties, which, I hope, will sink into nothingness. And today's material is the fruit of the work of the group's employees. The first but sure is not the last.

Roman Skomorokhov.
26 November 2015 of the year 46-th humanitarian convoy EMERCOM of the Russian Federation arrived in the Donetsk People's Republic. Unfortunately, it must be stated that the need for such assistance to many segments of the population of the republic is still extremely high.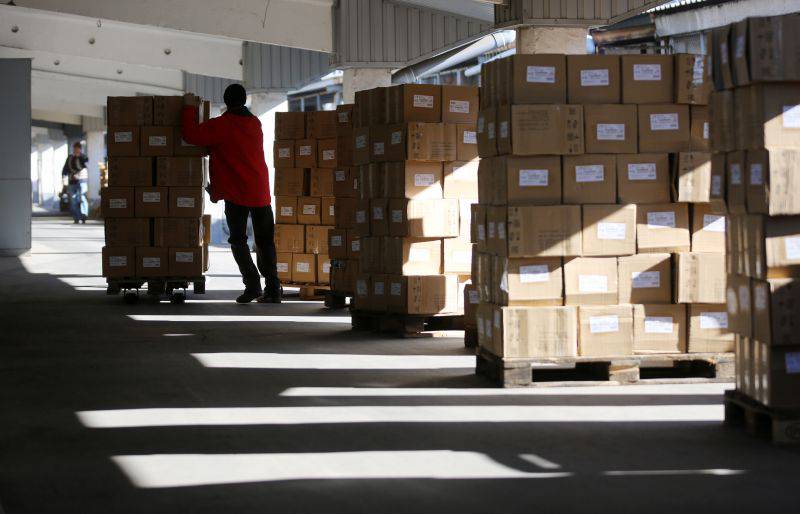 It makes no sense to explain why it is better to give a man a fishing rod and teach him how to fish than to provide him with fish all the time. But this is the future, especially since the Donbass can in many respects be self-sufficient. The Soviet experience convinces us of this quite reliably, but the technology has since gone forward.
However, while the front line adjoins close to the capital of the republic, and, despite the Minsk agreements, we are tormented by daily shelling from all types of artillery, and also provoke a reaction with small-arms fire.
weapons
It's a little premature to talk about refusing humanitarian aid.
White KamAZ trucks from the 46 th convoy were adopted according to a very well-defined procedure. More than 1000 tons of food, as well as more 30 tons of medicines were delivered to a special warehouse in Makeevka. From there, the cargo will fall into warehouses subordinate to the relevant ministries and will be distributed in accordance with the decision of the Commission on the organization of reception, distribution and protection of humanitarian goods for the DPR. This time, volunteers unloaded dozens of tons of canned meat, fish and dairy products, hundreds of tons of various cereals, sugar and butter from KamAZ trucks.
Who can get food packages? In fact, all in need. According to the rules of providing targeted humanitarian assistance, the products are issued:
Citizens and people with disabilities who are not entitled to a pension and are registered with the social security authorities.
Large families.
Disabled since childhood.
Citizens taking care of disabled 1, 2 groups.
Citizens receiving a pension in the minimum amount to 1000 UAH.
Family militias.
Left homeless and refugees from the territories of the DPR who are in a war zone.
Make a request is not difficult. To do this, you will need copies of your passport and TIN, as well as literally a couple of documents confirming that a person falls into one of the above categories. After completing simple formalities, a citizen comes to one of the points located in each district and receives the following ration: 2 kg of wheat flour, 2 kg of cereals (rice or buckwheat depending on the range), 2 kg of pasta, 2 cans of condensed milk, 4 cans of canned meat, 4 cans of canned fish, 1 l of vegetable oil and 2 kg of sugar.
At the points of issue of humanitarian aid are very friendly volunteers. In one of these locations in Voroshilovsky district of Donetsk, we were told how the process of distributing food packages was going on.
"Everything comes to us in bags, we pack up according to a certain weight, and therefore we already give out according to the lists. Almost all categories of the population receive Russian assistance. From the category changes the issuance of products, but the changes are very small. Basically it is given to everyone the same thing, only low-income people there have a slightly different list. Products are very high quality. "
Volunteers do not cease to thank fraternal Russia for their help, without which the republic would be very hard. Of course, the citizens who receive this assistance also join the gratitude. As always, during wars and natural disasters, the most disadvantaged are the elderly, often unable to take care of themselves on their own. I am very pleased that neither the state nor the civil society does not abandon them to the mercy of fate.
An elderly couple comments on the situation like this:
"If it were not for Russia ... I don't know what we would do. We, for example, immigrants, wreckers. Everything burned completely, all property. We are from Donetsk. Railway station and airport - just in the middle. There was a massive blow there. So thank you very much and a low bow from everyone. "

"As they started issuing, I submitted the documents and for the third time I receive. Work without delay. I applied and I was given humanitarian aid. The first time I received it was flour, the second time there was no flour, but there were cereals. This time there is flour and cereal again. We are very grateful, thanks to Russia. "
Of course, looking at the clean and well-kept center of Donetsk, it's hard to believe that somewhere very close, literally a few kilometers away, hundreds of people often without light and other communications continue to live under shelling in officially peaceful, but in fact, terrible time.
Donbass continues to live, fight and build a new life. Despite all the tricks of the fascist junta. Despite the more frequent shelling, the ongoing fighting.
And, nevertheless, despite the truly devilish dedication, the punishers did not achieve their goal. The militia of the DPR and the LPR has turned into a full-fledged army, no matter how some of the "former" may call the local servicemen homeless and drug addicts. And humanitarian aid from the Russian Federation, including helping the fighters not to think about the everyday problems of their loved ones, but to focus primarily on repelling the aggression of the fascist opponent.
White Kamaz trucks are returning to Russia, where the next batch of humanitarian aid is already being prepared, which is so necessary today for the life and struggle of the heroic Donbass. We will be waiting.