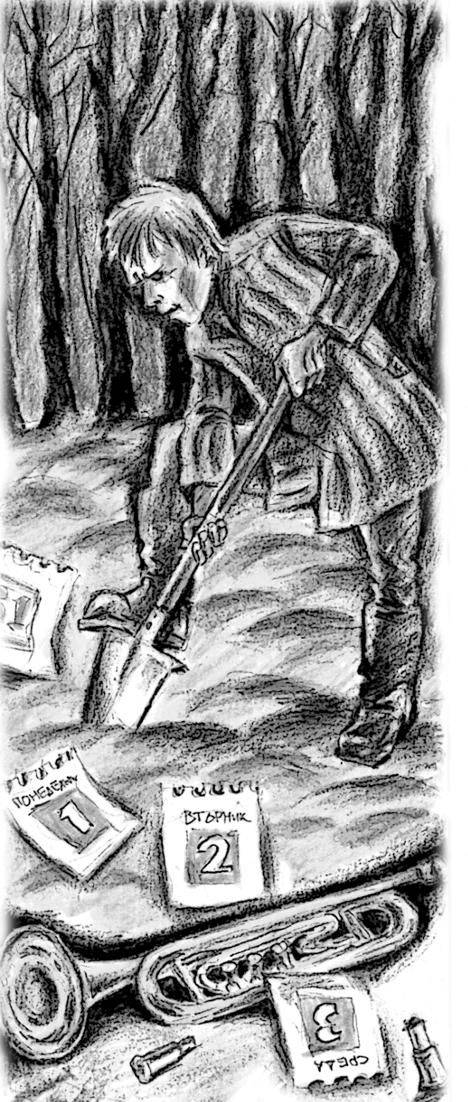 Previously, he graduated from the Alesha Plotnikov school. The war cut short his youthful dreams, issuing a certificate of eight-year education. She laughed at the great desire to become a musician and study in Moscow. Yesterday eighth-grader Alexey began to work on the collective farm. He did not grumble: is it up to him, when there is such a trouble in the country! But, probably, quite often sighed ...
...- Carpenters!
Alex turned around. Through a hole in the fence, a black eye was watching him closely. The eyelid above him was as if painted with violet paint.
- Who are you? - a bewildered boy asked confusedly.
- Ivan Palych. Do not be afraid, come closer, Alyoshka! Did not know that?
Lyosha walked up, timidly (and suddenly deceiving?) Pushed off the board and really saw Ivan Pavlovich Puzyrev, the teacher of music loved by all the guys, once blooming and neat, and now - exhausted, in a dirty-white camouflage robe. His face was covered with bruises and scars, and there was a stain on his shoulder, as if the teacher had attached a red patch to the robe.
- No questions! - cut off Bubbles, noticing the attentive gaze of his student. - In the war do not ask too much, shut up, you're already an adult. I give you homework, student. Here is my pipe, take care of it. We are retreating, our military brass band will be here soon. I instruct you to hide musical instruments, more precisely, to prepare everything for this, although it will not be easy. Behind our village, where three birches grow from one root, this place was still in love with lovers, you will dig a cellar. Now we will precisely stipulate a place for ours to find it easily. You will dig at night so that no one will see. Assistants do not take, even the most reliable. You can do it yourself, you are no longer small. Wait for us near this birch on Saturday evening. The pipe is also in the cellar. The war will end - you will learn to play on it, but for the time being it will serve in the orchestra. And if I live, I will give it to you and teach it myself, the word of the Red Army man. And now we will stipulate a place and go home, understand? Just no sound, hear, student?
- I give the word Komsomol! - hot whispered Alyoshka.
They whispered a little more, and the board closed. And Alexey remembered that today is already Tuesday.
... The autumn night air was burning with cold chilled hands. A shovel with great difficulty was breaking off thin layers from the frozen ground. Sticky sweat ran down his face. I wanted to quit overwhelming work. But the Puzyrev tube lay next to it. And somewhere, a military band unfamiliar to him went to Alyosha. And from fear, fatigue, expectation and heavy thoughts, Alyosha talked to the pipe. And it even seemed to him that the monologue was a dialogue ...
"I've known you for a long time," Alyosha said to the pipe. - You Ivan Palych was, he used to play you often. How do you know how to sing different sounds?
"I don't know myself," the pipe answered. - This Puzyrev taught me. I used to be a draw, in the store for a long time lying idle. And then he suddenly came and bought me. He began to play "Oh, frost, frost!" And other folk songs. I first stubbornly - probably because I had been silent for a long time. But Puzyrev was not angry. And then I got tired of being capricious, and I started to sing. You take me in hand, bring it to your lips, blow tight. You dreamed of becoming a trumpeter, boy Alyosha!
- I can not, - bitterly, but the boy stubbornly spoke. - No one should know what I'm doing here, so Puzipyov ordered. And that tools will be stored in this cellar. You can not make noise. And I have very little time - today is Thursday. And the cellar is still shallow. So, fossa.
Hands trembled. Sticky sweat ran down his face. It seemed that a big sharp nail was piercing the back. My head ached with fatigue and pain. On the ground lay a pipe. She was silent.
... On Saturday, Bubbles and musicians did not come. Alyosha was waiting for them in the forest, not far from the appointed place. And on Saturday I waited, and on Sunday, and on Monday. And on Tuesday, the Germans came to the village of Gryzlovo, Dolgorukovsky District, where a Komsomol member lived.
The house of Ivan Palych burned - the fascists staged a brennender (fire). The izu Plotnikovs were turned into a dining room.
Now Alyosha could not unnoticeably slip out of the house in order to slowly leave to the appointed place of three birches from one root. In addition, he was very afraid to leave his mother alone, Varvara Stepanovna. But then, the memory of Puzyrev's face, which Alyosha saw him during their last meeting, with bruises and abrasions, came to mind. And the soul of the Komsomol word given to the teacher relentlessly burned.
On Tuesday evening, Aleksey still left the house. Unnoticed, he made his way down the street to the last house in the village. Here and the village behind, there is a glade in front of it, where three birch trees grow from one root - a former place for lovers. No one! Alyosha parted the branches with which the cellar was covered, then the masking sticks. There was still a pipe in the cellar.
"Bubble didn't come," she sighed softly. - Probably, the military band was surrounded by the Germans and our soldiers all died. Take me to your place, Alyosha. I'm tired of waiting and hoping.
Alyosha did not answer, but left the pipe in the cache. He again disguised the cellar, went to the forest, sat on the stump and waited. He thought so bitterly and deeply about the fate of unfamiliar, but already dear people, that he did not see two fascists and a shepherd dog, although they were very close ...
... Alyosha opened his eyes with difficulty. The Germans had already left, leaving him to lie in the forest, on the frozen ground. My hands froze and did not feel anything - apparently, the boy had been unconscious for a long time. Red streaks baked on his forehead. An unbearable pain rose in my legs - they were crushed by a large log. My knees were especially sore; Alyosha thought they turned back. He tried to get up, but the log held him firmly. It was birch. One of those who grew near the cache. A thought flashed: what did the Germans carry with them an ax? How did they cut down a birch tree? Although the smallest in this trinity, which grew from the root, but still a tree.
Alyosha began to remember everything that happened, but this was difficult for him. Some pictures flickered dimly in my head: how they grabbed him, twisted his arms, shouted some questions, then set the dog off. The guy decided that now he would be dragged in for questioning, but apparently the fascists did not see anything suspicious in Alesha. Or maybe, the brushwood, which Alyosha, according to his teacher's world, took with him to disguise, played its salutary role. But the fiends simply could not let the Russian boy go. Therefore, they hit him with something heavy on the head (most likely, with an ax butt), and then they decided to have some fun. They cut down a birch tree and forced to serve evil. It seemed to Alyosha that he saw a former campfire not far from himself.
The boy really wanted to, but could not free himself. He knew that villagers would hardly be looking for him here, although the place was not far from their village. And in any case, even if they search, it will not happen soon. And he already lay for a few hours on the frozen ground. And he really needs medical care. So, stay here - die. But there was no strength.
And suddenly it seemed to Alexey that somewhere near the pipe began to sing Puzyrev. He understood that this was most likely just nonsense. But the trumpet sang and sang something loud, funny. But she had to be silent in order not to give herself away!
- Stop doing that! - whispered Alyosha. - You can not sing! Shut up now, they will return!
But the melody rang. It heard the sounds of joyful cries of students who have completed the lessons for today. Sigh teachers who did not have time to explain to the end a new topic. The trill of the school bell, which has long been no longer heard in their village. The songs of the fighters who went to the front to protect women, children, old people, native land from the fascist reptile. And spring drops ...
Maybe it was just the wind rustling. Or maybe ringing in the ears? The boy did not know. But he strained all his remaining strength, stretched out as best he could, forward numb hands, as he managed, rested against a log to push him off his feet or at least move a little ...
... On broken legs Alyosha reached his home. And Ivan Pavlovich Puzyrev did not return from the war. It is also not known what happened to the military band.
The pipe has been stored for a long time by Alyosha, Alexey Fedorovich Plotnikov. He learned to play it himself.
Alexey Fedorovich became a teacher of Russian language and literature. For a long time he worked in an orphanage in the city of Tambov. Teaching children the wisdom of the verbal sciences, he often played the trumpet. And when he retired, he left in an orphanage for boys and girls a gift, his greatest value — the Puzyrev tube.
Instead of a conclusion
My favorite writer Yury Iosifovich Koval has a story "Under the Pines". Short, but taking for the soul. It tells how Koval once settled on a clearing under the pines and, falling asleep, heard the sounds of pipes. And then I learned that there was a fight near this village. Our soldiers, and with them the military band, were surrounded. And before the battle, they buried their tools. In the battle, many died. And those who survived, could not find the coveted hill. The story ends with such a sentence: "And now I think I was just sleeping in the very same place."
So now I think that the trumpet sang for Alyosha. In life, anything can happen.
And the illustration you see here was drawn by my friend, Lipetsk artist Viktor Sergeevich Nelyubov.