On the eve of the Turkish talk show, where the Turkish Air Force's attack on the Russian Su-24 is being discussed, the topic was raised that if Russia "begins to openly threaten Turkey," then official Ankara will block the Bosphorus. This statement, made by one of the representatives of the political circles of Turkey, was commented by the former chief of the General Staff of the Russian Navy, Viktor Kravchenko. His statement leads
RIA News
:
Turkey will not be able to close the Black Sea straits for Russian ships and ships bound for Syria - this will be a violation of international law and the Montreux Convention in particular, and in fact it was signed by the majority of the states of the world for that period of time.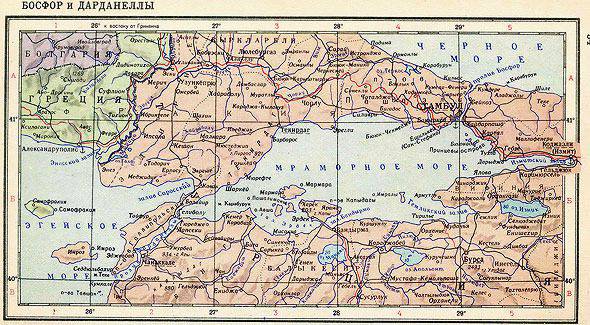 For reference: the Montreux Convention on the status of the straits adopted in July 1936. She restored Turkish sovereignty over the Bosphorus and Dardanelles. The convention says that the Black Sea powers have the right to conduct their own warships of any class through the straits, in the case of peacetime and to notify official Ankara. At the same time, Turkey has legal grounds for closing the straits both in the event of war and in the event that it considers that it is threatened by war itself. The Montreux Convention provides for Turkey to close the straits in the event that third countries participate in the war and Turkey does not participate.
It should be noted that the Montreux Convention has been repeatedly violated. One of the relatively recent examples: Turkey did not close the Bosphorus for American warships entering the Black Sea in 2008, when an armed conflict took place in South Ossetia.
Given the fact that Turkey did not particularly care about international law and common sense when it hit the plane of the Russian Aerospace Force, it can be said that following the letter of the convention of the 1936 model of the year is unlikely to stop Erdogan if he decided to go all-in .