At the talks in Moscow, the leaders of France and Russia agreed to fight together with common threats and called on partners to strengthen coordination in countering terrorism, reports
RIA News
.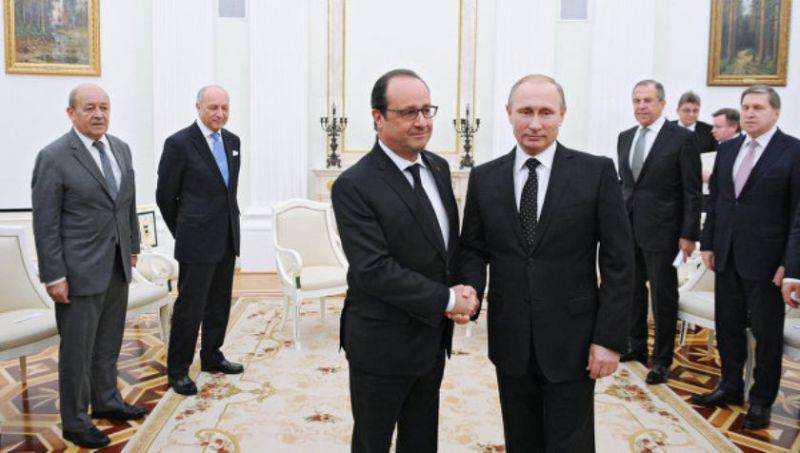 "It is natural that paramount attention was paid to the issues of joint struggle against international terrorism. The barbaric attack on a Russian airliner in the sky over Sinai, the terrible events in Paris, the terrorist attacks in Lebanon, Nigeria, and Mali led to a massive death of people, including hundreds of citizens of Russia and France. This is our common tragedy. And we are united in our intention to find and punish criminals, "said Vladimir Putin after the talks.
Francois Hollande replied that Russia could count on the help of France in the investigation of the tragedy with A321 over Sinai, stressing that in the fight against terrorism the parties should act together.
"This is the meaning of our meeting in Moscow," said Hollande.
"It is necessary to reach a consensus on the formation of a broad global coalition to fight terrorism," he said. "This is the main reality of today's world, that is, a broad coalition in which France will participate."
"I told Mr Putin that France is ready and willing to work hand in hand with Russia to achieve a common goal - the fight against terrorist groups and the Islamic State in the first place," the president added.
In turn, Putin noted that "the number of countries sharing the idea of ​​creating a broad anti-terrorist coalition is growing," but not all states are ready for such a step.
"Russia respects the US-led coalition against the Islamic State and is ready to cooperate, but it believes that it would be better to create a single, common coalition," Putin said. "Coordinating our overall work in these conditions would be easier and more effective."
According to him, Moscow can interact with the Western coalition. "But, of course, incidents like the destruction of our aircraft (Su-24) and the death of our servicemen, a pilot and a marine, who came to the rescue of his comrades, are absolutely unacceptable. We assume that this will not be repeated. Or we don't need such interaction with anyone, with any coalition, from any side, "Putin said.
According to him, the current interaction with the United States, including information sharing needs to be improved.
"We exchange information, but we are very concerned about the nature of this exchange and the results of our joint work. We informed our American partners in advance where, when, at what levels our pilots would work. And it was there at that time that we got hit. The question is, why did we transmit this information? Either they do not control what their allies are doing, or they distribute this information to the right - to the left, not understanding what the consequences will be, "Putin said.
"We, of course, will have to conduct quite serious consultations with our partners on this score," he added.
Answering the question of how the C-400 system deployed in Syria will affect joint actions, Putin replied that it was not directed "against the partners (with whom) we are fighting terrorists in Syria".
"We proceeded from the fact that our
aviation
It works at heights that the criminal hand of terrorists cannot reach, they don't have the appropriate military equipment that can shoot down aircraft at an altitude of more than 3-4 thousand meters. Now we are convinced that it is possible, people died there, and we are obliged to ensure the safety of our aircraft, "the president said.
Both presidents agreed that one of the main tasks in Syria is the destruction of the oil infrastructure of terrorists.
"As for our further actions. It is necessary to beat on ISIL, on the training centers, on those centers where this terrorist army is trained. But the main thing is to beat on the sources of its financing, because (it) gives it life, first of all on oil, "declared Hollande.
"We will hit trucks for these convoys, and for those refineries that process oil, which certainly serves as the main source of financial income for ISIS," he added.
In this regard, Putin noted that the supply of petroleum products from the IG-controlled territory of Syria on an industrial scale goes to Turkey. "It is from these territories, and not from any other. And we see from the air where these cars go. They go to Turkey day and night, "he said.
"We assume that the highest political leadership of Turkey does not know anything about this (about the supply of oil from terrorists). It is hard to believe it, but theoretically it is possible, "Putin said. "But this absolutely does not mean that the Turkish authorities should not stop the illegal supply of oil."
"On this score there is a special UN Security Council resolution prohibiting the direct purchase of oil from terrorists," he stressed.
At the same time, the president expressed regret that "the unprecedented level of interstate relations that has been achieved with Turkey over the past 10 years is being thoughtlessly and rudely being destroyed."
He added that Ankara, instead of working together to avoid tragedies, as with Su-24, "gives vague explanations and cannot even apologize."
"It's a pity that instead of seriously, deeply, working to ensure that this never happens more, we hear such vague explanations and statements that even there's nothing to apologize for," Putin said.