This December and January of the new year will be marked by a change in foreign procurement policy. Ukraine and Turkey consciously framed themselves under the embargo.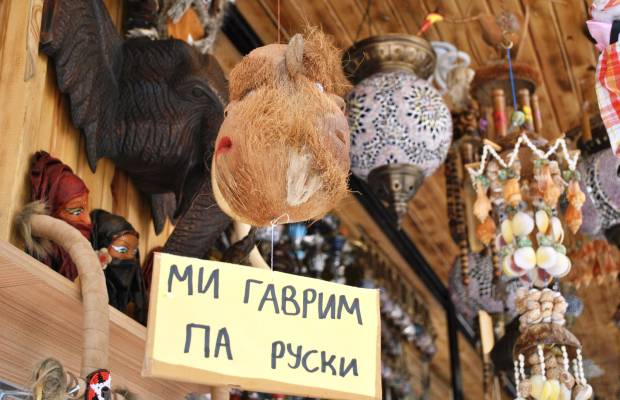 No matter how much some forces wished to draw Russia into an open military conflict, nothing came of it. To the great chagrin of both overseas "partners" and domestic pseudo-patriots who dream of reading reports from the fronts. And "partners", and wanting to shave
weapons
Only one thing relates to domestic bottling: it is not for them to take part in the military solution of the issue.
The leadership of the country actually decided on an economic war. You can beat bombs and rockets, and you can in rubles and dollars. What is more effective? There may be different opinions. But the overall picture is drawn now.
Feature of the mentality of the Russian people: the enemy must be seen. And know in person. Therefore, in principle, the tragedy of the Airbus in Egypt did not cause such indignation as the attack of the Russian aircraft by the Turkish Air Force. Who blew up the Airbus, we can only imagine. Some terrorist forces rather indistinct nature. Terrorism is faceless.
In the case of our Su-24 all transparent. The operation had been preparing for a long time, starting with the choice of time and place and ending with cameras, which were clearly placed in the area of ​​the planned attack. Turkey did everything she could to draw Russia into a military conflict. And surely this is not the last incident, there will be others. Up to the "setup" of your aircraft under our "Forts" or C-400 with the subsequent accusation of Russia of aggression towards Turkey. And I predict that the reaction of NATO will not be so limp.
To hit the dollar in Turkey is definitely the wisest decision. And even more effective than the "Yars" or "Caliber."
Russia supplies its traditional goods to Turkey - gas, oil and petroleum products, as well as metals, coal, and wheat. Moreover, energy makes up 53% of Turkish imports. That is, there is practically nothing to replace them. Azerbaijan would be glad to press Russia in this market, but something constantly interferes. That the attacks on the oil and gas pipelines, the simple inability to increase their own production and processing.
Yes, no one talks about the fact that the Turks should be left without our gas and oil. This is money in our pocket. Especially since the 1 dollar, which goes into the pocket of the Turks, accounts for the 4 dollar in ours. So let them pay further.
Food and agricultural raw materials (33,2% in January-July of this year), machinery, equipment and vehicles (23,4%), textiles and shoes (17,6%) go from Turkey to Russia. The country is the largest supplier of food products to Russia (primarily vegetables and fruits). Some analysts believe that imposing an embargo on fruits and vegetables from Turkey will be problematic both in quantity and in price.
But do not forget about the age-old "friends" of Turkey, who sleep and see how to step on the hands of the Turks. These are Iran and Israel, which themselves are very large players in agricultural markets. Especially Iran, with whom we have not just a warming of relations. In general, there is someone to replace.
With tourism, too, everything is clear. Yes, many Russians will be distressed by the lack of prospects to warm the belly in Antalya. On the other hand, those who cannot imagine their lives without this will be able to use the services of Belarusians. Which today is quite a sell tours to Egypt, I think, will learn and the Turkish route. But here, you understand, without guarantees. At one's own risk. However, today the Russians vote with their feet, transferring their rest to other places.
And Belarus has become a kind of buffer between the EU and Russia. Catches salmon and trout in Norwegian and Danish waters (successes of the Belarusian fishery
fleet
impossible to underestimate), grows plums and peaches no worse than Moldavian ones, Belarusian apples are definitely no worse than Polish ones. They will master Belarusian entrepreneurs and tourism in Egypt and Turkey.
Well, if Turkish chickens are infected with chicken gonorrhea, and mandarins and lemons catch citrus flu, something will also be invented. But this topic deserves a closer look.
So the question of how to replace the Turkish goods is not so urgent. There would be money from the merchant, and the seller there. We have money. The question is only to those who are ahead and who will offer a more lucrative contract for the goods. Persians? Jews? We'll see.
And what will Turkey do in this situation is a question for those who like to gloat. And tilled field for thought.
By the way, about the same will be in the new year Ukraine. Having signed the association with the EU, Ukraine at full speed flew at the same rake as Turkey. And now what?
Where will Ukrainian food go with 1 on January, when the embargo comes into effect? Former Minister of Economy Suslov told Shuster in the program that the European Union refused to buy Ukrainian meat and dairy products as not meeting EU standards.
Moreover, the EU has banned selling Ukrainian meat and dairy products of domestic production in Ukraine. Because the quality, you see, does not meet the same European standards. Themselves not "din", and the other will not give. So much for tse Europe.
This is the greatest Peremoga of the Ukrainian government and the entire Ukrainian people. Now they will eat wonderful Polish and German products instead of their own, which are intolerable by terrible quality. Or his, but so, quietly and under cover of night.
So, not only we will lose Ukrainian products from the new year, but the Ukrainians themselves, too, if, of course, they are not organizing a new Maidan, but already against association with the EU.
If everything is more or less clear with Ukraine, then what and how will happen in Turkey is most interesting. Yes, Erdogan still feels good. But for now. So far, the Turks have not felt in his pocket the consequences of his absolutely stupid behavior. Let's see what starts a little later. The Turk who stepped on his pocket, as the example of Erdogan himself showed, is capable of many things. Often unflattering and vile. Why are the Turks, who stepped on Erdogan's pocket with their antics, will not be able to do the same? Only in relation to his president, who imagines himself a sultan? And they can ...
If everything is more or less clear with the authorities in Ukraine, then we will see how strong the throne of Erdogan is. But from a safe distance. It is good that the Turkish coast is far enough from ours.