New details of the special operation to rescue the navigator of the bomber Su-24 shot down by the Turks were published.
RIA News
, referring to a source close to the search and rescue operation, writes that several soldiers of one of the special forces of the Syrian government army were injured during a special event.
RIA News
quotes the agency interlocutor:
In one of the detachments of the Syrian special forces, covering the Russian search and rescue team, three soldiers were slightly injured. In the second group, two were seriously injured; I can't say anything about the third.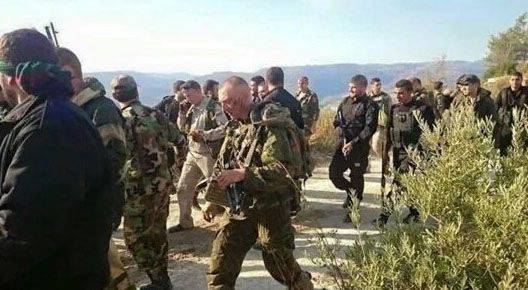 Rescued navigator shot down Su-24 escort Special Forces
The same source reports that several soldiers of the Marine Corps were fighting to the point of landing of Russian pilots in the north of Syria.
From the report:
Several groups of Syrian special forces, having entered into a direct clash with the Mujahideen, covered the rescue team simultaneously from three sides.
The day before there was information that fighters from the Hezbollah unit participated in the special operation. Officials have not yet confirmed this information.
Recall that in the course of the rescue operation, a Russian marine died, who was later awarded the Order of Courage posthumously.