First - the machines, then - Tanks
The army, and with it all of Russia is waiting for "Armat". But who needs an ultramodern tank without new shells? And the leading developer of automatic lines for slug production - the Tula Research Technological Institute (TNITI) is in a deplorable situation - all employees are sent on indefinite leave.
One salvo 26 "Caliber" from the Caspian Sea in Syria cost 10 billion rubles. This would be enough for the eyes to restore and strengthen TNITI, and therefore, the entire equipment industry. This was described in the article "Starving God of War."
In former times, 152-mm projectiles (excluding liners and equipment) were manufactured at the Tochmash mills in Donetsk and Sibselmash in Novosibirsk, at the Selmash plants in Kirov, Orsky Mashinostroitelny and Verkhneturinsky machine-building. Armor-piercing-substage (BOD) was manufactured in Zlatoust (Lenin plant) and Leningrad (Karl Liebknecht Mechanical Plant).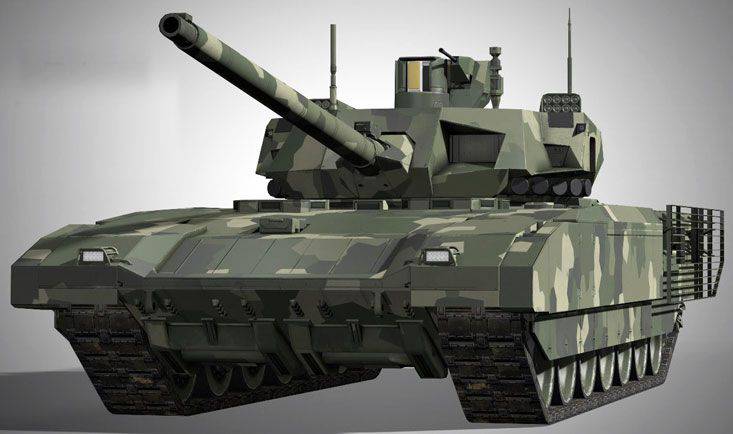 At present, the production of BOD has been preserved in some form in the latter. Production of all other artillery shells, including 152-mm, is concentrated in the Upper Tour. By the way, the production of artillery steel and brass shells also remained at the only plant - Orsk mechanical. We can only say that other factories that made some shells — Nevyansky, Nizhny Tagil, Amursky — were ordered to live for a long time. Square shops another plant - Chelyabinsk plant them. S. Ordzhonikidze used for warehouses of consumer goods.
Convinced of the need for a decisive recovery of projectile production, I suggest starting with a minimum of one million 152-mm projectiles per year. Production should be located in Kirov, at the Selmash plant, because it is the only one among all that has kept Tula automatic machining lines for a special period. And most importantly - the camp remained in Kirov, where the billets of the shell buildings were made, the technology of firmware and profile rolling with the pressing on automatic lines is alive.
The next stage is the revival of TNITI machine-tool production: about one hundred TM machines are needed per million buildings, but some of them already exist in the mentioned automatic lines.
You also need to prepare automated production of cases based on multi-spindle CNC machines KA-500. Their annual production of the same million shells will require 34.
The first such machines were manufactured at the Kiev plant of automatic machines. Gorky in June 1991. It was planned that one will go to the Orsk plant. But Square broke out - and the unique machine remained with the manufacturer. One of the two prototypes went to the Hannover exhibition. Firms were spinning near him, and although they showed it with a made-up part, the experts immediately recognized the shell machine in it. Renault wanted to buy, but Kiev failed to provide after-sales service. One of the machines soon went into oblivion, and the second until recently was kept in the museum of the plant.
Our KA-500 was planned by an automated production cell, a workshop was built in Novosibirsk waiting for these same 34 machines, and a department for organizing automated production controlled by a computer worked at TNITI.
So, in principle, the machines can be ordered from Kiev residents - even if not along the "defense" line. For example, Rosneft or Gazprom will order a dozen or so KA-500, for example, for processing parts of drilling locks. After that, part of the machines ordered under the contract should be left to the production of drilling equipment, and part should be sent as intended - to make shells with 152-mm shells. Rendering machines is not so difficult task for specialists.
In the meantime, be engaged in the preparation of production of the spacecraft 500 in TNITI and its organization at the Ordzhonikidze plant in Moscow. In any case, now do it yourself. Without a unique car can not do. It can handle all major parts of ammunition, including the case of BOD. And not only - the machine is universal. At one time, we coordinated with potential customers the manufacture of pistons for tank engines, excavator shafts, and the same drilling locks.
The development of the machine is, of course, a complicated and costly business. But the investments are not so large that they do not go.
Let's face it. 152-mm shells actually become the main artillery. And their production will have to be adjusted sooner or later, but this is impossible without the restoration of TNITI and its machine-tool plant.
Although before talking about the mass production of shells, it is necessary to create a production of the entire complex of equipment, primarily TM machine tools, and in the future - multi-spindle-type KA-500.
And: KA-500, originally designed for shells of 152-mm projectiles, can handle any parts up to 500 millimeters in diameter and up to 1200 millimeters in length. That is, almost all large parts of ammunition, including the hull of the new BOD. And not only them.
In addition, it is a CNC machine that can be used in conditions from small-scale to mass production. Limits only special equipment, which will require not so much.
In April 2014, Rostec signed a contract for the supply to 66 of thousands of tank shots of BOD Mango in India. By a strange coincidence, at this very time, our TNITI was busy reassembling these same products stored in warehouses. Under the contract, NIMI undertook to supply equipment, technology and organize the production of shells at a factory in India. Apparently, the Indians will cope with the machine park themselves, at least in TNITI nobody asked for any machines or automatic lines. But it was possible to put everything in a set with our TM machines.
The new armor-piercing-piercing projectile "Vant", intended for the "Armata", is one third longer than the "Mango". With its mass production (if it is planned), the manufacturer will suffer. And for the projectile KA-500, about which it was discussed above, the body of "Vant" - seeds. The machine has everything for its productive and high-quality processing, but it seems to be more profitable for someone to do everything "on the knee".
And is it not strange to create shell production in India, leaving your own in neglect?