MPA (Multirole Patrol Aircraft is a multi-purpose patrol aircraft) is a technologically advanced, competitive lightweight aircraft with two turboprop engines, created by Piaggio Aerospace. It is designed to perform various tasks, ranging from peacekeeping operations to actual combat scenarios; It has advanced features and best-in-class features required to perform the most complex scenarios.
Piaggio Aerospace is developing an MPA multipurpose patrol aircraft in collaboration with ADASI (Abu Dhabi Autonomous System Investments). This is a division of Tawazun from the United Arab Emirates, which manages many comprehensive programs for the UAE armed forces and creates joint ventures with a number of world-class companies.
The MPA multipurpose aircraft is capable of performing various reconnaissance tasks, it can be equipped with various functional sensor systems and control elements in order to provide reconnaissance and surveillance, patrolling economic zones and conduct rescue operations. The aircraft has an excellent combination of flight duration, range of operational flight speeds, climb gradient and practical ceiling, and, finally, a comfortable working space for conducting sea patrols, monitoring ground targets, tactical, radio and electronic reconnaissance.

Piaggio Aerospace MPA outperforms other competitors in light mid-height turboprop segment
aviation
, it fills the gap between the heavier turboprop intelligence platforms thanks to the following features:
To fly fast at high altitudes to remote operational theaters, for which a longer flight time is necessary;
Integrate the latest radars and advanced optical-electronic systems;
Process and combine the information received with the most modern management consoles;
Transmit reconnaissance information to earth via data channels in direct and indirect visibility;
Minimum logistics with maximum performance.
The Piaggio Aerospace MPA with its maximum operating speed MMO (Maximum Mach Operative) 0,65 Mach number is the fastest turboprop aircraft on the market. This platform is designed to integrate the most advanced sensors, while having the best performance in its class:
Quick climb to 12300 meters
Almost silent loitering at low speeds (125 KTAS, KTAS - true airspeed in sea knots)
Short flight at high speed (up to 350 KTAS, MMO = 0,65) to remote operating theaters
Patrolling large areas at low altitudes to 7 hours
Work at high altitudes with a flight time of more than 10 hours
Flight at maximum range over 3300 nautical miles
Cockpit PIAGGIO AEROSPACE MPA
The spacious, full-length cabin allows you to install various functional consoles for a wide range of special tasks. Thanks to the pushing propellers in the tail section, the cabin has the lowest level of noise and vibration among the aircraft of this category.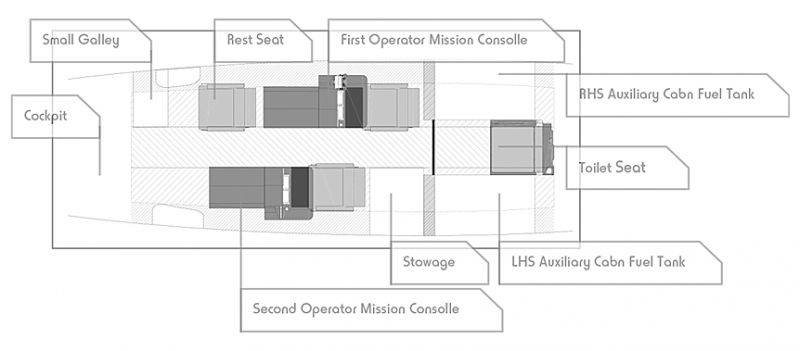 The crew is comfortably accommodated in a work area with two workplaces, one seating area, a kitchen and a toilet. With an overpressure of just 0,6 kg / cm, the 2 cabin has a very low equivalent height, which allows you to get a comfortable working environment for pilots and operators and guarantee low fatigue and maximum operability of operators.
About the program
The new Piaggio Aerospace Multirole Patrol Aircraft patrol aircraft is a further development of the P.180 Avanti II aircraft of the same company that has been tested and certified for the carriage of passengers. This aircraft, with its proprietary 3LSC configuration (Three-Lifting-Surface Configuration) with three aerodynamic surfaces and laminar wings with high elongation, has more than 800000 flying hours and more than 20 years of trouble-free operation.
The modified aerodynamic configuration, created for special military tasks, passed advanced tests at low and high speeds in wind tunnels of advanced laboratories to substantiate the design and confirm the characteristics, during which it demonstrated a reduction in the required power by 30% compared to its closest competitor.
The new MPA aircraft inherited the excellent performance of the P.180 Avanti II platform, including high speed, but the new model of the aircraft was modified to improve the performance and installation of new and upgraded onboard systems:
Increased area and wingspan and tail
Noise reduction (including upgrading engines with new screws with saber blades)
New chassis
Increased fuel capacity
SAAB Equipment
Performing tasks
The new multi-purpose aircraft Piaggio Aerospace MPA is optimized for a variety of tasks: sea patrols, ground surveillance, tactical radio intelligence and information gathering. The Italian company Piaggio Aerospace, seeking to create the lightest efficient turboprop aircraft designed to perform special tasks, chose Swedish company SAAB as a system supplier for MPA. Piaggio Aerospace and SAAB are installing a full set of advanced sensors and surveillance systems onboard the MPA, as well as integrating the Aquila MMS (Mission Management System) flight task management system.
In order to carry out a wide range of tasks, high-performance search radar and a set of optical-electronic equipment will be integrated into MMS, which will make the MPA one of the most functional and advanced aircraft in its class. Radar antennas and a specific intelligence station are installed under the fuselage, which allows for circular surveillance; The systems are powered from a reliable power source with a voltage of 28 DC volts.
The open architecture of all MPA aircraft systems allows the flexibility to adapt to the task, and the extensive use of commercial ready-made components provides a modern human-machine interface and first-class graphics capabilities and computing power.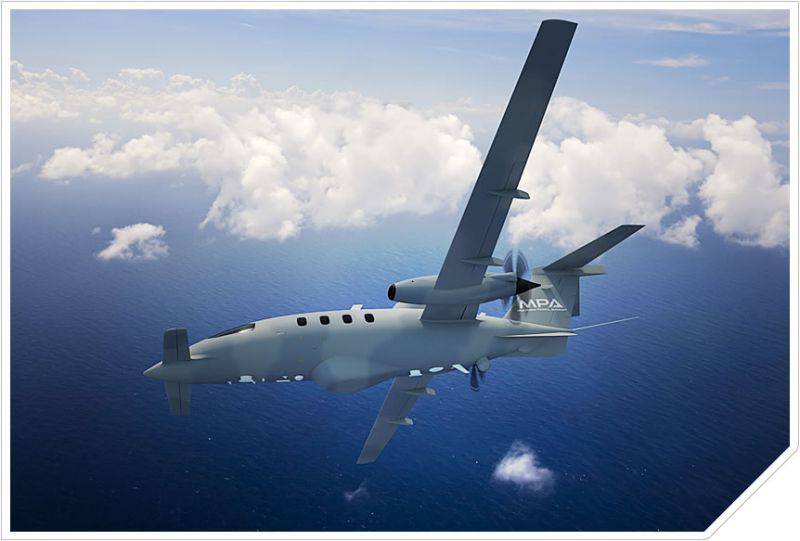 Aquila MMS integrates tactical sensors and data channels that provide operators with a high level of situational awareness by combining data from various sensors and systems and presenting information through an advanced human-machine interface. Two operator workplaces are equipped with multifunctional consoles with built-in displays and means of monitoring and controlling sensors, and systems for collecting, analyzing, combining, recording and distributing all available data. This allows you to maximize crew productivity and properly distribute responsibilities between them, while direct integration with aircraft avionics allows for increased interaction between the pilot and operators.
The MPA aircraft has a modern communications system with a broadband data link in direct line of sight, as well as a powerful Ku / Ka satellite communication system. The communication system can also be improved by integrating data transmission channels of Link 11 / 16 standards and the in-friend-inquire device.
Optional (highly recommended) on the MPA aircraft can be installed protection system.
Specifications MPA multipurpose patrol aircraftdimensions
Wingspan - 21,378 m
Length - 14,400 m
Height –3,964 m
Masses
Maximum take-off - 7500 kg
Maximum at landing - 6500 kg
No fuel - 5000 kg
Equipment plus operator 2 - 6130kg
Maximum fuel weight and maximum equipment weight - 2315 kg
Available fuel - kg 2400
Flight quality
Maximum cruising speed (height 7600 m) - 350 KTAS
Maximum working height - 12300 m
Maximum flight duration (1500 meters, 100 nautical miles) with a reserve of 45 fuel minutes according to the rules of visual flight - 6,4 hours
X-rate of XTUMX KTAS for less than one turn radius
Rise to 10500 meters in 20 minutes with maximum weight
Engines
2 × Pratt & Whitney Canada PT6A-66B 950 SHP
low-noise screws with five blades Hartzell with rotation towards each other
Onboard equipment
Two replaceable operators from SAAB, equipped with multifunctional displays and controls
Avionics of Rockwell Collins Pro Line Fusion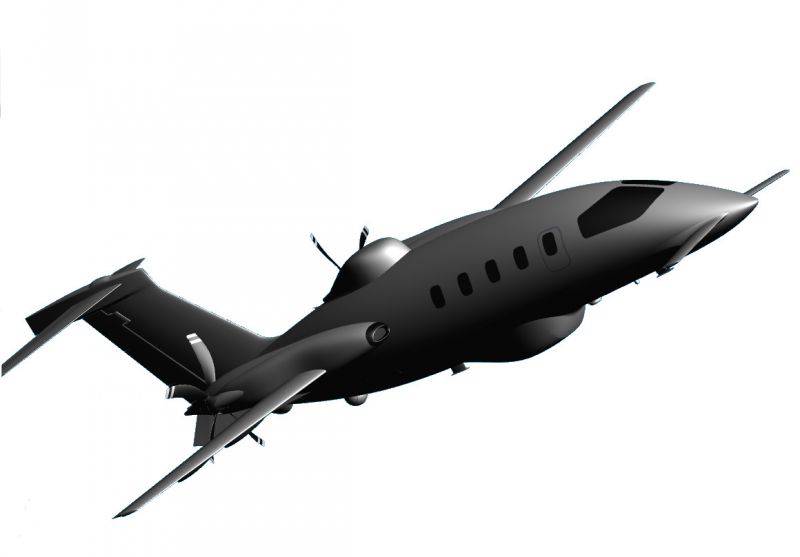 Materials used:
www.mpa.piaggioaerospace.it
www.wikipedia.org
www.sandrermakoff.livejournal.com