Today it finally became known that the navigator of the bomber of the Russian Aerospace Forces, shot down on the eve of Turkish military aircraft, is alive and well. Some details of his (navigator's) rescue after landing on the territory controlled by the militants also appeared. The Russian pilot was able to be detected by the signals of a radio beacon, which led a search and rescue special group to a serviceman of the Russian Federation Air Force, who was at that time in the forest more often. According to the channel
LifeNews
, the Russian pilot spent almost a day in the rear of the militants.
It is reported that in addition to the Russian military, 18 military personnel from the Syrian army and six representatives of the elite special forces of the Hezbolla movement participated in the search and rescue operation. They took the Russian pilot to the territory controlled by the Syrian troops, from where he was taken to the Hmeimim airbase.
Meanwhile, it became known that the president signed a decree on awarding state awards of the Russian Federation to servicemen of the Armed Forces. We are talking about awarding (posthumously) Lieutenant Colonel Oleg Peshkov (the dead pilot of the Su-24) and sailor Alexander Pozynich (the dead marine, who participated in the rescue operation). The navigator of the Su-24 bomber, captain Konstantin Murakhtin, was also awarded.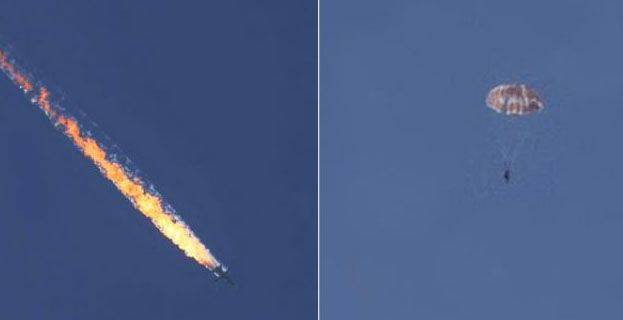 Of
presidential decree
:
For heroism, courage and bravery shown in the performance of military duty, Lt. Col. Peshkov Oleg Anatolyevich was awarded the title Hero of the Russian Federation (posthumously).

For courage, bravery and dedication shown in the performance of military duty, captain Murakhtin Konstantin Valerievich and sailor Pozychnich Alexander Mikhailovich (posthumously) were awarded the Orders of Courage.
Russian Defense Minister Sergei Shoigu expressed his gratitude to the Russian servicemen who participated in the search and rescue operation:
I would like to thank all our guys who worked with great risk all night long. I reported on the successful completion of the operation to the Supreme Commander. He asked to convey the words of gratitude to all the personnel who took part in this operation.
Earlier, the Russian ambassador to France stated that Lieutenant Colonel Oleg Peshkov (pilot Su-24) was injured when he descended by parachute, after which he was "brutally killed by jihadists on earth" (these are the words of Russian ambassador Alexander Orlov radio stations
Europe1
).
For your information:
Last year, according to the results of the Aviadarts-2014 contest, Konstantin Murakhtin was recognized as the best among navigators of the bomber
aviation
. Konstantin Murakhtin - a native of the village of Petrovka in Odessa region, a representative of the military dynasty.