The Russian president, commenting on the extremely difficult situation with the power supply of the Crimea, noted that the Ukrainian authorities, in fact, pursue a policy of tacit acceptance of what radicals are doing on the border with the peninsula. According to Vladimir Putin, the energy blockade of the Crimea became possible only because official Kiev silently agrees with it.
Vladimir Putin declared (quote
TASS
):
It is surprising only the position of our partners from Kiev. Without their tacit consent, these events (talking about the undermining of power lines in the Kherson region) could not take place, it is obvious and understandable. We constantly hear that the Ukrainian authorities are talking about the need to return the Crimea to that country, but at the same time they scoff at people and act in the opposite direction.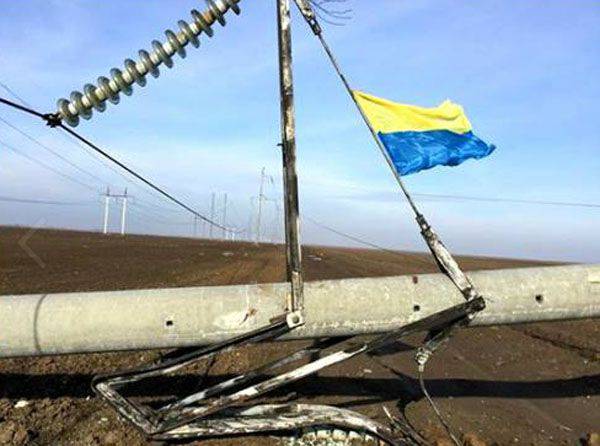 Then the president set the first priority task: to complete the creation of the first line of the energy bridge from the Krasnodar Territory to the Crimea by December 20 of the current year. At the same time, Putin noted that, according to the assurances of the Minister of Energy of the Russian Federation Alexander Novak, the process of creating the first line of the energy bridge to the Crimea will be completed before December 20.
A full-fledged energy bridge connecting the Crimea with the Kuban, in the plans of the Ministry of Energy, should appear by the summer of 2016.
The President of the Russian Federation ordered before December 20 of the current year to direct the necessary number of temporary sources of electrical energy to Crimea so that the situation with the energy supply on the peninsula does not become critical.