Turkey for the last two months has periodically announced that it is developing plans to create a buffer zone in Syrian territory.
Declaratively, the buffer zone was necessary in order to prevent the penetration of ISIS militants (a terrorist organization banned in Russia). In fact, this corridor is used to supply terrorists.
weapons
, for the passage of new "jihadists." There are videos on the Internet: terrorists during the bombing of Russian videoconferencing systems move to Turkey to return to Syrian territory after its completion.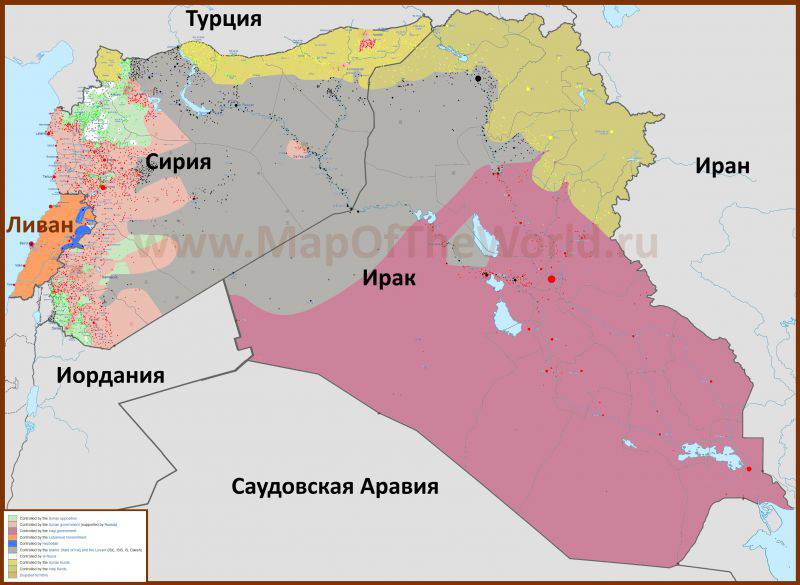 On the map in yellow are the territories controlled by Syrian Kurds (respectively, closed to ISIS). The territory controlled by ISIS is marked in gray, the Syrian opposition is in green. The width of this territory is about ninety kilometers.
The Syrian army, with the support of the Russian Aerospace Forces, is faced with the task of occupying this area to facilitate further the task of liberating Aleppo. Without solving this problem, the release of Aleppo will be like an attempt to scoop out water from the bath when the faucet is open. Remember the school? Through the pipe №1 water flows into the pool ...
What are we seeing at the moment?
Due to the complication of the situation in the region, the Turkish armed forces are pulling forward units to the border with Syria. This was reported by the information portal military-informant.com. It is noted that the main combat troops are being transferred to the border with Syria.
Tanks
and Turkish Army Air Defense Systems.
The Turkish army and air force are put on alert after the incident with the Russian front bomber Su-24, which was shot down after the invasion of Turkish airspace.
A source:
"News of New Russia"
.
It is not difficult to guess that for the implementation of this task, Erdogan will need air support of the Turkish units. And the Russian side now has the full right to "land" Turkish aircraft over Syrian territory, including the territory controlled by Syrian Kurds.