It is very difficult to write about what was recently part of the soul. It was, but then for some reason it ceased to be. Has the soul changed? May be. Or did wisdom come? God forbid. But the fact remains. We are less and less interested in what is happening in Ukraine and, in particular, in the Donbas? Definitely not.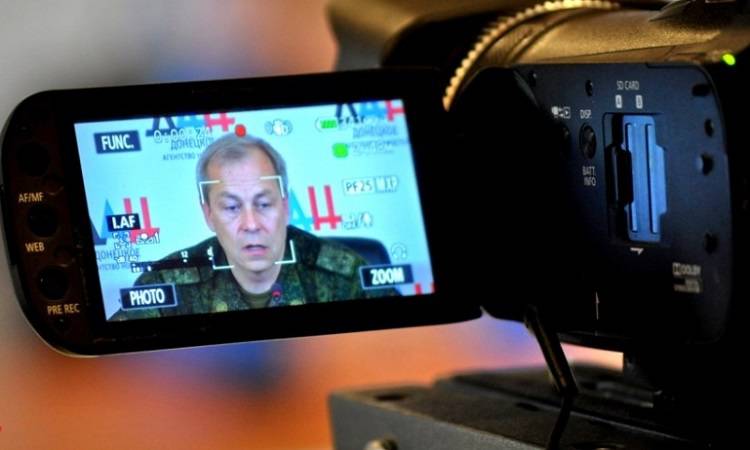 Readers have already noticed a sharp decrease in the number of materials on this topic. And this reduction did not come from the laziness of the authors. The reduction came precisely with the loss of the very possibility of obtaining information. We specifically reviewed materials on Novorossia for the last weeks. Uninteresting and unreadable.
But today is not about global fatigue on the topic of Donbass in particular. Why did we stop writing about the Donbass? Why did VO stop writing about Donbass? Is "putinsley" to blame or something else?
No one and no one merged. Except, of course, the Donbass itself. Since September this year, this region has become a zone of information exclusion. No, of course, it all started a little earlier. Somehow contacts began to disappear. Then, through other people, we began to learn that someone had fallen on the basement. Someone left for unknown reasons. Someone even came back or moved to Russia. And someone can not find. Just lost, that's all. War.
There were documents, there were recordings of conversations, there were video filming. And these materials became the basis for our articles. Anyone who has ever been in a combat zone will confirm a simple truth - all information must be strictly limited. Otherwise, the pursuit of truth can lead to death. Therefore, some materials have been waiting for their time for more than a year. Their time just has not come yet. But they are.
But still, we tried to write honestly, not only about victories, but also about negative things. Not to say that you were friends with the soldiers and commanders of the militia then, but good friends for sure. And while often arguing about the further development of the Donbass. They agreed with something, remained at something in their positions. At the same time, everyone understood, each has his own work. And the work of a volunteer assistant, a journalist is not at all as easy as the work of a soldier.
The fact that the power in the Donbass is changing, it became clear when the incomprehensible (but not for those who imagined the secret of the situation) was removed by the chairman of the legislative assembly. Then, when those who opposed Zakharchenko and Pushilin were finally removed from power.
Remember the information surge after this coup? Many have written. They wrote a lot. They wrote different. But the majority still hoped that nothing terrible had happened. Such arithmetic confidence is that the sum does not change from the rearrangement of the terms. Well, they changed one last name to another. One to another. In the place you know who corresponds to which place.
And along with the fragile world came the opportunity to get some money. And the one who is higher in power, respectively, has more opportunities. We in no way blame anyone. We simply state what happened in Donetsk and other cities. For charges need reinforced concrete evidence. With documents, with testimony of witnesses and victims. We do not have this. And this is not our business. For this there are special services, investigative bodies, prosecutors.
What happened next? Then there were reports of many volunteers from our country who were detained for various reasons. Then there was a stream of other volunteers who, disillusioned with LDNR, returned home. Then there were strange and tragic accidents. Then there were even more strange changes in people. Believe me, among our friends there are people who the hell is not a brother. People who do not know the word "fear." And they proved it many times in battles. And these people, even when there is an opportunity to talk about something, find out something, immediately leave the conversation. I do not know, I am not interested in it at all now. And further in the same vein.
The call from the person who enjoyed our unlimited trust in those times was most surprised. His word could be relied upon with closed eyes. Officer, a former Soviet Special Forces-Grushnik. He drove his people, by the same created a small unit to where it would not have dreamed in the worst nightmare. Now he is driving too. True, the Chinese heavy dump truck on one of the construction projects in Russia. A good outcome for a career. Ask about the fate of his group language is not turned.
The information space of Donbass has changed in the same way. Remember the articles of the authors from that side. Not a single article about the fighters. Not a single article about the political situation. Not a single article about how to build the republic. Not a military region, but some sort of paradise on earth. That holiday, the competition, then visit the leadership of the orphanage. That flowers are planted.
Now, reading the comments on the articles, you can see people from LDNR. It's fine. So freedom is left. Freedom is still there. Only now, periodically in the comments began to appear the same notes as in the Ukrainian media. Russia is no longer interested in Donbas. Russia has merged the Russian world. Russia has not left only the Crimea. The rest has thrown.
UkroSMI, however, the same claims are made to the West. But this is not particularly important. The main thing is, for some reason, they abandoned it.
Why Donbass fenced off from Russia in the information plan, we do not know. And do not want to know. We have always adhered to and are of the opinion: those who live there must decide it. Why New Russia, which once began as a free country with people's power, became a completely closed territory, is also not clear. Why the MGB and other power structures have become omnipotent there, all the more strange. It's more like a dictatorship, you know ...
All this time we have not abandoned attempts to establish bilateral communication with independent colleagues from both republics. With those who can give a real picture of what is happening and a real analyst. And, although our efforts have been crowned with success, the feeling of strangeness of what is happening does not leave.
Do you want to make a report about the school - bring permission from the Ministry of Education. You want to talk about utilities - permission from the relevant ministry.
And so in any, especially emphasize, in any field. What's in the LC, that in the DNI. I was extremely disappointed by the fact that in order for a person to go to boarding school, for which we brought gifts last year, and took some pictures, you have to go to Lugansk and carry a written permission to shoot and interview. This is despite the fact that the person is a journalist and a media employee from Alchevsk.
Not better, I note, things are in the DPR. There, without permission, you can only attend holidays and rallies. We very much hope that our remaining friends in both republics will still help us break through the information blockade that is taking place.