Russian President Vladimir Putin commented on today's attack by Turkish interceptors on the Russian Su-24 bomber, which carried out a counter-terrorism mission in Syria. The head of the Russian state stressed that the Russian Ministry of Defense has all the necessary evidence that the Russian aircraft did not enter the Turkish airspace. According to Vladimir Putin, the downed bomber fell at a distance of approximately 4 km from the Syrian-Turkish border - on Syrian territory. At the time of applying for the VKS RF aircraft, it was no closer than 1 km from the Turkish air borders at an altitude of about 6 thousand meters.
Vladimir Putin:
In any case, our plane, our pilots did not threaten the Turkish Republic. They carried out an antiterrorist operation against ISIS militants.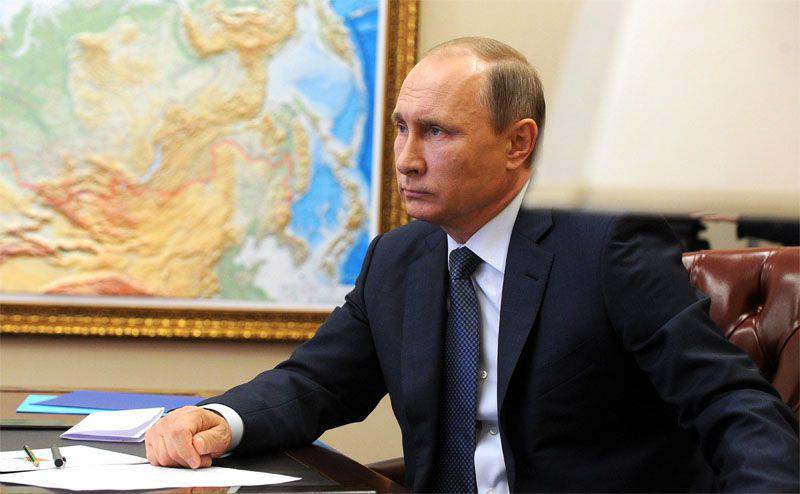 According to the President of Russia, in the mountainous part of Latakia there are terrorist groups, many of whom are representatives of the Russian Federation. The President noted that the challenge
aviation
The Russian Aerospace Forces is also to ensure that these militants do not return to Russia, but are destroyed in Syria.
Vladimir Putin (quote "
Россия 24
"):
We have long fixed the fact that a large amount of smuggled oil goes to the territory of Turkey, hence a large cash supply (LIH). Well, now also blows to our back, blows to planes that are involved in an anti-terrorism operation. This is despite the fact that we signed an agreement with the United States on the prevention of incidents in the sky, while Turkey itself declared that it was allegedly fighting terrorists. If LIH has such money, and the bill goes to tens of billions of dollars from oil trade, plus they have protection from the armed forces of certain states, then it is understandable why they behave so boldly and brazenly, why they kill people in such a brutal way, why commit acts of terrorism in the center of Europe. Today's event will have very serious consequences for Russian-Turkish relations.
Vladimir Putin noted that Russia treated Turkey not just as a partner, but as a friendly state.
President of the Russian Federation:
I do not know who needed what was done today ... In any case, not for us ... Instead of establishing contacts with us, the Turkish side appealed to NATO for consultations. As if it was not they who shot down our plane, but we were Turkish. Do they want to put NATO in the service of ISIS?
Vladimir Putin added that he understands that different countries have their own regional interests, and said that Russia will never tolerate such attacks, one of which against the Russian Federation occurred today.
The Russian president urged the international community not to deviate from the ideas of the fight against terrorism and to give an adequate assessment of what happened today.