In St. Petersburg, the serial production of protective gear for service dogs, which protect animals not only from sticks and stones, but also from knives, fragments and bullets, has been established
Rossiyskaya Gazeta
with reference to the developer of body armor NPO Special materials.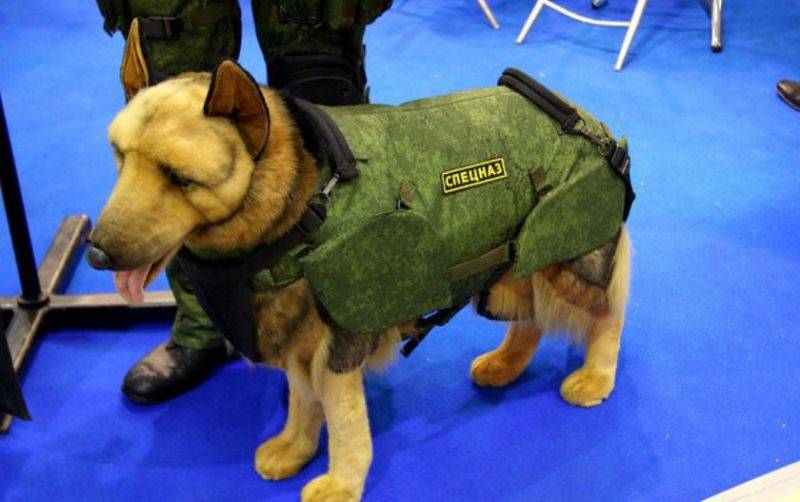 According to the company, they are currently "producing six basic models of body armor - from zero to second class protection. And the most powerful of them can withstand a shot from a TT pistol with a 7,62 caliber of a millimeter or a nine millimeter bullet of a Makarov pistol. "
It is reported that the equipment "consists of two sections - chest and neck - and supplemented with special elements that give protection to the legs and torso from fragments, debris and other objects." You can also hang reflective elements on each vest and even write the name of the unit.
However, animal innovators did not like this innovation. Social activists saw in the bulletproof vests "signs of ill-treatment" with our smaller brothers.
"I am against dogs being used as targets or in mine clearance." I am sure that there are safer ways to completely abandon service dogs in "hot spots" - for example, using robots. Of course, they are more expensive, "said Svetlana Los, head of the Right to Life organization.
"In addition, it is not clear how convenient such protection is for the dog itself. It is difficult for a person to put on a bulletproof vest weighing tens of kilograms, and for a dog he may not be very heavy at all, "she added, recalling that" in Russia the convention on the protection of animal rights is not signed, so they can be used as you wish and anywhere. "
The representative of the NGO Yuri Klyonov did not agree with the "inability to lift" with the public woman.
"Everything is thought out to the smallest detail. Our tests showed that dogs quickly get used to armor, freely jump and run, not experiencing fatigue for several hours. In addition, we do not only make body armor, but also produce special equipment for dogs to protect them from cold or heat, "he said.
As for robots, technical progress has at least stepped forward, but not as much as everyone would like.
"No technique today can replace a dog's scent. Before the development of protection, we specifically traveled to the "hot spots", and I personally became convinced that the first goal of the terrorists was always a service dog, because it was she who could be the first to thwart their plans - to detect the enemy, to find explosives. As for ill-treatment, one should understand that the owners of such dogs protect their pets like the apple of their eye. Service dogs save lives, and body armor saves lives of dogs, "said Klyonov.