The heads of the foreign ministries of the United States, Saudi Arabia and the United Arab Emirates on Monday discussed the settlement of the Syrian crisis and the fight against IS, reports
RIA News
State Department message.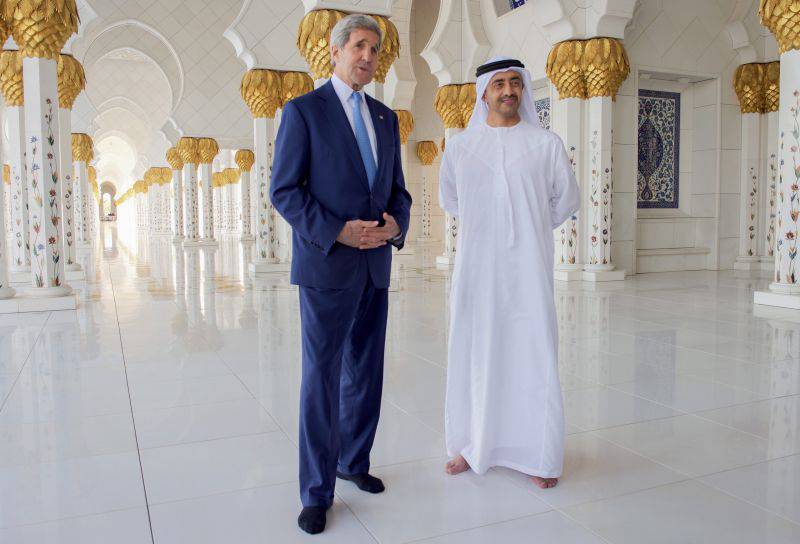 "They (the heads of departments) promised to continue rendering assistance to the moderate Syrian opposition as the political track (settlement) was implemented and discussed plans for holding an opposition conference under the auspices of Saudi Arabia, which is convened to unite all groups and develop common principles,"
- said in a release.
It is reported that "the parties spoke in favor of continuing multilateral efforts to implement the political transition in Syria, taking into account the results of the meeting in Vienna and in accordance with the Geneva communique, and also reaffirmed the mutual goal of achieving a united, pluralistic and stable country for all Syrians."
According to the negotiators, as many coalition partners as possible should take part in this process. Whether the fate of Bashar al-Assad was discussed at the meeting was not reported in the release.
Meanwhile, the White House continues to accuse Moscow of "wrong" behavior in Syria.
"Russia is currently undermining our efforts to reach a political settlement. They do this because they care first and foremost to support the collapsed regime of Bashar al-Assad. These efforts only undermine our ability to engage the moderate Syrian opposition in the discussion of long overdue political changes, the need of which even Russia acknowledges. "
- A spokesman for the US administration Josh Ernest said yesterday.