But I want to start with a cat. With an ordinary cat. All Russians are aware of what a normal cat does when it has nothing to do. Sometimes I really want to quote this addition to our foreign "partners". And bring this cat as an example. It would be like saving material resources, and less would be a loss in public opinion.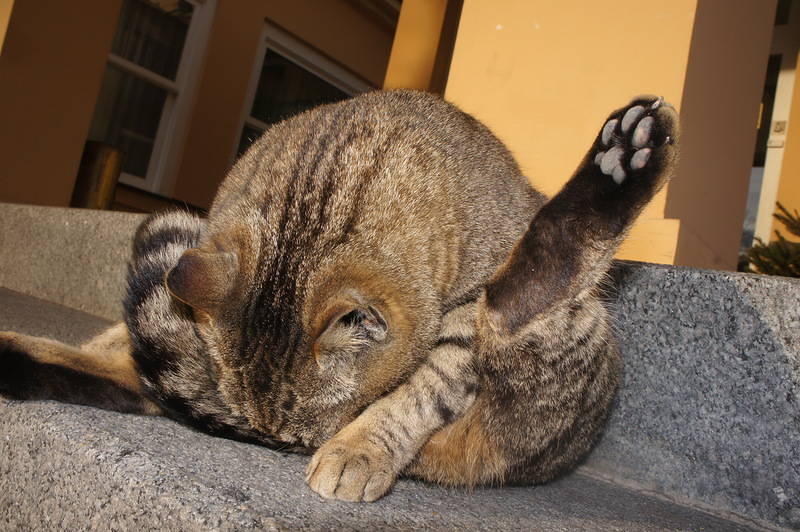 The UK and its allies are conducting a naval operation to search for an alleged Russian submarine off the coast of Scotland ... Allegedly, a Russian submarine was spotted in the area about 10 (!!!) days ago ...
Cat? He, darling.
It may be clear to the cat that even if ten days ago a submarine flashed off the coast of Scotland (that there is no Russian, no one else, yet?), Then its current location is very, very far from the Scottish shores. Provided that the crew of the boat is not recruited from among the patients of a madhouse.
Well, what, tell me, will the professional crew of the submarine lie quietly on the ground and wait for it to be found? But in the English admiralty for some reason, we are sure that the boat of the 10 days is just waiting for the moment of its discovery.
It is noted that in search of the British
the fleet
assist anti-submarine aircraft of the naval forces of Canada and France. Because there are none. The budget does not pull.
It is reported that the alleged task of the Russian submarine may be spying on the Trident nuclear complex, which consists of four nuclear submarines of the country.
Admiralty, what to tell you about your "Vangardy"? Is there something that you do not know, and vice versa? Yes, we all know. Even the fact that you have 4 boats, and three nuclear deterrent forces. There was also not enough money to equip the fourth with "tridents".
And what, one wonders, is the sea a balmouth? Apparently, the aggravation at the end of the autumn has such an effect. Dvizhuhi ponavodit, wave foam. Seething activity portray ...
Here, by the way, about imitation of vigorous activity. "Charles de Gaulle" arrived, after all, in the Mediterranean Sea to fight ISIS. Doubts were, I will not hide. It hurts him so ... sad in terms of trouble-free operation. But here, got. It is clear that Peremoga went.
Naturally, Hollande spoke to the media in a very bright and loud way.
"We have decided that we will continue to strike, and they will be more intense. We will choose targets, the defeat of which will allow the Islamic State to inflict maximum damage - our aircraft carrier Charles de Gaulle is capable of delivering powerful blows."
Oh yeah! All six attack aircraft on board. It will be a compelling blow. Well, about the "choice of targets for inflicting ISIL maximum damage" - this is Khan, apparently, not only for excavators, but also for trenchers. Final and irrevocable.
In short, tremble, LIH! The French are coming!
More precisely, they came. Win, of course. To then "at the checkout" to be. As in World War II. And this is with all that at home things do not seem to be raked. In a sense, the terrorists in France.
Well, good luck...
Dame, of course, taken to skip ahead, but that's how it happened. The lady, that is, Merkel, is not particularly distinguished. More precisely, distinguished, but crooked.
Sanctions extended for another six months. But not the sanctions that were associated with the Minsk agreements, and the possible withdrawal of which Berlin recently announced. Say, in the case of proper implementation of the Minsk agreements - we will remove. And those that were imposed in connection with the "annexation of the Crimea."
Well, since the Crimean do not cancel, what then suffer with Minsk? Extend! And extended.
Cat? Yes, of course, the cat!
The prayers offered by the Germans over the lifting of the sanctions were not heard. And the prayers of our farmers, that these sanctions continue - completely. Apparently, the Russian peasants and Angels have the same god. But - our suits, and good.
And the fact that Germany has lost two and a half billion euros on sanctions ... well, apparently, a rich country. Can afford this. And continue to persist in losing money. Which, by the way, would be very useful in arranging the "refugees" who actually flooded Germany.
A million "refugees" in Germany - this is not a joke. This is not Russia, where one and a half million arrived our relatives from Ukraine dissolved without sediment. Only we came to us, and in Germany - "theirs". And soon on the traditional German "Guten Tag" at every corner in response you will hear a no less traditional German "Ja, salam alejkum"?
Yes, everyone in this world conducts its policy as it can. Someone calm, someone without special effects can not. Here are just the difference between the special effects can be. When ISIS fuel trucks are burning there, and when they are here, in France or Mali, the same ISIL people sow real panic and death.
You need to think, think well. Especially what will happen tomorrow. If Grandma Merkel has long gone to a house in the village, for a well-deserved rest, then Cameron and Hollande can still do something in their political life.
And do not be like a cat.