Blog
bmpd
with reference to spotters, reports that on November 21, another batch of Su-4S 35-x aircraft flew from the airfield of the Komsomolsk-on-Amur aircraft factory, heading west. The board numbers of the 03, 04, 05 and 06 aircraft.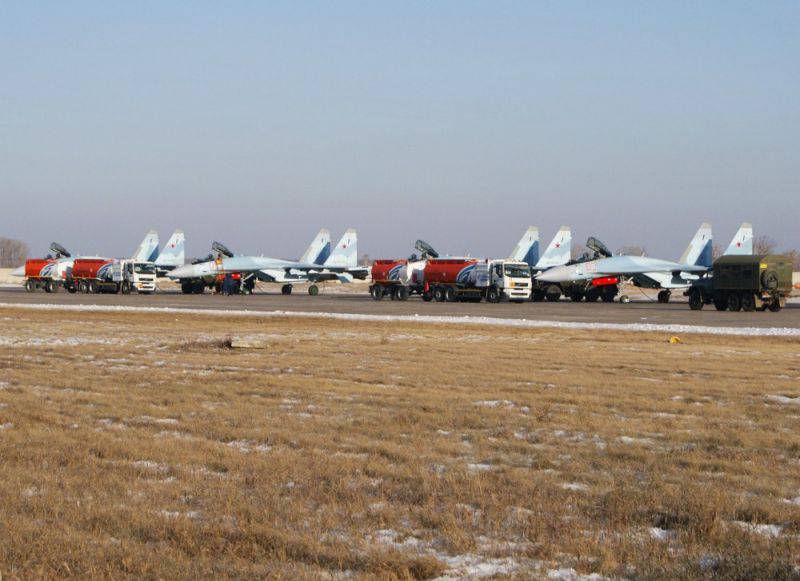 Four new Su-35S Fighter VKS of Russia (red side numbers "03", "04", "05" and "06" during an intermediate landing at the airport Tolmachevo when flying from Komsomolsk-on-Amur to the European part of Russia. 21.11.2015,
Intermediate landing cars made in Novosibirsk at the airport Tolmachevo. The exact location of the destination is unknown.
"According to previously published plans, the Su-35S fighter built in 2015 (14 aircraft) was to be equipped with the 22nd fighter
aviation
the regiment of the 303rd mixed aviation division of the 3rd command of the Air Force and Air Defense (from August 1, 2015 - the 11th Army of the Air Force and Air Defense) of the Eastern District in exchange for the Su-27SM squadron, transferred in 2014 from this regiment to the Crimea, " the blogger writes.
However, the new aircraft did not head for Primorsky Krai, but in the opposite direction.
"It is possible that these fighters will go into service with one squadron of the 31 th Fighter Regiment of the 1 th Mixed Air Division of the 4 Army of the Air Force and Air Defense of the Southern Military District at the Millerovo airfield (Rostov region) operating the MiG-29 fighters (two other air forces of the Soviet squadrons, Millerovo (Rostov region), operating MiG-30 fighters (two other squadrons of the RS forces). This regiment is being retooled on Su-XNUMXCM fighters of new construction), "the author notes.
In total under the contract from 2009 g for the construction of 48-mi Su-35С the Russian military transferred 40 fighters. By the end of the year, KnAAZ must supply the Ministry of Defense the remaining 8 machines.