Poroshenko expressed gratitude to the Baltic States for refusing to join the coalition with Russia against terrorist organizations, reports
RIA News
with reference to Facebook of the Ukrainian president.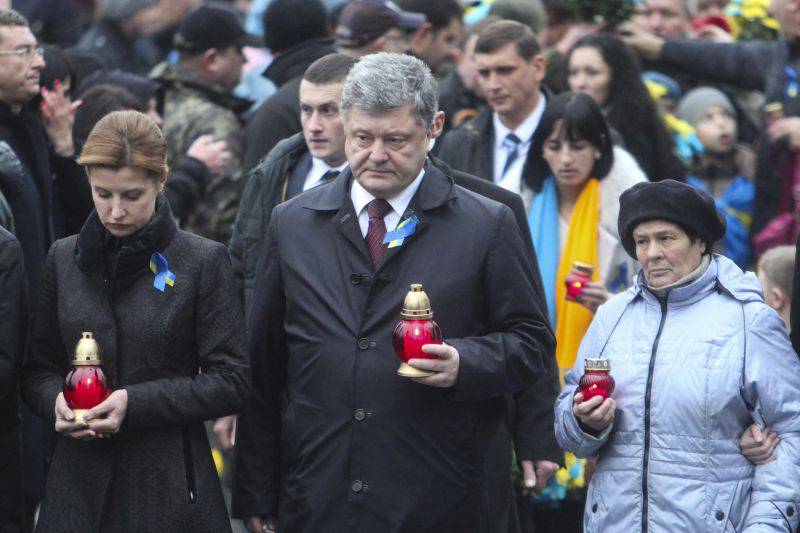 Poroshenko commemorates "Heavenly hundred", November 21, Kiev.
Specifically, gratitude was expressed to the heads of Latvia, Lithuania and Estonia "for the continued support and solidarity with Ukraine."
"The Baltic countries are well aware that the democratic world should be careful about cooperation with Russia around Syria," because "the goal of Russia's actions in Syria is to divert the international community from Ukraine," Poroshenko wrote.
Earlier, Lithuanian President Dalia Grybauskaite said at a meeting with Baltic colleagues that "Lithuania will not participate in any new coalition in which Russia participates or wants to participate."
Continuing the anti-Russian rhetoric, Poroshenko suspected Russia of organizing the beating of black fans at the Dynamo (Kiev) vs. Chelsea match, which took place on October 21. The purpose of this action, according to the president, is to accuse Ukraine of racism.
In this regard, he instructed the security services to "more thoroughly investigate the incident," expressing the hope that "UEFA will make an informed decision on this episode."
Criminal proceedings for this fact are open, but there is no one to blame - there is not a single defendant in the case.
However, the executive director of PHARE, a member of the FIFA anti-racism commission Piar Chef has a different opinion: "In fact, Dynamo fans were attacked, Chelsea fans were safe in the guest sector. One of the main problems in this situation is that the security service of the stadium and the stewards were indifferent to what was happening. In this regard, there are questions to Dynamo. "
"In addition, we have information that the beating continued after the victims were removed from the podium. However, this is not confirmed yet, "he added.
Meanwhile, Poroshenko continues to tear the last threads, which at least somehow remind of the Soviet period and neighboring Russia.
By his next decree, he renamed military units, the names of which contain references to Soviet awards and honorary titles.
"Not only military awards, including the Order of Lenin, the Red Star or the Red Banner, but also the Order of Suvorov, Kutuzov, Nakhimov, Alexander Nevsky and even Bogdan Khmelnitsky were banned," the channel writes
LifeNews
.
According to a channel citing the website of the Ukrainian president, "the 160th Warsaw-Odessa anti-aircraft missile brigade of the Order of Suvorov will become the 160th anti-aircraft missile brigade of Odessa, the 25th Moscow Guards Transport Brigade
aviation
it will simply become the 25th guards brigade of transport aviation, the 54th separate guards reconnaissance battalion of the order of Bogdan Khmelnitsky and Alexander Nevsky will become the 54th separate guards reconnaissance battalion ", etc.