Greetings, my friends and foes! Good wound to you! I am very glad that those and others have not forgotten me. It means that it is not for nothing that the thoughts are spinning in the head, and the legs are running around the keyboard.
In the beginning I will answer some of my compatriots. Just because I do not like to leave questions unanswered. Yes, I don't care about Donbass. Not because I do not understand what is happening there. Not because I consider the inhabitants of the people's republics as separatists or something similar. Rather the opposite. I understand and in many respects support. But I am not there! More precisely, it was once, but for a long time. And I do not want to write conclusions about what you learn from the OBS intelligence (one grandmother said). It will be a lie. Disrespect to the reader. For Donbass, probably, there are cockroaches.
In the same way, I will say about my comparison between Alexey Brain and Dmitry Yarosh. I respect the memory of people, the graves. But I, as well as you, have the right to my thoughts, my conclusions. I just look from the other side. And I see what you see in a mirror image. In this I remind each of the readers. Regardless of whether he is a man or a cockroach. In our heads, our image is always a mirror. Just because we look at ourselves through the mirror. Therefore, often do not know in the video.
Well, enough about the solemn. Now about the sad. Today, two hours talking with an old friend. Very old. Of those who once tried to do this crest. He is from one of the Scandinavian countries. He studied at our university. Man is not stupid. In life has achieved a lot. In a multinational corporation, one of those called Jener wer fasst die Lösungen.
We met for a long time. So his call came as a surprise to me. You know, like sneakers in an empty room. I will not give details of the subsequent two-hour conversation on Skype. Memories you probably will not be particularly interested. And here are some phrases. To put it bluntly, phrases beating at the very heart.
"Before, I was fine with Ukraine as a country, but I laughed at Ukraine as a state. And after this trip I realized that Ukraine is one. How did you manage to connect the country and the state, I don't understand. Where are you and Ukrainians? Why now I can say: the authorities in Ukraine, of course, are nasty, but people are wonderful? "
Scary really words. If any former Soviet, one of those who had flowed away after the collapse of the USSR to the West, said this, it would not be so offensive. But it said the European aborigine. From a small village somewhere out there among the fjords. True, with excellent education and thinking head.
"I always enjoyed communicating with Ukrainian maidens. They remind me of something of ours. Only ours are cold. They feel cold. They don't show that they like to be stupid. But Ukrainian women are vice versa. They are beautiful, cheerful, sensual. For some reason It was the first night in an elite hotel I was knocked on the door three times with an offer of young women for entertainment. And then again 5-6 made a phone call. I had to call Leibwächter. Have you now become the center of the global sex industry? "
Alas, my old friend, probably, and here you are right. Mores with the advent of the new government really become free. Although the hotel is not an indicator. Well, I do not want to believe that now in my country like this. I do not want to believe that our children are sold. Scary is it.
"What have you done with people? I understand that radicalism is inherent in young people. We were radicals ourselves. Probably, this is age. But adults? Why have you changed so much? Even you have changed. I talk and understand that you are not you. And What can the people do under such authority? These are your words. The people are you. And your country. And your children. Your choices are a farce. And everyone understands this. But whoever would not speak, they keep saying the same thing - I am against but I can't do anything alone. What are you patriots? What are adult people? "
I really wanted to argue. But what is the cover? Scandinavian rights Damn right. There is nothing to answer.
"You excuse me for being so harsh, but in my company I will strongly object to the investment in your country. I do not believe that you will get out. I do not believe. You do not want to live in Europe. You do not want to live at all. You have enough to exist. So that the mink was. So that every morning a crumb of bread. So that the battery warms. "
I heard a lot. Well, no European tolerance. And I learned how to count money better than a calculator. Maybe because not at a briefing of some kind, but just met with an old friend. And who else will tell the truth, if not a friend? Bitter, but true. But the most disgusting, I realized that he would also be an ardent opponent of our "Ukraine - tse Europe". And maybe right. Ukraine tse Ukraine.
I loaded you today, probably for the most I can not with my thoughts. Mood spoiled in the morning. Now I will try to raise. We have enough fun.
Oh, and Russia scared ours with its airstrikes on Syria. It seems that they themselves believed in the nonsense that the Ukrainian media disseminate. Well, what
aviation
maybe in a country where plow on a goat is plowed? Helicopters that can't fly by definition due to the lack of Ukrainian engines, yes old corncrackers. Because they were produced at the Antonov firm by Ukrainians. So, they will fly forever.
But ... tv. Damn him. And these journalists (so that they could take them). They show that there are some "White Swans" and other modern aircraft in Russia. Yes, and modern missiles. In short, scary. And what about us? And we?
Our generals rushed in the air defense unit. Guys, you have to cover it up. And those - but not the question. Now we rub the rocket with gasoline to shine and cover. And roll out ...
Oh, it would be better not roll out. Roll out launchers 40-year-old. The generals already sat on the ground. What's this? So air defense. And how to shoot him? Hye ... Worked out. Even our grandfathers worked out. Here it means that you press with your finger and ... boom. True, this boom can happen right here. So you, the color of our great army, would have moved away ...
And we have the latest weapons? And then ... It is already 25 years as the latest. The newest in the Ukrainian army. Newer no, and not yet. The president said that we can babakhat like that.
And this is not funny. The basis of our air defense really make up the system, which from 25 to 40 years. These are C-300 PT / PS and Buk-1. And it is really possible to shoot them down today except maize farmers. Modern aircraft can fall from laughter if it sees.
Yes, and rockets, which we have a car and a small truck, we can assume that there is not. Ended term our missiles. Now, instead of starting can come kirdyk. Who does her old fool know that she will climb into a sclerotic head?
Well, in the Parliament, too, the circus does not subside. The last reprise is the fight between Deputy Parasyuk and General Pisny. And nothing to laugh. Here are our names. And the general, by the way, is from the SBU. So ... Yes, and Parasyuk not the last person at the security forces. After all, the former company commander in the punitive battalion "Dnepr-1". In short, the security forces measured their letters ... no, forces. Parasyuk had more strength. He himself younger. But most importantly, the whole world once again saw how it was necessary to drive in thoughts about the fight against corruption to officials. Foot, and ... No, not on the head. Our thoughts are right where the leg most often arrives.
By the way, you will not believe, but Parasyuk ... Yes, I will not write too much. Just copy his statement in an interview:
"I want to say that we are moving towards some correct ideals in this country, to the right parliament, to the right technocratic government, to the right president. I'd probably most of all want my country to not have such deputies as Volodymyr Parasyuk. I am convinced that they will not be in the future, there will be professional, correct people. We are now just a requirement of time. Struggle is now a period of struggle. What kind of parliament and parliamentarism are we talking about? There are enough laws in our country could perform I have, they just do not run. " "I will go out and say, dear deputies, please vote in favor! In order for me to be deprived of parliamentary immunity, because I am tired of being manipulated in my country".
Envy. Envy everyone. These are our deputies. Give me at least one country in the world where a deputy chopped down the truth-womb like this. You can imagine Vladimir Volfovich, who would say - I don't want Volfovich to be a deputy.
And in the government we have grief. Such a bitter grief. These, I can not quote, the editor will not miss, from Europe, they refused to raise the salary of Ukrainian officials.
"The EU will not allocate funds for salary increases until the concept of civil service reform is established, since it is necessary to change the quality of its work in some sectors. Ukrainian authorities must finally understand this! Until Kiev understands this, we will not reach the goal. We need specifics, which is now not enough. "
This is the European Commissioner for the expansion of something there Johannes Hahn said. Well, not a moron? Where is interesting, he read that the official should work? Well, show me at least one job description, where it would be written - should work. What is responsible for what is written. The one whom organizes and directs too. But what should work no!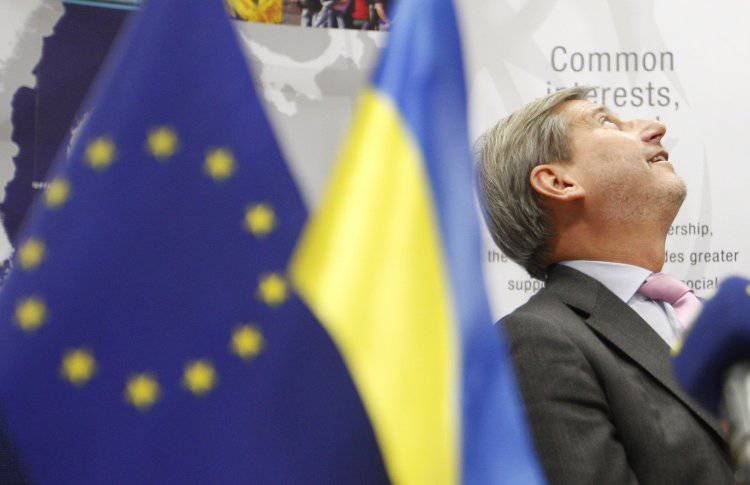 Our official receives not earned pay, but a salary of content. Well, does this Khan (probably the ancestors of the Tatar-Mongol) understand such a simple thing? The main word is "content"! It is necessary to feed our official. By the way, especially smart of this class also wear a uniform. For this very wearing of money they threw it. In short, grief with us.
This Khan in general somehow imperceptibly became the enemy of Ukraine. Represent, we, means, in Europe we climb, in ZTS. Does he not know that the ZTS does nothing for us except losses? Even Senya won. Half a billion American hryvnia will be covered with a copper basin. They also need to give us. Otherwise, we will hand over the pelvis for scrap. And Khan taldychit - "We, of course, were and are against any actions that impede trade. But we have already provided a lot of money for Ukrainian business to prepare for new export opportunities and new market conditions."
And remember the pink childhood. Samuel Yakovlevich. Not a neighbor, but one that Marshak. And the ones that you sent last week, we have long eaten ... Hey, Europe, we want to eat again!
And about the weather. In Ukraine, the afternoon is above zero temperature. True, to 10 does not reach. Somewhere in the middle. But at night the frost has already begun. This is what I? And besides, that soon, it seems, the European Union will again have to allocate money to buy Russian gas by Ukraine.
On this today I will finish this muddled article. It just happened that I had to cross a grassland and a hedgehog. In principle, the output should have been barbed wire, and what happened - to judge you.