It is unpleasant to feel like a prophet when your worst predictions come true. Unfortunately, that's how it turned out. More recently, in the material "
The world wants to forget Ukraine. But Ukraine will soon remind of itself
"from 18 November, we wrote that the Ukrainian authorities have no other means of obtaining funds for survival, except for heightening tensions in the region. And now we have received confirmation.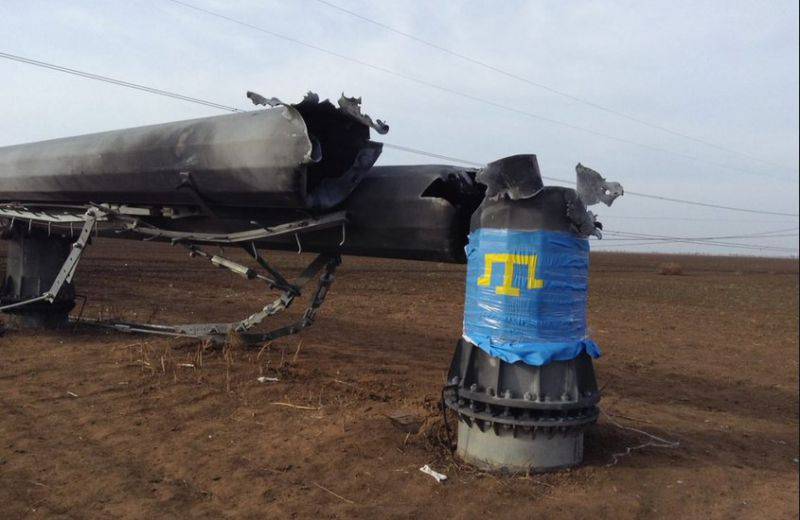 Terrorist attack against the population of Crimea. There is no other wording and cannot be. And all those involved in this outrage deeply do not care that, along with Crimeans, residents of the Kherson and Mykolaiv regions were left without electricity. We beat, as they say, our own, so that others would be afraid or suffer.
About the residents of Kherson and Nikolaevsk I, to be honest, do not hurt like that. Let them have a headache for newly elected heads and deputies. So it will be fairest of all.
But about Crimeans hurts. Crimea, unfortunately, is still hostage to the power system of Ukraine. And the Ukrainian authorities used, and will continue to use it to put pressure on Russia.
The principle of "I'm gonna get my eye out for Russia to have a neighbor of the curve was" is being implemented in a purely Ukrainian way - with jumps and a little light. But we all already know that there are not power curves, but defective ones. But, unfortunately, it is still not possible to do anything
Crimeans will have to endure. To tolerate rolling blackouts, to tolerate the absence of trolleybuses, to tolerate the absence of light in homes and institutions. And hope that the builders of the energy bridge, which should start working in December of this year, knowing what is happening in the Crimea, will remember how to work in Stakhanov style. Although so only a month before the start of the first stage remained.
It is a pity that this can not be avoided - our ordinary "will live, we will reach the teeth". Yes, we will live. As always, gritting his teeth, but reach it. Neurop, we can.
And what about Ukraine? Ukraine, which is "tse Europe". Integrating there with all the silenok. Needless to say, a great acquisition for Europe. We have already discussed this a hundred times, but it makes sense to recall a couple of points. It is such the most democratic.
Disconnection of the Crimea from the water supply by closing the channel. Very European. And very democratic. But Crimea survived it.
Food blockade. This is generally a masterpiece. All European countries do this with their neighbors. Crimea survived it. Today we can say with confidence.
Now we have reached energy terrorism. All is natural.
But in the light of some statements from the territory of Ukraine, an original picture appears. Some leaders openly call to deal with the same LIH in a very peculiar way. Namely, providing them with shelter in the country. It is as if in the appendage to the fact that Ukraine is not hiding, supplies terrorists
weapons
.
His little, or what?
As practice has shown - enough. And it would be fine if we were talking about so-called "refugees". They could at least cut down the money from the European Union. On the placement and device. And then ask for more. To the fight against terrorism is already inside Ukraine itself. Although they are already fighting, tirelessly. Whose question is with whom? The answer to it has long been known.
It turns out that the integration of Ukraine into Europe takes place against the background of such events that Europe can only sympathize slightly. Slightly because they themselves perfectly understand who they take to themselves. The enlightened and democratic European face is becoming more and more like the familiar mug. With a penny and horns.
And Russia (that is, the Crimea) and not experienced this. Historically proven.