In the direction of "Applied hand-to-hand combat, the version of Kolotov-Zaichikov," in addition to the battle itself, not only what can happen after (legal aspect), but also what happens before (conflict, approach, "hitting") is studied. How to find out that your opponent is going to attack you suddenly? How to stop a conflict at a verbal level without harming yourself? Igor Vasilevich Zaychikov answers these questions in brief.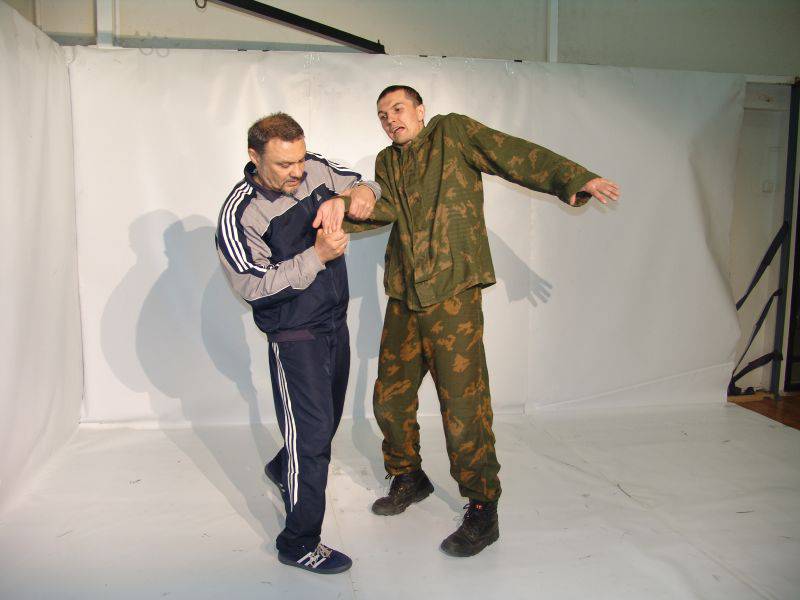 In the comments for the first interview (Battle Profile-5) a certain reader wrote, discussing your words about female students, one of whom helped to apprehend the criminal, and the second managed to protect their property: "What is in the first, what is in the second case, in the realities of our legislation and our courts, quite realistic deadlines shine on both Madame. And with normal lawyers and lawyers at the injured party, the terms become just reinforced concrete. "

What do you say to that? By the way, you pay great attention to your workouts on what may be after the phase of physical confrontation - we still live in a legal society.
- In the criminal legislation of the Russian Federation and in the explanations of the Supreme Court, everything is correctly spelled out, but in court practice, I agree, we have a persistent accusatory bias, and, for some reason, regarding the victim of assault. The law is because the pole - wherever you turn, went there.
I always tell my cadets - if you've flown in, immediately hire a good lawyer, both for investigation and for trial. All questions must be addressed by good and interested professionals. Well, in these cases I will say this. In the first case, everything is clear: there is a victim of theft, there are witnesses who heard her screaming that the thief stole the bag and who detained him after my girlfriend held a reception. By the way, he didn't get injuries, I said in an interview that if we need to - break, don't - we'll suppress it with pain, so she's suppressed with pain.
In the second case, it is not clear to me whether there were any witnesses of the theft attempt, whether the thief left fingerprints. Although, legally, her position is more vulnerable than the first.
In general, the problem is simple. Or you are a victim in life, let them beat you, rob you and rob, rape, even if you do it with others, but you do not risk, and therefore you submit, do not resist and do not interfere. Or vice versa, on every occasion, and for no reason, you're going ahead with your horns like a bull on a red rag and you don't think about risk. Or, competently, you stop the criminal, and at the same time you take the risk consciously.
What does it mean correctly? First, assessing the danger and nature of the encroachment, and secondly, it is necessary to stop reliably, but not exceeding the limits of necessary defense. There is a risk even in sports - you can win, but you can lose. Although you know the nature of training an opponent, the limits of his weight, could watch his fights and learn the style of battle. There is much more risk on the street - it is completely unknown that the adversary knows and knows how, he is ready to kill you or just wave his fists, one he or friends will now run, and you can lose both your health, your life, and your freedom if you cannot prove that had the right to use force. It is necessary to understand that any fight, and even more so street, can be assessed, so to speak, only from the point of view of the theory of probability. No matter you started it or defended it. So here is a matter of life position. Well, and some special psychological, motor and mental skills to reduce the risks. These skills we purposefully put to our cadets.
Pay attention, while listing the forms of encroachment that I teach to respond with physical opposition, I did not call insults, because verbal insults must be answered not with action, but with a word, and good or exhortation, or switching the attention of the insult. This is the only way to correctly stop verbal aggression and prevent conflict escalation.
What is conflict escalation?
- Most of all fights are rooted in the clash of interests, in domestic conflict. The peculiarity of the domestic conflict is that, having begun with a trifle, thanks to the "efforts of the parties", it quickly escalates and can bring the participants to a fight and even to murder. This is called escalation of the conflict. Proper behavior in a conflict helps prevent escalation. To do this, there are special psychological techniques, you must be able to recognize the psycho type of the opposing party, to know how to influence people of different psycho types. This we also teach.
What signs suggest that the enemy is ready to attack?
- There are a lot of signs, so that they only need to be listed and briefly described, you need to write a large article. They must be assessed comprehensively and, if you can do this, you can preempt the attack with almost 100% confidence.
In short, the behavioral signs of proximity attacks are divided into conscious and unconscious, they complement each other.
Of those conscious, the most obvious is attempts to approach the distance of attack, usually a step - one and a half. If there are several potential opponents - one teeth speaks and generally binds attention to itself, and the others come from the flanks, from the rear, blocking the exit paths - it means they are preparing an attack.
You can check by breaking the distance - if you are again trying to get closer and take a favorable position - be ready. If the unconscious signs say the same thing, attack first. Or go into the lead.
What does this mean?
- To break away in our terminology means to leave the place of the fight without depriving the enemy of the physical ability to fight. This is a separate section of our tactics.
That is, run away?
- Not. Leaving into the gap creates the conditions for victory, but simply by running away, you can run away, but can you get into an even more difficult situation, for example, suddenly the enemy runs faster? Or is there a girl with you, friend? It is like a war: retreat as a type of military action does not mean escape from the battlefield. It makes no sense to talk in detail about the technique and tactics of separation; there is not enough space. In the first interview I did not use this term, I said that during a training session the task might be to stop the object and run away, but it was precisely the gap that I had in mind.
Let's go back to the signs of an attack. You told about conscious signs. And what are the unconscious signs?
- The reddening of the face says that norepinephrine is released - it is a "battle hormone". Angry facial expression, angry grin, it can look like an unpleasant smile. Some have saliva bubbling at the corners of the mouth. A change in the tone of voice, hoarse can appear, can give a "cock." Unmotivated decrease or increase in the volume of speech. These signs do not appear at all and with different intensity, but it is easiest to notice them.
Very informative nature of the view, or rather its changes. But it is much harder to track. If the gaze changes consistently from the contemptuous to the malicious and further to the piercing, then aggressiveness increases. If everything else speaks about readiness for an attack, but an interested look means that the vor has not yet decided to attack, he is not sure that he appreciated you correctly. This last factor is rarely seen. Not always, but often the look can be thievish, with a quick glance around, usually this is the last stage before an attack for the purpose of robbery or hooligan.
These are just some of the signs that are easier to spot without preparation.
You can read and refusal to attack. If, in a conflict, a person rejects the body and extends his arms, especially with his palms forward, then he subconsciously prepares himself for defense, not for attack. Or if the thieving look is replaced by an indifferent, and sometimes sly and even angry, and at the same time the likely opponent turns the conversation, then most likely he decided not to attack.