Press Service of the North
fleet
The Russian Federation reports that the large anti-submarine ship of the Federation Council of the Russian Federation, Vice-Admiral Kulakov, entered the Red Sea, crossing the Suez Canal. It is reported that a warship makes a trip to the far ocean zone. From message
press service of the Northern Fleet
:
On the eve of the BOD "Vice-Admiral Kulakov" were conducted training personnel emergency parties to fight for the survivability of the ship on the go. The Counter-Terrorism Group conducted an exercise to inspect the intruder vessel, during which the Marines worked out actions to approach the ship in a speedboat, climb aboard on a storm-ramp, conduct an inspection operation and use a rifle
weapons
against conditional terrorists.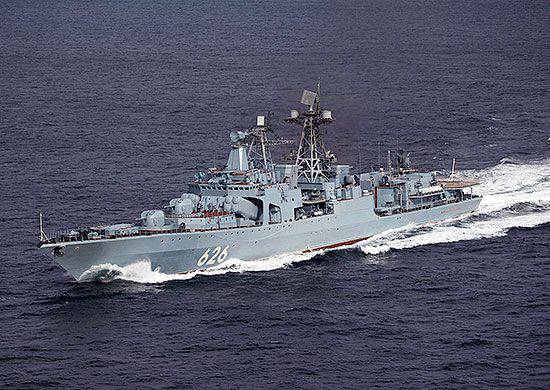 Previously, the ship called at the Cyprus port of Limassol, where it replenished fresh water.
Long hike "Vice Admiral Kulakov" began on October 23. During this time, they traveled more than 5,5 thousand nautical miles, and a significant part of it is in the conditions of the storm sea.
From the press service of the fleet:
The hike takes place under the flag of the commander of the anti-submarine ships of the Kola Flotilla of the disparate forces of the Northern Fleet, Captain 1, rank Alexander Mashinetsky. The ships of the Northern Fleet have extensive experience in ensuring the safety of civilian shipping in the Gulf of Aden and the Horn of Africa. BOD Vice Admiral Kulakov performed anti-piracy activities in the area in 2012.
The ship "Vice-Admiral Kulakov" - BOD project 1155. It was laid in 1977 year, launched in May 1980 year. Full displacement - 7480 tons. The maximum travel speed is around 29,5 nodes. The autonomy of swimming is 30 days. Crew - 293 person. The ship has not only anti-submarine, but also artillery and anti-aircraft weapons, as well as mine and torpedo potential.