On the eve of the APEC summit in Manila, Russian Prime Minister Dmitry Medvedev, responding to a question from the All-Russia State Television and Radio Broadcasting Company journalist about debt restructuring in Ukraine, said that Kiev should "stop vykluchivatsya" and find the strength and responsibility to recognize the debt to the state. The reaction of Kiev was not long in coming. The case was entered by a "commander with a broken head" (as Dmitry Rogozin called him) - Arseniy Yatsenyuk.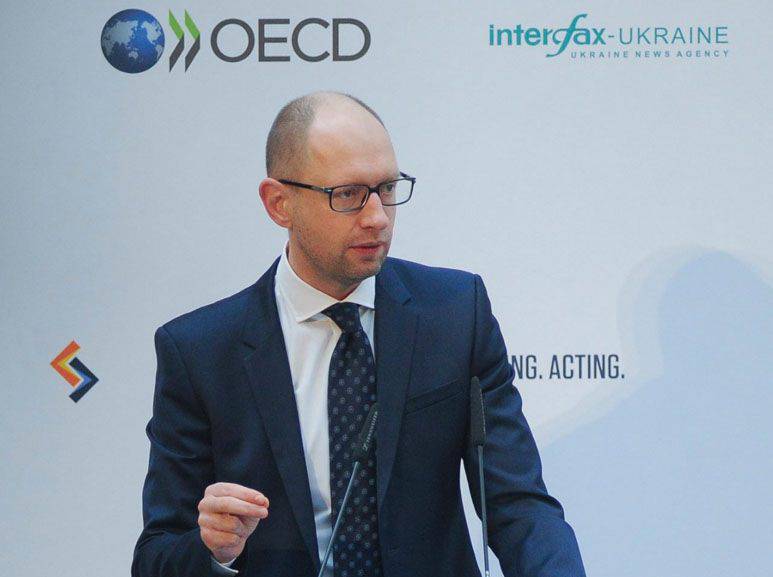 RIA News
Yatsenyuk quotes a statement in which he again announced Ukraine's unwillingness to pay its debts (it's worth noting that the hopeless debtor is again trying to set conditions to the creditor):
I also stated other conditions than other lenders, you will not receive. The base condition is debt reduction by 20%, transfer of all debts by four years. If you do not want, then you will receive a decision of the Government of Ukraine on imposing a moratorium on the payment of 3 billions to Russia. Very simply, I want to explain to our neighbors and the aggressor state: we will not pay a billion dollars in 3.
Recall that such a statement was made by a person, whose political rating is at the mark of statistical error, and who did not even dare to nominate candidates from his party at the recent local elections in Ukraine. But in the direction of Russia, the cam continues to threaten ...
It is worth noting that the Russian authorities offered Ukraine the following formula for debt repayment: first, to find a reputable financial institution (private or public) that would give guarantees for debt repayments, second, to make payments from 2016 to 2018 for a billion years every year.
Apparently, for Yatsenyuk, who played with stupid conditions, where the December default of the country looks more preferable, the government of which he still heads to complete the total plundering of the Ukrainian people ...