Production of an American copy of the Russian (Soviet) RPG-7 grenade launcher will begin in 2016 g, a representative of the developer company AirTronics USA told reporters.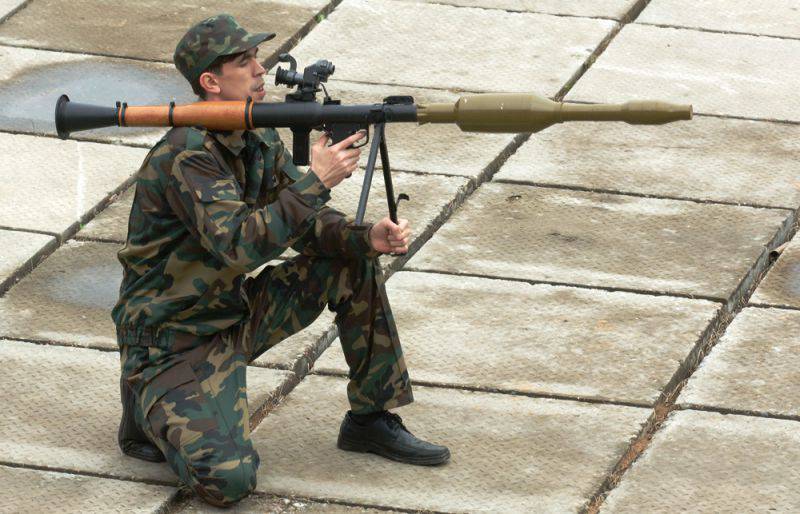 "We developed two versions of the RPG-7, which received the designations PSRL-1 (Precision, Shoulder-fired Rocket Launcher) and GS-777 (PSRL-2). The production of the first model, PSRL-1, will begin in the second quarter of 2016, "the newspaper quotes the representative of the company as saying.
Look
.
According to him, "both grenade launchers retained the appearance of the RPG, but the use of new materials made it possible to reduce the mass and increase the level of reliability and usability compared to the Russian model."
He said that "the PSRL-1 received a new sight with a luminous insert, which simplifies its use in the dark."
The weight of the second sample was reduced to 3,5 kg, that is, almost 2 times as compared to the base RPG-7B2. At the same time, its life cycle was increased to 1 thousand shots. According to the interlocutor, "a further increase in the resource of the PSRL-2 starting device is possible".
In addition, "the grenade launcher is equipped with a pistol grip and a butt similar to those installed on assault rifles and carbines of the M16 / M4 families," he added.
The interlocutor noted that "the sight developed in the company allows the operator to destroy the target at a distance of up to 800 meters with the 90-percent probability of being hit by the first grenade".
It is also planned to develop a new line of ammunition, incl. cumulative and thermobaric.
A company spokesman also said that the RPN-7 is quite often used by the US military to train friendly armies, such as the Afghan and Iraqi armies.