Head of the Information Support Department of the Black Sea
fleet
Vyacheslav Trukhachev told the press that two of the newest small missile ships, Zeleny Dol and Serpukhov, armed with cruise missiles of the Caliber-NK complex, arrived at the base of the Black Sea Fleet in Sevastopol. These ships will be the first ships of the project that make up the Sevastopol MRC brigade.
Information Agency
TASS
quotes Vyacheslav Trukhachev's statement:
Today, the latest IRCs of the Black Sea Fleet "Serpukhov" and "Green Dol" arrived at the place of permanent deployment in Sevastopol. On the eve they successfully completed state trials in Novorossiysk and made a daily transition to the main fleet base.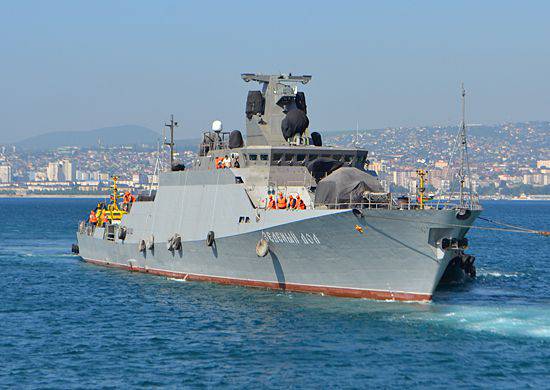 Small rocket ships "Green Dol" and "Serpukhov" were built according to the 21631 project. Three ships of this project ("Grad Sviyazhsk", "Veliky Ustyug" and "Uglich") are already in service with the Russian Navy, namely the Caspian Flotilla. These ships struck terrorist groups in Syria on October 7 of the current year from the Caspian Sea.
The ISCs of the 21631 project belong to the multi-purpose ships of the river-sea project. Main rocket
weapon
- long-range cruise missiles of the Caliber-NK complex. The ships are armed with various models of anti-aircraft, artillery and anti-sabotage weapons.