Military source in the Syrian government army reported
RIA News
that the Syrian troops, continuing the offensive in the province of Aleppo, liberated the village Kseis from militants. It is located just 4-x kilometers from the previously unlocked Kveyris airbase. In Kseis, the ISIL militants who retreated from Quairis attempted to gain a foothold, but the group was destroyed by strikes from the Syrian government army.
According to some reports, the Syrian military was able to destroy a large number of military equipment belonging to the militants. It should be noted that after the capture of Kseis for the troops of the government army of the Syrian Arab Republic opens a direct road to the city of Deir Hafir, which is in the hands of the IG terrorist group and declared one of its strongholds.
Information Agency
SANA
reports that in the province of Homs, the Syrian military liberated the town of Al-Hadass. The town has already carried out the so-called sweep. In the course of it, militants were discovered who tried to impersonate civilians.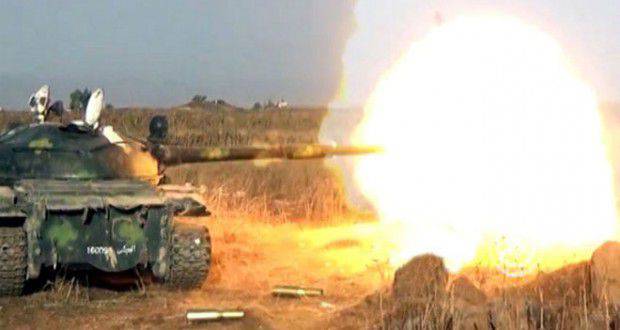 In the province of Daraa, Syrian intelligence noted the presence of clashes between militants of the terrorist groups "Front al-Nusra" and "Liva Shuhada Al-Yarmouk". It is reported that during one of the clashes the leader of "Liva Shuhada Al Yarmouk" Abu Ali Baridi was killed.
In Damascus they say that clashes between separate groups of terrorists began to show themselves more often. The reason, according to Damascus, is clear: each of the groups is financed by separate foreign forces, which are trying to solve their own tasks in connection with the rapidly developing events.