The results of the examinations showed that the personal belongings of the passengers and the details of the airliner have traces of explosives;
RIA News
statement by the head of the FSB Alexander Bortnikov.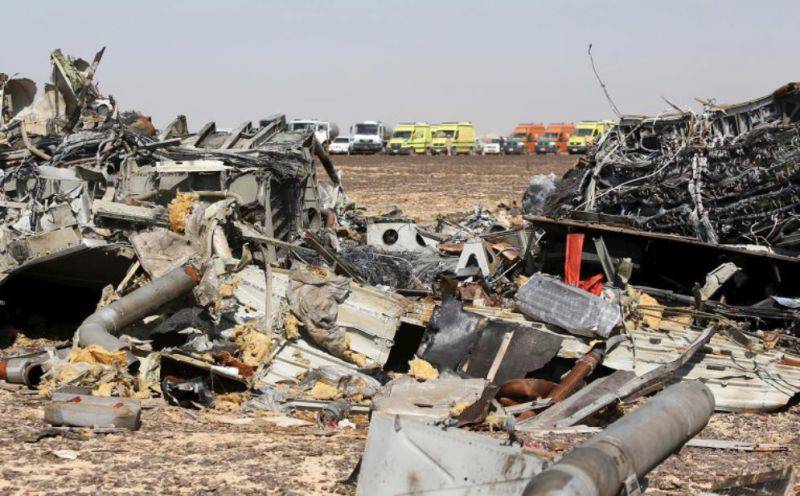 "Vladimir Vladimirovich, research was carried out on personal belongings, baggage and parts of the aircraft that crashed in Egypt on October 31. As a result of the examinations carried out on all the items I mentioned, traces of foreign-made explosive were found, "Bortnikov reported during a meeting in the Kremlin.
"According to our specialists, an improvised explosive device with a power of up to 1 kilograms of TNT worked on board the aircraft, causing the aircraft to" fall apart "in the air, which explains the spread of parts of the aircraft's fuselage at a great distance," he said.
In response, Vladimir Putin said that the work of the Russian Aerospace Forces in Syria will not only continue, but also be strengthened.
"Our combat work
aviation
in Syria should not just be continued. It should be strengthened so that criminals understand that retaliation is inevitable, "the president said and asked security officials to submit their proposals.
"I will check how the work is going," he added.
"The killing of our people in Sinai is among the bloodiest in terms of the number of crime victims. And we will not wipe tears from our soul and heart. It will stay with us forever. But this will not prevent us from finding and punishing the criminals, "Putin said.
"We have to do it without a statute of limitations, to know them all by name. We will look for them wherever they hide. We will find them anywhere in the world and punish them ",
stressed the President of the Russian Federation.
Recall the tragedy with the Russian plane occurred on October 31. On board were 224 man. They all died.