Prime Minister of Ukraine Arseniy Yatsenyuk appealed to the people in connection with the terrorist attacks in the French capital. The first words concerned Ukraine's deep condolences to the French, and the fact that the Ukrainian government expresses its condolences to the families and friends of the November 9th victims of Paris. In the second part of the appeal, Yatsenyuk began to drag his thoughts about the "Russian aggression" to the words about the Paris terrorist attack. Statement Yatsenyuk leads
government portal of Ukraine
:
This is exactly the kind of evil that Ukraine faced in 2014, when Russian imperialism and terrorism launched an offensive against us.
We must unite around several principles.

Unity. The free world of people should be side by side, as during World War II. As during the global response to the attacks in New York, London, Madrid and other cities.

Global solutions. Common security problems cannot be solved locally. The time has come for the restructuring of the entire system of international relations and the joint reaction to the very challenges of human life.

Alliance. The time has come when there can be no half-truth. Terror is the same in all its manifestations. And against human life, and against the independence of another people, and against the main principles of the civilized international community.
But what about the terror of the Ukrainian authorities against the population of their country, against the residents of the south-eastern regions?
Yatsenyuk:
I have no doubt that the violation of the security guarantees of a state that renounced a nuclear
weapons
, the annexation of the Crimea, the occupation of Donbass, the threats of force that makes the Kremlin, have become a stimulus for global terrorism. The collective response of humanity must be clear and precise.
As can be seen, the representative of the Ukrainian political panopticon connects the Paris attacks with the actions of Russia ...
Deliberate statements Yatsenyuk decided in a peculiar manner to comment on the Deputy Prime Minister of the Russian Cabinet Dmitry Rogozin. On your page in
Facebook
Rogozin pasted a photo taken by a photojournalist
RIA News
Pavel Palamarchuk, in which Yatsenyuk - in the tanker's helmet. Rogozin added a caption to the photo:
... and the young commander was carried with a broken head ...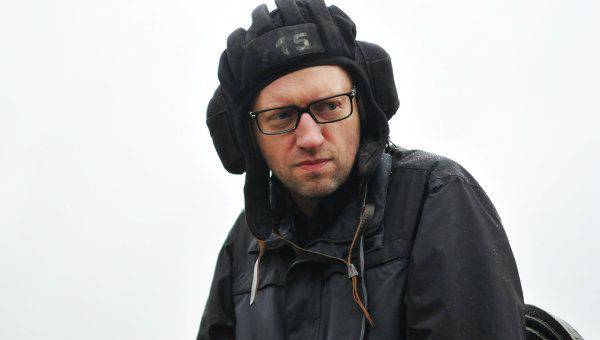 One of the Facebook users (Vladimir Shishkin) added his comment to Rogozin's post on Yatsenyuk:
Vital organs are not affected.