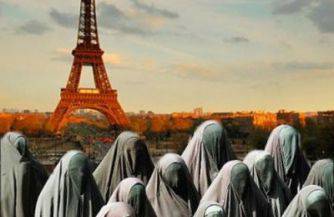 In Germany, there are incredible from the point of view of common sense and monstrous moral events.
Across Germany, there have been frequent cases when municipalities expel citizens from municipal housing in order to settle refugees there, the Russian Business Journal reports.
It is hard to believe that in the richest EU country with powerful social programs everything happens as in the famous fairy tale "About a hut ice and bast", and the Germans become powerless outcasts on their own land.
However it is. RT leads sad
history
the Nissen family from the German town of Mechernich not far from Cologne, which is being driven out of the municipal house in which she lived for more than ten years.
Pensioners Bernd and Anita, who live in municipal housing with their grandchildren, received a letter demanding to release the living space signed by the burgomaster and marked "with best wishes!".
"Over the past few days to accommodate refugees, tenants have been evicted in six or seven cities. From a legal point of view, this is doubtful, but from a political point of view it is just silly. Usually, if a person pays rent on time, he cannot be evicted. The authorities use the so-called Regulations on personal use. It implies that the property has become necessary for the owner. In this case, this is not the case, because the city authorities are not settled there, "says RT spokesman for the representative of the German Association of Tenants, Ulrich Roperts.
It is also worth noting that the places where refugees are going to be settled often do not have the necessary infrastructure for this. "Why place them here? There is no store, no train, no bus, not even a post office! "- Bernd Nissen wonders.
He gained wide popularity and another episode: in a remote village where only a hundred Germans live, mostly elderly people, settled 700 migrants! It is obvious that in this remote place they will not find a job, will not receive social or medical assistance.
Or take the accommodation of refugees in the Nazi concentration camps.
There are so many similar episodes that it is impossible to attribute them to the incompetence of local officials and the excesses of the performer. There is a feeling that an environment is artificially and deliberately created in which everything will be uncomfortable - both to migrants and to the "receiving population", fraught with inevitable and grandiose conflicts. That is, a mine is being laid under the old woman Europe, a conflict-causing situation is being formed that can radically change its appearance.
If the authorship of this process is more or less clear (there is a lot of evidence and evidence that mass resettlement is organized by American NGOs), then its goals are not so obvious.
Actually, several options are discussed. One of them is the "replacement" of the population, or the blurring, destruction of the traditional cultural space of Europe, of national peculiarities that impede globalization projects. After all, it is obvious that a population that does not have traditions, moral and religious frameworks and national identity, turns into biomass, very convenient for all sorts of social experiments.
According to another version, an artificial conflict situation in Europe is created for the "fascization" of the Old World, highlighting the political arena of the ultra-right fringe and turning the previously liberal continent into a single military camp ... for the next Drang nach Osten, of course.
And finally, with the help of the invasion of migrants, Americans seek to destabilize the EU, reduce its competitiveness, and increase dependence on the United States.
It is difficult to say which of these three options corresponds to reality (all three are possible), but it's obvious that all of them do not bear Europeans anything but serious trouble. That is, Zbigniew Brzezinski's well-known wording: "A new world order is being created against Russia, at the expense of Russia and on the ruins of Russia", has been seriously expanded - now this order is also being shaped at the expense of Europe, and, it seems, on its fragments.
Thus, there is every reason to talk about a substantial revision of the concept of the "golden billion" and the exclusion from its number of the European half.