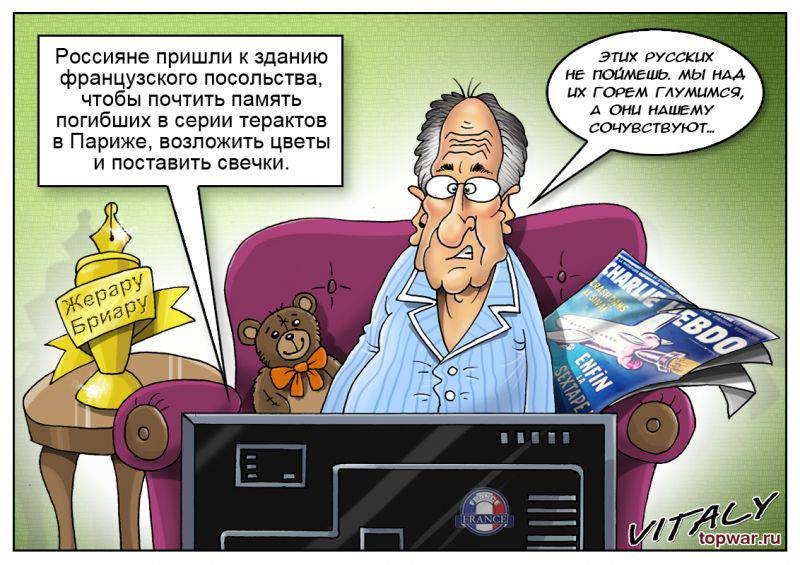 So, we again become witnesses of the next hysteria arranged by representatives of the free western press. Another because not so long ago it was "I am Charly", now "I am Paris". Comparisons, screams in a loud voice, and the like.
Of course, condolences, flowers and candles at the embassy, ​​letters - this is normal. It is human. Especially if you condole with people whose loss is in no way connected either with the state's policy or with anything else. Like caricatures.
Of course, surprising. It is surprising that there was no "I am Russian A-320". There was no "I - Beirut". It was not "I - Ankara". There was no "I am El-Arish" or "I am Jerusalem." Yes, and could not, in general, could not. Russia, Turkey, Egypt, Lebanon, Israel is not France for us. Understand necessary! Well, we understand.
Naturally, the press focused on several questions: what were the causes of the attack, who could stand behind these crimes and what reaction of the authorities could follow. If in our opinion - who is to blame and what to do with it. And here begins the most interesting.
The most indicative statement, in my opinion, was made by the Paris correspondent of the German Die Welt Lenartz.
"Probably, tomorrow we will see another video message, similar to those published by the Islamist Medi Kulibali, who staged a kosher store in January. The hatred of criminals with their vague ideology and moronic fantasies about the afterlife, which supposedly justify such murders, will again pour upon us. "
Lenarts has no doubt that the terrorist attacks in France were the work of ISIS, which led its war to the houses of Europeans, to the quiet districts of Paris, "where the most important political issue was not long ago about which bakery was the best."
"From this Friday, 13 in November, Europe began to live in another dimension. These attacks hit us more painfully than all the other terrorist attacks that the Europeans have already experienced. This is about each of us, about our way of life, about our freedom. And we should fight it now. "
And here is the most interesting aspect to date. And who are they (Europeans) going to fight? Plans began to sound, and hair stand on end. Strengthening attacks in Syria. Possible presence in a ground military operation. Fighting ISIS in Libya. A little distracted from the main topic, so that very little comment.
In Syria, it seems, after the appearance of our VKS everything is getting better. Asad did not seem to ask to conduct a ground operation. Seen enough, apparently, on these operations at neighbors. And in the official political sense, not everything is smooth, in the sense that they can even throw a veto under the wheels of a ground operation. No worse than a landmine sometimes acts. Livia ... Here, definitely the French are still waiting for surprises.
Arabs - they are peculiar. Welcome is remembered for a very short time, but about the fact that "evil and good memory" is what it is. And the fact that France "gave" Libya shortly before the overthrow and murder of Gaddafi, was unequivocally remembered.
But sorry. Distracted. So what do we have with ISIS in the European Village? Dark nights stolen? On pirate boats in deserted places go ashore? On hang gliders from the Sinai Peninsula fly?
So I want to say: open your eyes at last! And they do not want. Here is what the Economist has written more than once. After the terrorist attacks in Paris there was an article from the editorial board. The publication warned that if the European intelligence services did not succeed in preventing such attacks in the future, then "it's impossible to live as before". The magazine called the special operation in Syria and the strengthening of the Islamic State grouping two main factors that significantly increased the vulnerability of the European Union to terrorists.
The brutality and organization of the attackers on the French capital in the late evening of November 13 leads us to suppose, writes the publication that the terrorists could have been trained in the camps for militants in Syria.
It is a pity that the "economists" Sharia do not look. From his French reviews much would become clear to them.
Could not pass, and passed. Yes, and secured, warring from the heart. I will attach a clip at the end, everything is perfectly shown there. And then for some reason, these experienced fighters suddenly navigated and ran. Yes, not somewhere, but in Europe. And, characteristically, they came running. Maybe not everyone got where they wanted, but a fact.
With fake wallets replacing passports. But with phones, where the photo captured their quite a joyful face. Someone with AK, and some with emkoy. And they came running.
So why now look for LIH where it is, if the same LIH is already in Europe? Immobilized, equipped and ready to act. And, as the Paris events showed, they can act quite effectively. Here it is, in your "Jungle" and similar places. In your villages on the outskirts of cities. In short, at your side.
But here the euro brain is definitely failing. How is it, these are refugees! They fled from ISIS to Europe! No, ISIS is there in Syria!
I just want to ask, are they the "refugees" who told you? And you believed? And checked?
And how can you check if the poor and poor "refugee" fled from ISIS, losing everything, the house, the car, the documents. All type burned out. Well, besides 7-8 thousand dollars for transporting it to Europe. Dollars are not burned.
And then he got, so miserable, on the island of Lesbos. And they gave him a paperwork there, that he, Omar al-Bahdi, for example, was a kind and peaceful refugee from Damascus. And that's all. Photo, print, signature. Well, ok for 7 thousand greens? There is a crisis in Greece, but what a parish there is.
And the fact that he can be called otherwise, so who will check? And How? He is a refugee ...
It's not for nothing that our neighbors accepted the critics themselves, when the borders were closed from these "refugees". Then who is closer, realizes that the difference between "they are children" and "they are refugees" is as much as between M-16 and AKM. That is the difference is, and fair. The essence is one. And here to sip Ukrainian essence, but for some reason nobody wanted an Arabic bottling. Strange, yes?
But the Europeans (real, indigenous, so to speak) clearly do not understand this difference. Too much tolerance and democracy. So they check now you see how. Sadly checked. But instead of doing what they have under the window, are going to splash gasoline into the fire in the Middle East.
Of course, after the start of ground operations on the BV and France's promised increase in air strikes, everyone will forget about the terrorist attacks. There will be no revenge. So it seems logical, but it is believed with great difficulty. In general, I can not believe in this situation, to be honest.
Yes, why France? Why not Russia? Russia has done things better than France. The answer is simple: in France, everything is ready for such events. Automata, cartridges, explosives - all this, of course, can be obtained from us. But harder. But the most important aspect is people who are ready to contribute to this. Forgive me, but today the suburbs and suburbs of Paris look more like Tripoli, Tangier or Medea by the composition of the inhabitants.
Although, as I was recently told by an Israeli colleague who visited Brussels, "by a name like Belgium, and in appearance - Gaza."
Having opened its borders to all those who suffer from communion with European values, the French thus dug a hole for themselves. In which they have already landed again. And, apparently, the Germans are still ahead.
It would seem that the time has come to "tighten the screws"? And not here it was!
"After such events, the antiterrorist structures of France may require even more powers from the parliament to combat the militants. So, the government will be forced to once again go to the curtailment of civil liberties. " This is "The Wall Street Journal".
The Washington Post went even further. The publication regrets that last week Sweden introduced border controls, and Slovenia installed barbed wire on the border with Croatia to stop the flow of illegal migrants. Given the closure of borders and possible further precautions in France, the "long-term tradition of free movement in Europe" is seriously threatened.
That's how it is ... "The perennial traditions of free movement" and "civil liberties" are much more important than life and security. Forgive the purely Russian approach, but personally to me, shaken apart by the charge from the "martyr's belt" (God forbid, of course), freedom and tradition will deeply spit. Freedom in my coffin will not put. And really want to live.
I understand ordinary French people and sincerely sympathize with them.
And about the dead, and about the living, but occupying high responsible posts. And they don't really understand that an offensive on ISIS should be carried out only when the rear is covered. And they have tens of thousands in these very rear areas. It seems to be citizens, but ... But the same hypothetical Fatima, who lost someone under the bombs in Syria, Iraq, Libya, doesn't matter, reverently puts a belt under her traditional robe and goes, as usual, to the market. And further we are already from
News
find out.
We all went through this in 2004. Bloody passed. And the fact that Putin gave Kadyrov a complete carte blanche for eradication, brought fruit. And no one here even stuttered about traditions and freedoms. They wanted to live in peace. Here we live.
If Europe doesn't understand the simplest thing, namely that the "fifth column" grown by their democracy and freedom already exists and is working, if it doesn't come to pass, that there are not some 10-12 militants that every month seems to be sent to Europe, while hundreds are already sitting there, they will not need traditions with freedoms soon.
Freedom of choice will remain. To be undermined or shot. And to change one for 50 is ISIS can afford.
Without an understanding of such simple and obvious things, the Euro-Freedom Democratic Map will be a bit of an ISIL black card.
It would be nice to understand this for many.