The newest American destroyer Zumwalt will soon be put to sea for the first time to be tested, it reports
Flotprom
message agency newsader.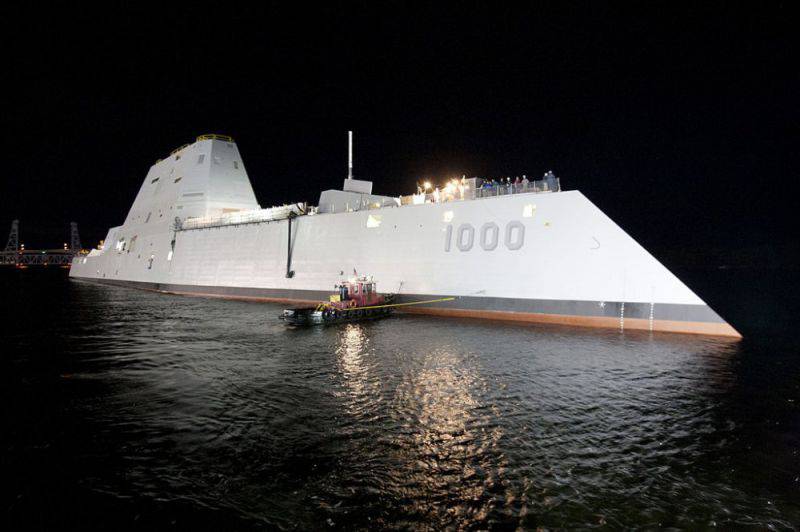 "We are at the construction stage when production has almost come to an end. The ship was built, "said US Navy spokesman Sean Stackley. "The first release is scheduled for December 7."
"In the course of the upcoming sea trials, Zumwalt will visit Portland (Maine) several times, where a change of engineers will be on board. At the end of the test voyage, the ship will return to the shipyard in Bath, which it will then - next year - leave and head to the port of San Diego (California). It is there that the installation of most combat and control systems, as well as radar and other sensors, will be completed, while the hull of the vessel, its mechanical and electrical systems were built in the state of Maine, "the newspaper writes.
The ship was laid in 2008 at the General Dynamics shipyard (city of Bath) and built by Bath Iron Works (BIW).
Destroyer length - 182,9 m, width - 24,6 m, displacement - 13,2 thousand tons.
"Radio absorbing materials with a thickness of about one inch, which enclosed the hull and superstructure of the ship, made it possible to minimize the number of protruding antennas. This circumstance, coupled with other elements of "stealth" technologies that are actively used on the ship, ensure the maximum secrecy of the destroyer, "the agency said.
According to him, the ship "carries onboard weapons, including 20 universal Mk-57 launchers with a total capacity of 80 missiles of various classes: these can be Tomahawk missiles, ASROC anti-submarine missiles, or ESSM anti-aircraft missiles." In addition, on its deck there are two artillery launchers in caliber 30 and 155 mm.
It is possible that combat lasers and railguns will be mounted on the destroyer.
According to the report, on ships of this class "AN / SPY-3 radars will be installed, which, as tests have shown, successfully detect several airborne objects simultaneously, which will allow the use of destroyers of this series also as naval forces providing zonal missile defense and air defense for multipurpose carrier groups american
fleet
».
The destroyer is equipped with a new generation power plant - a combined diesel-gas turbine engine with full electric propulsion.
"This is the so-called" all-electric ship "principle when a common primary source is used to generate electricity, which provides both the movement of the vessel and the power supply to all ship systems without exception. The maximum capacity of the installation is 79 MW, "the agency writes.
The destroyer is as automated as possible, so its crew is relatively small - 140 people. On board can be based three UAVs and one helicopter.
The publication notes that the Pentagon initially planned to order 32 of such a ship, "but in the end this number was reduced to three due to the high cost of new experimental technologies."