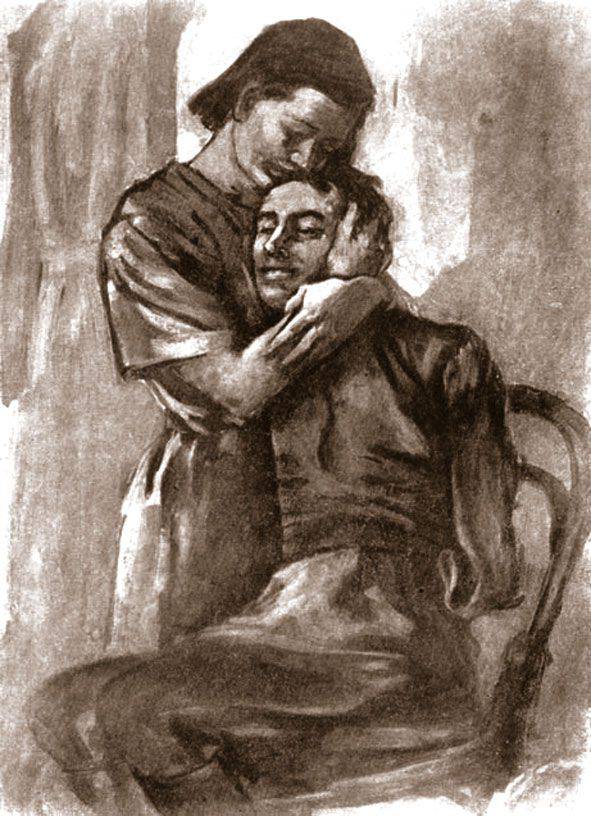 It happened in the spring, four years after the Victory.
Twelve-year-old Rachek Korneeva played with her younger brother Volodya in the "sekretiki" under the old birch, alone standing in the courtyard of their neighbor, Aunt Tanya. Making a "secret" is very simple. You just need to dig a hole a little deeper, put something beautiful in it - a candy wrapper or a flower, cover it with a splinter of glass on top and then fall asleep again with earth.
Paradise dug a hole, and Vova looked and laughed:
- Deeper, deeper! It is necessary that the most secret "sekretik" turned out!
Paradise tried. Her hands were already almost stained to the ground in the damp spring earth, when suddenly she felt, deep down, something hard, smooth and cold. "What if this is a treasure buried long ago by desperate pirates or even by Flint?" Thought the girl and, inspired by her naive thought, with all her strength began to rake unyielding land. And soon she pulled out an old bottle in the ground.
- Oh, and what is it? - asked Vova.
Raya herself would like to find out. Especially since recently she read Jules Verne's Mysterious Island and remembered well the note that Captain Nemo threw to the colonists in a bottle. Of course, they are not on a mysterious island, but in a Russian village. And not on the sea, but on land. And not the captains, but rural children. But fantasy, fantasy!
The bottle was not sealed. Instead of a cork, a crumpled fragment of a half-decayed newspaper was inserted into its neck. Raya pulled him out, began to shake the find, hoping for a miracle. Soon a small piece of paper was written on the ground, written with an unfamiliar hand.
"We, the Terbunts, Tatyana Nevezhina and Nikolai Grachev, wanted to get married on July 23 of 1941. But the Great Patriotic War began. Tomorrow I, Nikolai, will go to the front. We do not yet know whether Tatyana will be in the rear or will also go to defend her Motherland. But we promise everywhere — on the front lines and not — to ardently defend our Motherland from the accursed fascists, not sparing the strength and life. He who survives digs up a bottle and keeps this message in memory of the difficulties that we and the entire Soviet people had to endure. Damn the war! Damn the fascists! 25 June 1941 of the Year. "
But Tatiana Nevezhinu Paradise knew. It was their neighbor, Aunt Tanya, near whose house they now dug out a "secret" - a tall, dark-haired girl, always tied with a dark scarf. She lived with her mother and younger sisters. And who is Nikolai Grachev? And why didn't Aunt Tanya dig this bottle after the war? Really forgot?
Paradise quickly sent Vova home, said that, they say, there is nothing interesting in the note. And she timidly knocked on the house of the Nevezhins. My heart was beating in my chest: It seemed to Paradise that now she would bring Tatiana great happiness.
- Aunt Tanya, Aunt Tanya, look what I found! - and handed a neighbor a yellowed sheet.
Aunt Tanya - it was clear from the face - immediately knew what I was talking about. I took it, ran my eyes through the line ... The hand holding the note shook greatly. The girl sank down on the bench and covered her face with her hands. Her shoulders began to shudder.
- Aunt, well, my aunt! - in despair screamed Paradise. "Why didn't you dig up this note?" Have you forgotten, yes? Or was he killed? And who is he?
Aunt Tanya took her hands off her face. Her eyes sparkled with tears.
"No, I have not forgotten," she shook her head. - During the four years of the war, there was not a single letter from Kolya. He did not return home, although the funeral did not come to him. I think he died. And that paper about this did not come ... You never know what happens in the war. Do you follow all the soldiers! At first she hoped, she thought she would come back. But four years have passed - and no news. His mother lived here, but she died before the victory. And ask about Kolina the fate of no one.
- A note? - Paradise asked condemning. "Why didn't you dig her up?" It also says: "He who remains alive ..."
- Do I live? - Aunt Tanya answered incomprehensibly and began to cry again ..
Totally discouraged, confused, Paradise returned home. At first, I wanted to keep all this secret: Tatiana stood in front of her eyes, covering her face with her hands. The girl felt as if she had entered an alien house without an invitation and, for example, began rummaging through the closet. But the child is a child - she still could not restrain herself and told everything to her parents. And here Paradise was waiting for another surprise: it turned out they knew a lot.
- Eh, - mother sighed, - what a beautiful couple it was! And always they were fun, friendly. We often came to visit us, you just do not remember, it was small. Nikolai played the harmonies well, and Tatiana sang. Yes, they have already invited to the wedding of half the village, but here such grief!
The father shook his head, as if remembering something. But, still not remembering, he kept silent.
And in the morning my mother woke up to Paradise very early. Her face was agitated.
- Heaven, Rajachka! Dad says he heard on the front about Nicholas. It seems he fought with Daddy's brother under Yelnya. But this is all inaccurate, Tatiana will not say anything yet. Dad wrote a letter to his brother. Run more to the mail, send. And remember: silent. Nothing else's heart is in vain hope to hurt. Tatiana and so suffered.
The weather was inclement that day - spring seemed to give way to autumn for a while. A cold wind was blowing, the rain was dripping. But Paradise did not notice this. She hurried to the post office, rushed the shortest path. And it seemed to her that because how quickly she delivered the letter, the life of the unknown to her Nikolai Grachev would depend.
... The answer from my father's brother, Matvey Ostroukhov, came only a month later. But what an answer! Here it is not literal, but very accurate content.
"You ask me if I fought with Nikolai Grachev, your countryman and neighbor. Yes, I remember very well this wonderful guy, a great person. We really served together in the 19 Infantry Division as part of the 24 Army. We were great friends with him, and I felt very lonely when Kohl was demobilized, and it happened in early September 1941. Kohl fought heroically, often rashly, for which he fell from our commander.
We launched our big offensive at the end of August 1941. The fights were brutal. We attacked the enemy with great power, but the fascists constantly launched counterattacks ... Our rifle division broke into Yelnya in early September. And there, in a fight, Kolya, in the heat of his rampant, desperate courage, forgot about caution, fell under the explosion of a grenade and lost both legs. He was sent to the hospital and we never saw him again. But Kolya wrote to me from the hospital and said that I did not remember to go to Tula — whether to some friends, or to distant relatives. He left the address and very much requested that I come to visit after the war. Kohl was very worried that he could no longer smash the fascists. His condition was terrible. He told me nothing about his bride, I thought that he lived in Tula before the war.
Unfortunately, I never intended to come to him. And I myself sent him, unfortunately, only one letter: I did not want to rebel the soldier's soul with memories of the front. Koli's address is attached. But maybe now he lives in another place, so in case of failure, do not seek ... "
On the same day, Paradise carried this letter to Aunt Tanya. And she, having read it, gathered overnight and went to Tula. She understood why Nicholas did this. And I was very sorry that I had not heard that he had relatives in Tula before the war. Just before she looked to the Ray parents - to bow, to thank. She took the note from the bottle with her.
... Aunt Tanya found her fiance. Having lost both legs, he decided that he would become a burden for his bride. And without telling her, he left for Tula.
He did not get up on dentures, moved on a small trolley. But he began working in one of the schools. The guys went to his house, and Nicholas taught them woodcarving - that's the lessons of work. And Nikolay Sergeevich wrote letters to his fiancée left in distant Terbuny. Everyday. But put them in the drawer of the desk.
Soon Tatyana Ivanovna and Nikolai Sergeevich got married. A year later, in the spring of 1950, they came to Terbuny to visit Paradise and its parents.
Raya, Raisa Alekseevna Nazarova, the former Korneeva, lived in Terbuny for a long time. And the family, which she so long ago so unexpectedly gave happiness, remained to live in Tula. True, the last few years Raisa Alekseevna has not received letters from them, and she herself did not write - her eyes refused to serve.
Raisa Alekseevna told me that Tatyana Ivanovna and Nikolai Sergeevich had two sons, and in a few decades and three grandchildren. And Raisa Alekseevna herself had no children.
Unfortunately, photos to this
stories
I don't have - I already wrote that I lost part of my photo archive. And I was introduced to Raisa Alekseevna by the teacher of the Terbunsky school: at one time, being already retired, she worked there as a technical.