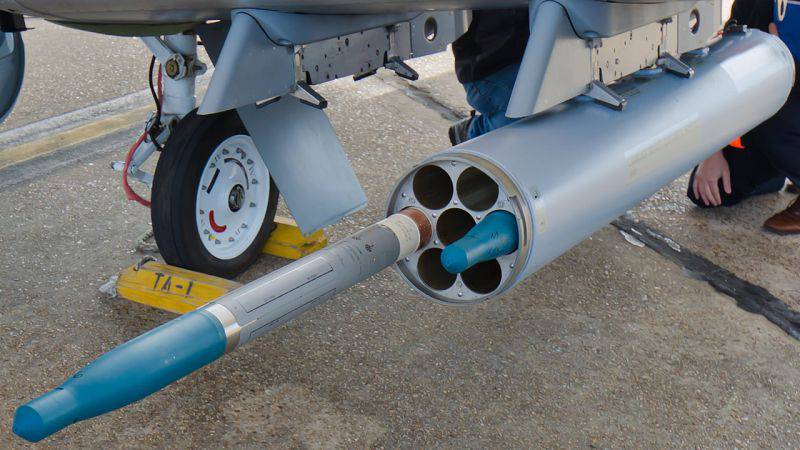 The BAW Systems APKWS guidance and control unit installed in the middle of the Hydra 70 General Dynamics rocket significantly increases its length. This is not a problem with unlocked launchers, for example with this seven-barreled M260
The need to reduce indirect losses, armament of a large number of unmanned aerial vehicles (UAVs) and launch an assault aviation from the area of ​​ground-based air defense is a good incentive to develop light, small-sized, high-precision air-to-ground munitions.
Increasing the lethality of unmanaged "air-to-ground" weapons for reasonable money is achieved by adding sets of guidance and control to existing ammunition. High-precision targeting also allows you to deal with a wider range of targets with relatively light and small warheads, which in turn reduces the size and weight of the aircraft ammunition themselves.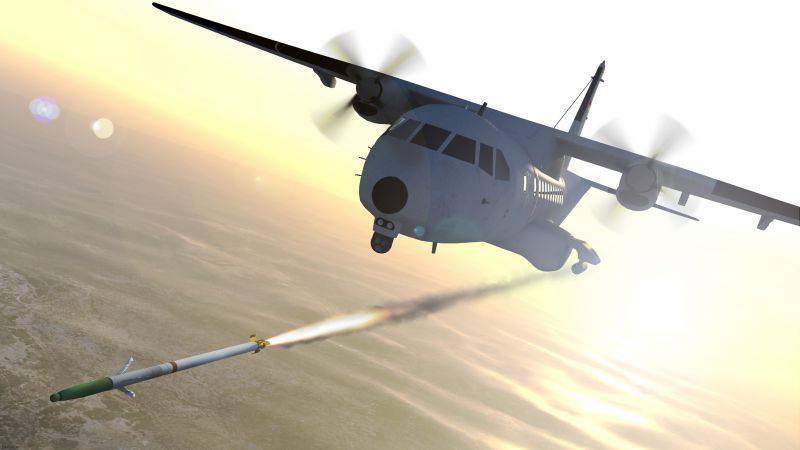 The first overseas order for BAW Systems' APKWS rocket came from Jordan in 2014, according to which it is planned to equip Airbus CN-235 ganglings and turboprop transport aircraft of that country's air force. Orders from Iraq and Saudi Arabia are also expected.
Missiles
The United States Air Force massively began to use precision-guided munitions during the Vietnam War 1965-1975. The addition of high-precision guidance systems to "unguided" bombs, demonstrated during this conflict by the Texas Instruments Paveway-I laser-guided system (now Raytheon), turned out to be a more economical solution compared to the development of air-to-air precision weapons from scratch. ". Since the beginning of the US-led military operations in Afghanistan and Iraq, 2002 and 2003, a trend has emerged to equip air-to-surface missiles with precision-guided kits that would provide a level of accuracy comparable to that of guided air-to-surface missiles, but beyond less money.
The US Armed Forces adopted the X-NUMX-mm air-to-air Hydra 70 rocket, which is currently manufactured by General Dynamics, at the end of the 70s of the last century. This rocket was widely used during the Korean War 40-1950. The cost of one missile is approximately 1953 dollars, depending on the selected warhead, which can be either a cassette or unitary. For several decades of operation of the Hydra 1500 missiles, 70 variants of the warhead were created. Depending on the tactical mission, high-explosive, incendiary, cluster and other combat units can be used. The US Army chose BAE Systems to supply the Advanced Precision Kill Weapon System APKWS (Advanced Precision Kill Weapon System) in April 19. Later in November 2006, control of the program was transferred to the US Navy.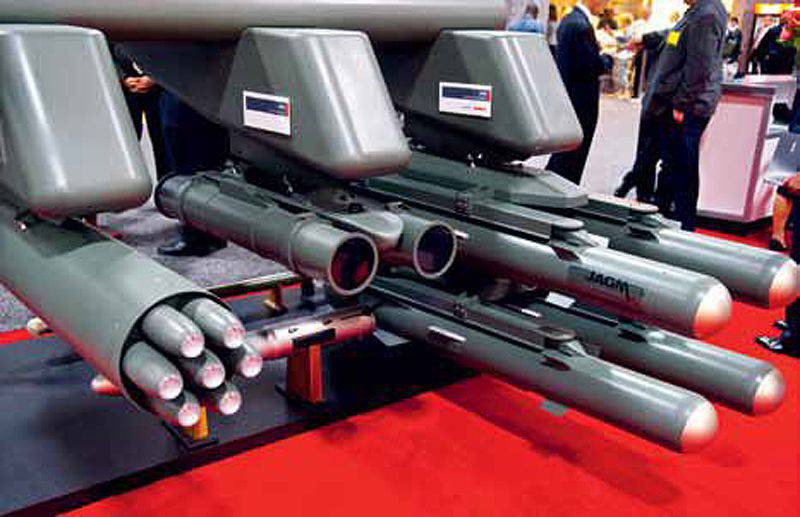 Seven-tube 70-mm Talon launcher installation from Raytheon (left), two BGM-176B Griffin launch tubes (in the middle) and four Joint Air-Ground Missile missiles launched from rail guides from Lockheed Martin (right)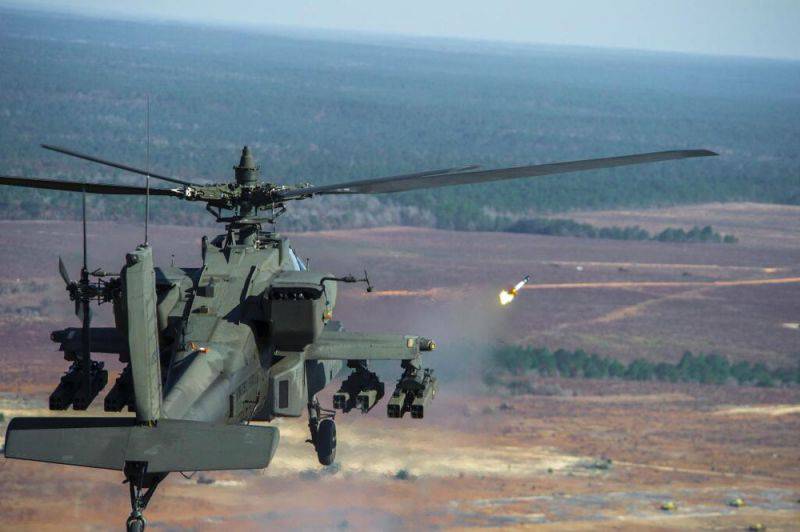 The launch of a direct attack missile DAGR (Direct Attack Guided Rocket) from Lockheed Martin during a test launch from a Boeing AH-64D Apache helicopter, during which all 16 missiles hit all 16 targets. This rocket also launched from ground platforms.
The APKWS laser-guidance kit is installed between the warhead and the Hydra 70 rocket engine. Equipped with the APKWS kit, the Hydra 70 rocket has a nominal range of approximately 0,8-3,7 nautical miles (1,5 – 5 kilometers). When installing the kit, 70 kg is added to the mass of the Hydra 4 rocket. Standardly, the APKWS rocket has a 4-kg high-explosive fragmentation warhead M151, but the US Marine Corps plans (until there is no funding) to get it into service by the 2019 year with the 6-kg universal warhead Nammo M282 as part of an armament complex deployed on Bell UH-1Y multi-purpose helicopters and Bell AH-1Z Viper attack helicopters. Meanwhile, the cost per set of APKWS is about 28000 dollars, which gives a significant cost savings compared to 100000 dollars for the Lockheed Martins AGM-114 Hellfire missile. The version APKWS-FW (Fixed-Wing - fixed wing), designed for aircraft, has a squib, which forcibly opens the steering surfaces, despite the resistance of the air flow surrounding the aircraft, which can "glue" the rocket to the body of the aircraft. Although the APKWS rocket was already tested on UH-1Y and AH-1Z Marine Corps helicopters, David Harold, head of precision-guided solutions at BAE Systems, also noted that it was also installed on another aircraft. "It was tested on the deck helicopter MH-60S Sikorsky US Navy and the attack helicopter Boeing AH-64D / E Apache Longbow / Guardian of the US Army. In addition to launches from the helicopters, APKWS also launched launches from AV-8B (US Marine Corps) attack aircraft manufactured by McDonnell-Douglas / Boeing and A-10C Thunderbolt manufactured by Fairchild Republic / Lockheed Martin (USAF) and Martin F-16C multi-purpose combat aircraft / D manufactured by General Dynamics / Lockheed.
In April 2014, the US Navy signed an agreement with the Jordanian Air Force to supply APKWS-FW for their armed Airbus CN-235 turboprop aircraft. Under this contract, there is no information about how many missiles the Jordanian Air Force will receive, when it will start and when the supply will end, and also about the value of the contract. In May, 2015 was approved for the sale of 380 rockets to APKWS Saudi Arabia, and in June, the sale of 2000 rockets to Lebanon was approved. In November, 2014 of the year Iraq requested APKWS's 2000 missiles from the United States as part of its arms sales program to foreign armies. Meanwhile, the Australian army could become the fifth foreign operator after testing APKWS kits on Forges de Zeebrugge 70-mm FZ90 rockets during Airbus Helicopters attack helicopter in April 2015 of the year, but there are no reports of when these kits can be ordered.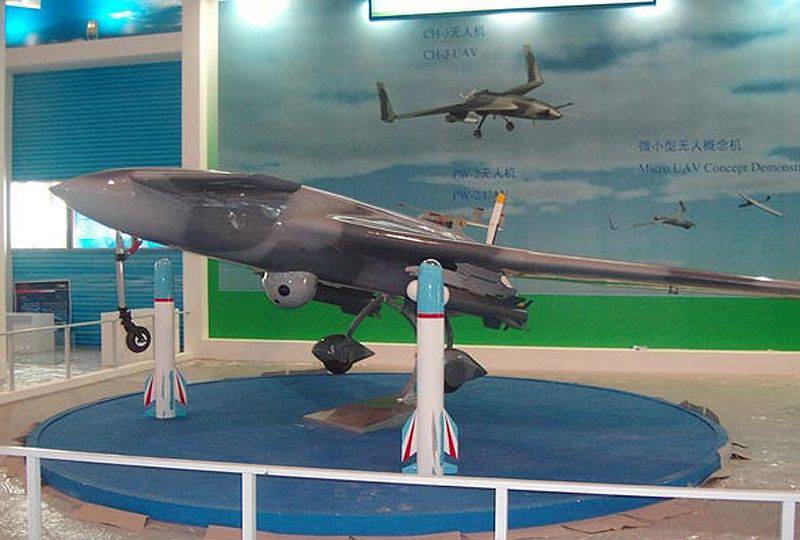 Model CH-3 Caihong (rainbow) developed by the Chinese company Aeriospace Science and Technology. This UAV is exported with laser-guided AR-1 air-to-surface missiles. The system has been sold to four countries, including Nigeria and Pakistan
Alternatives
Thanks to Raytheon's expertise in building and producing laser-guided bombs from the Paveway series, its Talon GC guidance kit should be a serious contender for future upgrades to the Hydra 70 rocket. In 2008, Raytheon signed an agreement with the Abu Dhabi company Emirates Advanced Investments (EAI) Group to jointly develop these weapons and in September, 2014, under a contract worth 117 million dollars, issued to Raytheon by the UAE armed forces, Talon began mass production. A report released by 24 on February 2015 of the year said that the Talon rocket would go into service with the UAE army. Although it was not officially announced, but most likely, the missiles with this kit will go into service of a multiple launch rocket system based on Nimr armored car. The UAE Air Forces also operate the AH-64D and the Talon's guidance kit will be integrated into the missiles launched from this helicopter.
In 2014, a permit was received from the army to launch Talon rockets from an AH-64E helicopter. They were also launched from Bell OH-58D and MD Helicopters MD-530G reconnaissance helicopters of the US Army. In June 2015, Raytheon announced that the Talon rockets were launched from AH-64D / E helicopters of the American Army and possibly the US Army will officially acquire a Talon guidance kit for its unguided Hydra 70 rockets in the near future.
Lockheed Martins's DAGR (Direct Attack Guided Rocket) guided missile is another strong competitor to the upgraded Hydra 70 missiles. As with the Talon, the DAGR uses a nasal targeting module, allowing you to capture targets before launching and capture targets after launching. The rocket launches were successfully produced from AH-64D and Boeing A / MH-6X army helicopters and AH-6I reconnaissance helicopters. The DAGR rocket has a length of two meters and weighs 16 kg with a M151 warhead weighing 4 kg. At sea level, the maximum range is almost four nautical miles (seven kilometers) and nearly seven nautical miles (12 km) when launched from a height of 6100 meters. In June 2014, Lockheed Martin announced that it had conducted DAGR test launches from its wheeled platform at Eglin airbase, where all DAGR missiles hit their targets with a direct hit. Although the DAGR was tested by the American army, it has not yet been purchased in bulk.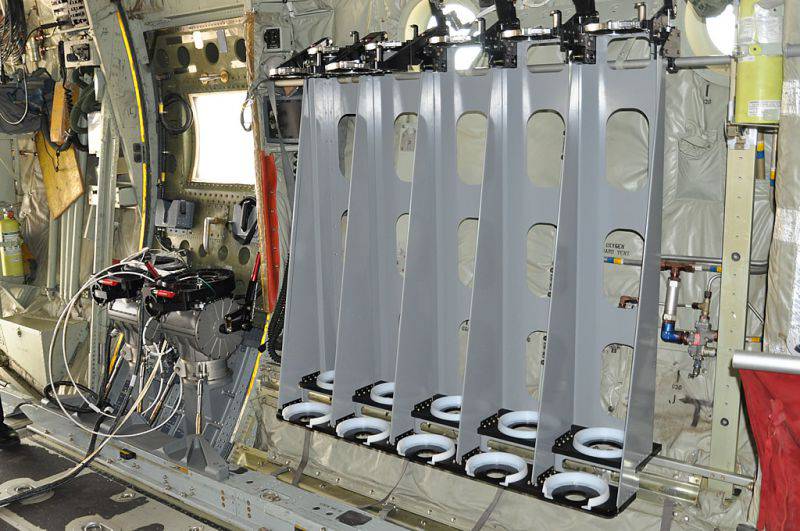 The Derringer Door Launcher, installed in a Lockheed Martin KP-130J Harvest Hawk turboprop cargo aircraft / tanker, allows you to launch Raytheon AGM / BGM-176A / B Griffin ground-to-air missiles without a cab seal
According to the company representative, DAGR can migrate to other platforms besides the helicopter. "The DAGR rocket can be integrated into fixed-wing platforms and suitable UAVs whose speeds are comparable to helicopter ones. In the end, DAGR can be enhanced to integrate with faster platforms. "
In the meantime, the Canadian company Magellan Aerospace offers further development of its 70-mm unguided missile in the form of a CRV7-PG (Precision Guided - Guided High-Precision) 15,7 kg mass and declares its best performance in its class. The company does not provide any details regarding the armies of which countries adopted these missiles.
The STAR (Smart Tactical Advanced Rocket) guidance and control module from Elbit Systems is moving into the market as an upgrade for 68-mm and 70-mm missiles. Although the company does not confirm this, the STAR module is supposedly currently in service with the Israeli Air Force and may be installed in missiles aboard AH-64D helicopters. The STAR GC module is used in a GATR (Guided Advanced Tactical Rocket) tactical rocket from Orbital ATK. In fact, this is a completely new weaponry, in which only a few components of the existing Hydra 70 rocket are used. It has increased accuracy and range of 7,5 km. In 2013, ATK received a contract from the command of special operations forces to conduct a GATR assessment on Sikorsky MH-60L / M helicopters, which are in service with the special forces of the American army. In addition to the fact that in April 2013, the US Department of Defense issued a contract worth 3,2 million dollars to Orbital ATK and Elbit Systems to evaluate this missile on board the MH-60L / M helicopter, nothing is known about the current status of this program.
In 2013, the French company Tales launched its 68-mm RPM precision rocket (Roquette a Precision Metrique) with a Tiger-HAP reconnaissance and attack helicopter in order to demonstrate its capabilities to the French Defense Supply Directorate. Later, she collaborated with the Airbus Helicopters company to install a rocket on its reconnaissance and attack helicopters Tiger-HAP / HAD. At the Paris Airshow in 2015, it was announced that these helicopters, which are in service with army aviation, would start receiving RPM missiles from 2020.
Another brand-new laser-guided missile Cirit (Javelin - dart) is produced by the Turkish company Roketsan. The missile was developed to meet the requirements of the Turkish army for arming its attack helicopters T-129 Tusas / AgustaWestland and Bell AH-1W. Cirit with a three-mode warhead weighs 15 kg and has a range of 4 nautical miles (7,2 km). In 2013, Roketsan received an order worth 196 million dollars from the UAE company Tawazun in the interests of the UAE armed forces. At IDEX 2015 in Abu Dhabi, it was announced that a variant of this rocket with a range of 5 nautical miles (10 km) was installed on an Air Tractor AT-802U turboprop aircraft and UH-60L / M multi-role medium helicopters of the United Arab Air Force.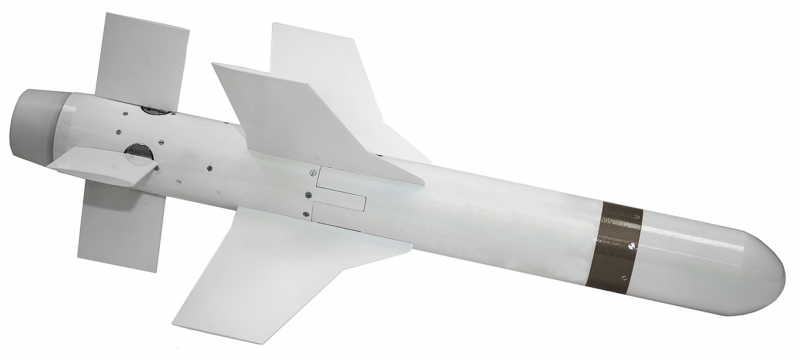 Textron Fury is a modification of the Thales LMM (Lightweight Multi-Role Missile) supersonic rocket with a fixed plumage without a rocket engine, which in turn is a further development of the Thales Starstreak rocket "ground-to-air" near air defense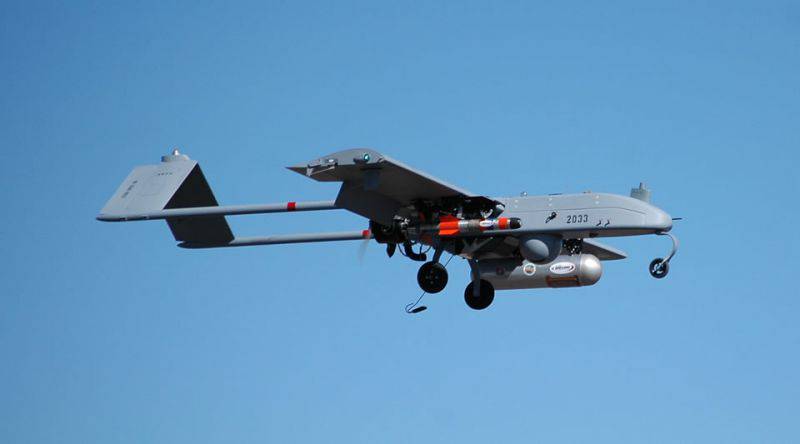 Lockheed Martin's Shadow Hawk air-to-ground planning bomb was suspended under the right wing of the RQ-7B Shadow 200 UAV during testing.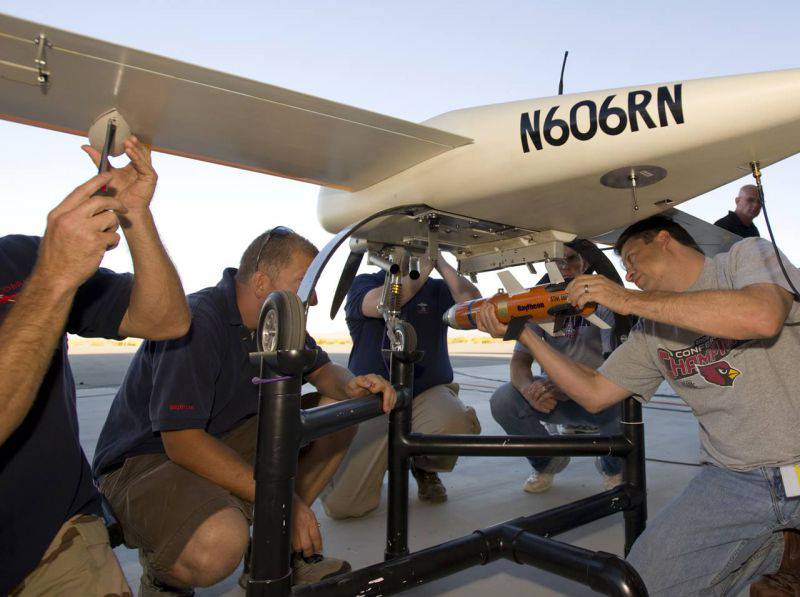 Raytheon's Pyros small-sized rocket is mounted on a Raytheon Cobra UAV central pylon weighing 48 kg. Pyros is an example of the use of small-sized guided munitions. Pyros rocket weighing 6 kg has folding wings and steering wheels. In July, 2014, the missile test launches were conducted
More rockets
All laser-guided missiles are limited to a few degrees in the direction of the aircraft due to the field of view of the laser illumination system of the target, and also limited in range, dimensions of the warhead, and the size of the jet propulsion they can receive. The first customer of air-to-ground light weapons was the United States Air Force Special Operations Command (USAFSOC), whose armed AC-130H / U Specter / Spooky-II transport aircraft from the late 90's began to fly at low and medium altitudes at night conditions. These restrictions were adopted after the loss of the AC-130H during an artillery bombardment of the 9K32 anti-aircraft missile system by the Iraqi army in the Battle of Khafji on the Saudi-Iraqi border of 2 in January 31 of the year. Their onboard 1991-mm M105 artillery mounts had a range of just 102 km.
In 1997, USAFSOC issued a requirement to increase the lethality of its AC-130H / U series aircraft, which envisages the development of an indirect targeting missile (Special Operations Precision Guided Munition) with a radius of 30 km. In 2006, the USAFSOC launched a X-NUMX-mm planning rocket from the container tube 140-mm rocket GBU-44B Viper Strike from Northrop Grumman weighing 20 kg with combined inertial / GPS guidance on the cruise and laser guidance on the final trajectory segment. GBU-44B is currently part of the MBDA portfolio, which offers the GBU-44E 19 kg option, designed to enable the KC-130J turboprop cargo aircraft / tanker to launch from steep and gentle angles of attack. According to the representative of MBDA, the GBU-44E rocket is certified for KC-130J aircraft, although it is not currently installed on them.
During operations in Afghanistan, the US Marine Corps initiated the armament of some KC-130J transport workers to perform regular reconnaissance missions. To upgrade their KC-130J Harvest Hawk, the Corps also adopted the AGM-15A Griffin Raytheon 176-kg laser-guided missiles with laser-guided missiles, the production of which began in the 2008 year along with the GBU-44E. The AGM-176A Griffin missile has a 6 kg warhead and a longer range (8 km) compared to the GBU-44B / E (see above). The AGM-176A missile was initially launched horizontally from a ten-pipe Ganslinger launcher mounted on the floor of the aft loading ramp. Since 2012, the launch has become vertical of a five-pipe launcher of the "Derringer Door" type, mounted in a side door, allowing it to maintain pressure in the cabin. According to some reports, a similar "door" was also installed on the MC-130W Combat Spear special forces and AC-130J Ghostrider hand-holds. The forward-launched production of the BGM-176B Griffin rocket began in 2010, Raytheon delivered the USAF its 2000 th BGM-176B rocket in February 2014. The US Air Force placed an order worth 86 million dollars for AGM / BGM-176A / B Griffin missiles in November 2014, and later in May 2015 another contract worth 2 million dollars was issued. This weapon can also be installed on other platforms. According to Stephen Dickman, program director at Raytheon, "Raytheon recently teamed up with Bell-Boeing to demonstrate the BGM-176B launches from the CV / MV-22B Osprey convertible plane of the US Air Force and Navy in November 2014 and March in 2015." The company currently offers the AGM / BGM-176A / B Griffin Block-III rocket. "Block III is the latest update to the Griffin family features. It affects both AGM-176A (Griffin A) and BGM-176B (Griffin B). The Block-III retrofit adds an advanced semi-active laser homing head (GOS) to combat fast-moving targets. In order to increase lethality, it also includes the Multi-Efect Warhead System (MEWS) universal warhead created by Raytheon, but the indirect damage inherent in the Griffin family is kept low, "Dickman added.
The Tales LMM (Lightweight Multirole Missile - lightweight multi-missile) supersonic missile with a 13-kg laser beam guidance is produced for the AgustaWestland AW-159 Wildcat deck-based helicopter. In July 2014, AgustaWestland and the British Department of Defense signed a $ 153 million contract to integrate, test and install LMM aboard AW-159 helicopters along with the MBDA Sea Venom / ANL (Anti-Navire Lighter - Light Anti-Ship) missile. A month later, Tales and the British Department of Defense signed a $ 82 million contract to develop, qualify and test the LMM for AW-159 helicopters, which are in service with the British Army and
fleet
. In 2014, Tales showed a 6 kg fixed-wing FreeFall LMM (FF-LMM) planning rocket, which has GPS / INS guidance in the middle path and semi-active laser guidance in the final path.
The company Lockheed Martin has developed two planning ammunition: 10-kg Scorpion and 5-kg Shadow Hawk. According to media reports, the first of these has been used by the Central Intelligence Agency in Pakistan against Islamist rebels since 2010, in order to minimize indirect losses. In 2012, Trial launches of the Shadow Hawk rocket from the drone RQ-7B Shadow-200 developed by Textron Systems / AAI were made.
Other light weapons are an 81-mm-discharged 4 kg mine from General Dynamics. In November, 2012, the company announced that it had conducted flight tests of this weapon with the Navmar Tigershark UAV. During these tests, three mines were dropped, which landed within seven meters of their target with predetermined GPS coordinates. In addition to information about these tests, there have been no reports of these weapons.
Let us pay attention to the lightest weaponry - the Orbital ATK's Hatchet planning precision-guided munition weighing three kilograms, which is supposed to be dropped from a UAV. At IDEX 2015, the company announced that it would soon be commissioned by the special forces of the US Navy and Air Forces, although it refused to name when this might happen. The Hatchet miniature bomb is launched from a tube or rail guide, has three wings, is guided by GPS / INS and semi-active laser guidance in the final part of the trajectory (or alternative guidance system).
As for the future development of laser-guided munitions, here the armies, fleets and aircraft of many countries will closely monitor the US military to determine which additional purchases of precision air-to-air weapons they need in the near future. The United States is actively fighting the Islamist rebels in the Middle East and Africa, and the tools they bring to this struggle, their success or failure, will have a significant impact on the development trends of such
weapons
, which will allow other armed forces to properly develop and purchase it for the destruction of ground targets with high accuracy, now and in the future.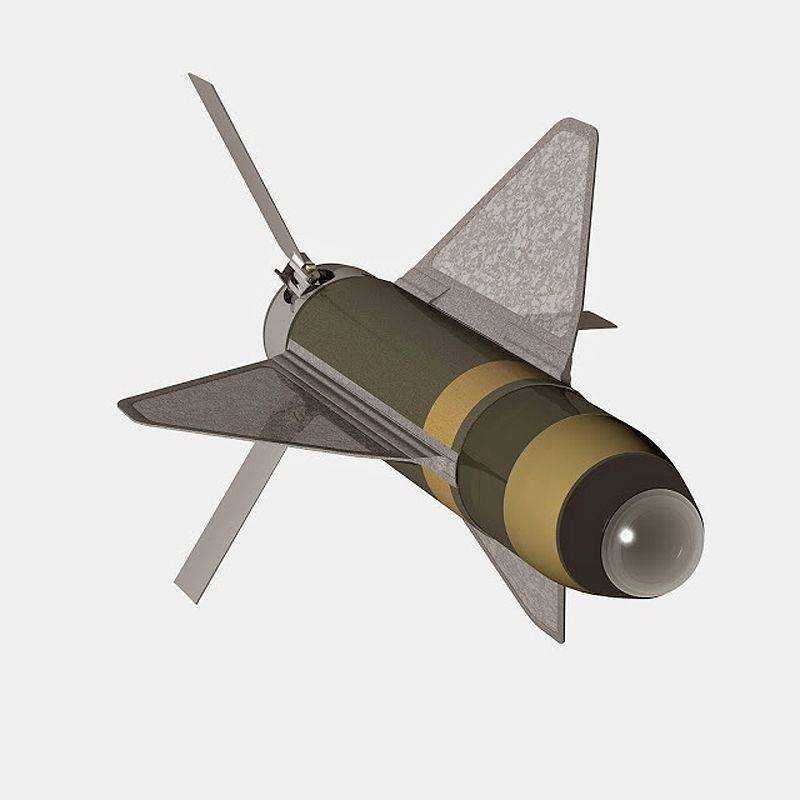 Perhaps the smallest and lightest precision bomb Hatchet company Orbital ATK, because its mass is only three kilograms. Foldable wings and rudders allow you to run it out of the tubular guide
Materials used:
www.generaldynamics.com
www.baesystems.com
www.raytheon.com
www.armada.ch
www.lockheedmartin.com
www.textron.com
www.wikipedia.org