British edition
Daily Mail
which, to put it mildly, does not specialize in military topics, writes that the photographs taken from the Khmeimim airbase in Syria "do not allow to doubt that Russia supplied the C-400 anti-aircraft missile systems" to Latakia. The publication reports that the photos were taken by the Ministry of Defense of the Russian Federation, who invited foreign journalists to cover the events taking place at an air base in Syria, from where Russian military aircraft take off.
The submission says that such images were published "deliberately" - in order to convey to foreign colleagues information about what weapons Russia can use in Syria.
The publication notes that the C-400 "Triumph" systems pose "a serious threat to NATO aircraft that perform antiterrorist tasks." A statement is made that for C-400 there is no such thing as stealth technology, and therefore C-400 is "threatened" not only by F-15 and F-16, but also by F-22 Raptor.
As a kind of evidence of the presence in Latakia C-400 "Triumph" the British media gives this photo.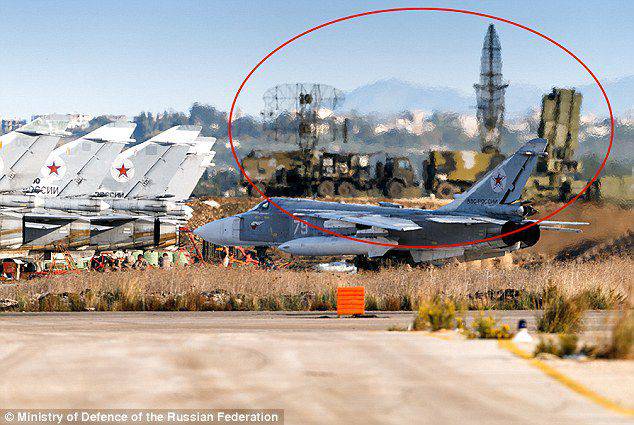 The official representative of the Ministry of Defense Igor Konashenkov called the statement of the British media about finding C-400 in Latakia disinformation.
Igor Konashenkov:
Before you frighten the British and the world by locating our C-400 anti-aircraft missile system here, you had to see what it was like at least in Wikipedia or on the website of the Russian Defense Ministry