The spokesman for the Ministry of Defense, Major General Igor Konashenkov, at the next briefing, announced that the Russian
aviation
in Syria expands the area of ​​application. According to Igor Konashenkov, aircraft of the Russian Air Forces over the past two days have attacked 289 terrorist targets, having completed 107 sorties. Airplanes of the Russian air forces operated in the provinces of Aleppo, Deir ez-Zor, Latakia, Idlib, Hama, Homs, Damascus and Daraa.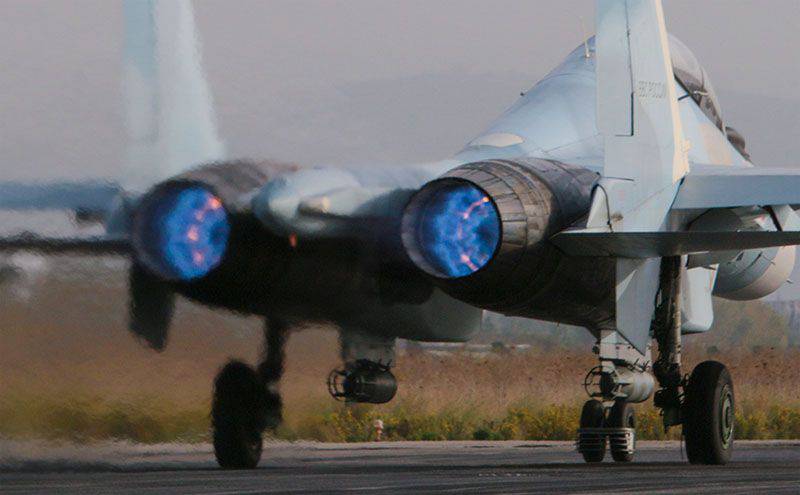 In the province of Latakia, the command and observation post of the terrorists of the Dzhebhat al-Nusra group was destroyed by an air strike. According to the official representative of the Ministry of Defense, which leads
RIA News
, militants are trying to take out
weapon
from warehouses in Latakia into the controlled territory to protect it from attacks by Russian aviation.
In the province of Deir ez-Zor, a column of fuel trucks was completely destroyed, with the help of which terrorists transported crude oil for its subsequent sale.
Igor Konashenkov:
During the conduct of aerial reconnaissance in the area of ​​the city of Meyadin, Deir ez-Zor province, a convoy of tank trucks was found heading for the Syrian-Iraqi border. According to available information, cars transported crude oil produced in the fields controlled by ISIL to the terrorists' oil refineries located in Iraq. The strike on the convoy was inflicted by the Su-34 bomber on duty in the air. Objective control data confirmed the destruction of a column of fuel trucks.
An air strike in the province of Damascus succeeded in destroying the militants 'warehouse in which the missiles used by terrorists for shelling the quarters of the Syrian capital were stored. According to Konashenkov, the warehouse was constantly replenished with small batches of missiles, but after a strike by a Russian bomber, the warehouse left the ruins.
In the course of the operation for 11-12 in November, the aviation of the Russian Aeronautical Space Force in Syria destroyed a total of 16 ammunition and fuel depots and about fifty strongholds of terrorists with weapons and military equipment. It was possible to destroy more than 180 defensive positions and fortified areas of the militants of various terrorist groups. BETAB-500 bombs were used to destroy hidden ammunition depots and weapons underground.
Igor Koshanenkov:
In the vicinity of the town of Jasim, the province of Daraa, the Su-34 bomber destroyed an in-depth ammunition warehouse of ISIL gangs. As a result of the direct hit of the BETAB-500 aerial bomb, detonation of explosives began at the facility, which led to its complete destruction.
Several mortar calculations and a field ammunition depot owned by terrorists were destroyed by a Su-24 blow in the province of Homs.