Photos of Russian appeared on the Internet
tanks
T-90A, and the captions under the photo indicate that these tanks were allegedly sent by Russia to Syria. The information about the location of Russian T-90A tanks in Syria is actually confirmed by the image of the preparations for the concert at the Khmeimim airbase of the Russian team Blue Berets. These images are also published by users of the global network. There is no information on the concert in Latakia on the band's official website.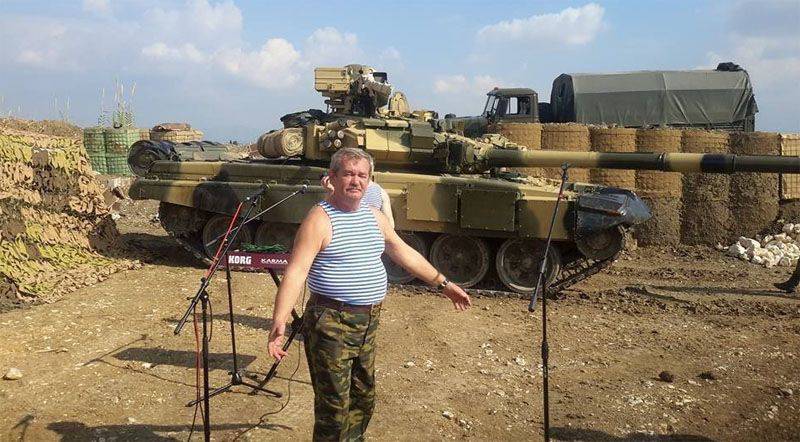 Initially, it was reported that the T-72B3 tanks could be located at the Khmeymim airbase, from which Russian attack aircraft, bombers and fighters fly into the sky of Syria. Information about the presence of Russian tanks in this country appeared at that very moment, as it became known that the air base in the province of Lattakia would be used as the main military base for the counter-terrorist operation by the Armed Forces of the Russian Federation assisting the Syrian government army.
From the characteristics of the T-90A:
The mass of the tank is about 46,2 T. Crew - 3 man. The main armament: 125-mm smoothbore gun (launcher 2A46M-2). Ammunition - 43 shot, of which 22 ammunition is placed in the rotating conveyor of the automatic loader. With a tank gun paired machine gun. Ammunition machine gun - 2 thousand rounds. There is a TKN-4C sight. One of the main functions is the possibility of suppressing the enemy's anti-tank complexes by the Shtora complex.
Details about the characteristics of the main battle tank T-90A can be found by clicking on
link
.