A rally in support of the operation of Russian videoconferencing in Syria was held in Tartus, the administrative center of the province of the same name, the correspondent reported from the scene
RIA News
.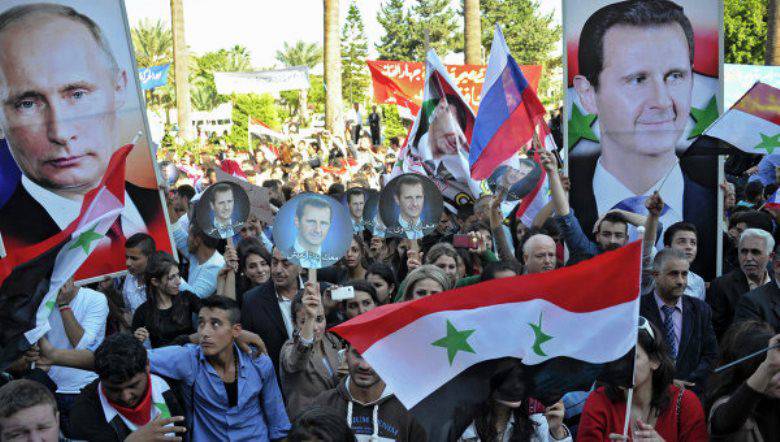 Several hundred people gathered yesterday in Tartus in front of the administration building, which houses the logistics station of the Russian Navy. The protesters in the hands of the national flags of Syria and Russia, portraits of Bashar Assad and Vladimir Putin, as well as banners in 2-s languages.
People chanted "Thank you, Russia!" ("Shukran, Russia!").
"The operation of the Russian Aerospace Force of the Russian Federation returned to the Syrians the hope of victory over the terrorists and the establishment of peace in the country," one of the rally participants named Ahmed told the correspondent.
"We are tired of the war, we are ordinary people who just want to live, study, work and start a family. With the advent of Russian Syria aviation we felt protected, now we are confident that we will win soon. The siege of Aleppo has already been lifted, the terrorists are driven back from Latakia and Hama. Soon everyone will be able to return to their homes, "
- Ahmed supported his comrade.
"We specially arranged our event in the form of a holiday, so that everyone could express their gratitude to Russia, its leadership and Russian pilots participating in a just war against the militants," a representative of the Baath Party (Arab Socialist Revival Party) told the journalist.
"The operation of Russian aviation, which has been going on for more than a month, confirms the close relations between our countries and, of course, people. We are grateful to the Russian people for their support in this difficult time for us ",
- said Father Arseny, Metropolitan of the Greek Orthodox Church, who participated in the event.