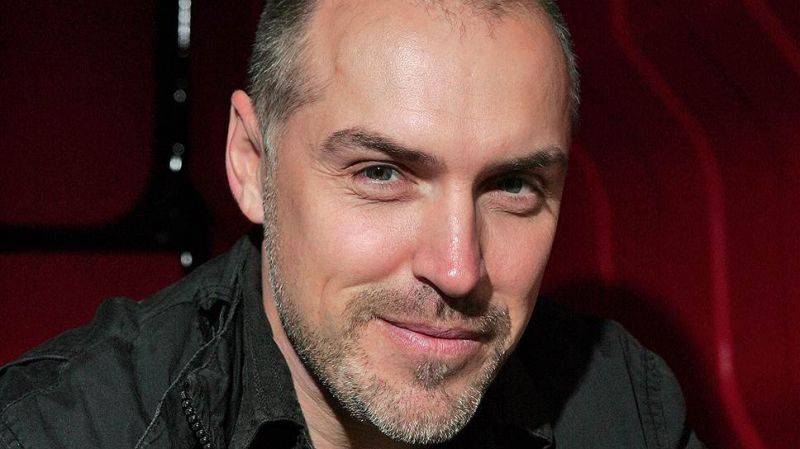 The study "War of the Future" was carried out by experts of the Center for Industrial Design and Innovation "Kinetics" of MISA. This is undoubtedly
news
: in today's hot-air TV atmosphere, even purely civilian institutions and people are stuck on a military theme
- What is your research?

- This is a voluminous volume, about 800 pages. It has three parts. The first is an analysis of the global situation. It follows from it that war in some form is quite possible and even close. The second is "analysis of analyzes", squeezing a few pages about what potential conflicts might be. And the third part is a kind of technical task that we wrote for ourselves and manufacturers: what should we do to help the army and the defense industry complex prepare for the situation. We have isolated the elements that we have to deal with, creating equipment for the soldier of the future - for example, systems of destruction, life support, protection, energy supply, control. In these sectors, we work and will work in the near future together with relevant organizations.
- Do you need to prepare?

- AT
stories
there were times when we entered into conflicts unprepared. There is a simple rule: those who are not ready, the destruction, damage, loss of life more than those who prepared. We are 140 million people, and we need to protect ourselves. Yes, and others too. In world practice today, the calculation of 1: 5 is considered the cynical norm, that is, there must be five enemy soldiers per one fighter killed. But the enemy also thinks so. Of course, 0: 0 is better, but this, unfortunately, is an unattainable ideal.
- What is the future war?

- This will be the so-called network-centric war. The term was introduced by Americans who have experience of participation in conflicts of recent years. We already see its separate signs in local wars. The "network-centric war" involves the creation of an extensive network of well-informed, but geographically dispersed forces. Here are its main features. The first: a highly effective information system that provides every fighter's access to all the necessary information. Second: highly accurate
weapon
with a long range of target destruction and maneuverability. Third: a highly effective command and control system. Fourth: the so-called integrated "sensor grid". It is a system of quick decision making and execution based on accurate information using the info-decision-arrow scheme. Moreover, decisions can be made not necessarily in the control center of the battle, and therefore is called the "lattice". Technologically, all this involves the introduction of new control systems, tracking, reconnaissance, control, computer simulation.
- How will the fighting take place?

- Modern wars occur mainly in urban areas and affect logistics operations. This is confirmed by conflicts in Iraq, Afghanistan, Syria and other hot spots. In other words, the war is increasingly moving from the horizontal phase to the vertical. The battle can even be interfloor when opponents are located on different floors of the same building, as, for example, it was at the Donetsk airport.
Aviation
,
Tanks
and artillery, of course, needed, but, as before, success mainly depends on the fighter. Man is the basic element of any conflict. Hence, a huge number of different factors affecting the hostilities arise: concrete or brick walls, glass, bulkheads, stairs, underground passages ... And accordingly, new enemy detection systems appear - ultrasound, infrared, thermal, night vision, and so on.
A new type of battle management appears, the so-called sergeants of three quarters. To the forefront are people who are well aware of the features of urban development on their battlefield and are able to make independent decisions. From each soldier and from the platoon or company commander, independence of decision-making is now required, rather than blindly fulfilling the orders of the regiment or division commander. Therefore, now the main emphasis should be placed on the training of junior commanders.
An important point: the combat group of soldiers is enhanced by the use of information and communication technologies, that is, a local point of contact is created. All units and all fighters involved in the operation know what others are doing. It's easy to say, but hard to do. In Germany, for example, this problem is solved with the help of armored vehicles. Say, ten fighters are always in touch with armored vehicles, which is the central information transfer station. But all armies have different approaches.
Modern war is not only fighting, but also a powerful informational support of the army. There was no such support, for example, in the 2008 Russian-Georgian war of the year, and this makes it very contradictory. Different experts in different countries respond differently to the question of who first started shooting. That is why information training is becoming increasingly important.
- Some time ago, the armaments program was adopted up to 2020 of the year for which 20 trillion rubles was allocated. Is this preparation for war, past or future?
- I can not comment on the program, I will express only a subjective opinion. The first task was to raise enterprises that produce specific types of military equipment for the Armed Forces of the Russian Federation. Remove the plants from the stagnation in which they were located. The basis was those samples of equipment that were produced at the plants, and technologies that were used earlier. But over the past ten years, the new T-14 Armata tank, fifth-generation T-50 airplanes, the "Warrior" soldier costume, and much more have appeared. More than one and a half thousand enterprises became "on a wing". And this was reflected in the release of not only military, but also civilian products.
- Why did you, an industrial designer who made a career in the global automotive industry, engage in armaments?

- There are things that seem to me today more important for our country. Later, when the world conjuncture calms down, cut the swords into plowshares. Especially since there is experience. Small arms systems are only a part of what the Kinetics Industrial Design and Innovation Center is doing today.
- Who called you to the defense industry?

- One of the employees of the Zlatoust machine-building plant invited me to see the product line that this enterprise produces. I went, met the director, then it was Sergey Lemeshevsky, we found a common language with him. He now runs an NGO. Lavochkin. But we continue to cooperate with him. Zlatmash led us to the Central Scientific Research Institute of Precision Engineering, which is part of the state corporation Rostec. The Director of the Central Research Institute Tochmash Dmitry Semizorov introduced me to the Advanced Research Foundation (FPI), which is engaged in defense innovation.
- Do you do missiles, tanks?

- Not. Nuclear warhead design is not needed. This product is a one-time use. We also have space troops, and beautiful planes, ships, tanks. There is, of course, a lot of work for us. But there are two basic elements of war with which it makes sense to start. The first is the soldier, he is in charge. A lot of money is spent today on training a soldier and on his equipment. And the second element - ammunition. A small arms cartridge - like DNA - sets the system for all types of small arms and their modifications.
- You have a main working tool - a laptop. Between him and the real production of weapons should be some intermediate links?

- We, designers, need to be open to the world, we need to look at what is being done around, analyze, create products better than others. This is the essence of our work. Yes, we have special tasks from defense research institutes. Based on the extensive research that we are talking about today, we are rather creating functional prototypes. It is desirable aesthetic, comfortable, reliable, made in Russia. We have the necessary licenses to create prototypes. We do everything except the trunk. The trunk is a closed area that only specialists are involved in; we do not go there. We are building not only prototypes of weapons, but also what I mentioned at the beginning - prototypes of mechanisms, 3D-transport, capable of moving in three dimensions. To develop prototypes, that is, working samples, we need a special powerful technological base. We are creating it now. We are building in the center of Moscow, on the territory of the National Research Technological University MISiS, between the Park of Culture and Leninsky Avenue, an underground center of high-complexity prototyping. The works are close to completion. The machining centers of the highest precision have already been installed, almost all the basic technological processes have been worked out. It will be a pilot production of a full cycle in a very compact format.
- What is the global market of small arms? Does he have a request for new weapons?

- The market is huge! There are military weapons, sports, various non-shooting layouts ... But the most difficult, most powerful weapon is combat. It should be unpretentious, work in any environment, in heat and cold. It is necessary that it is easily recharged, reliable, reliable, did not fail at the right moments when the question is "either you or you." In short, there are five criteria for military weapons: the speed of preparation for use, accuracy, firing range, reliability, low cost.
- The armament of our army meets these criteria?

- I am not a designer and I will be cautious in assessments. I think we need to work on the ergonomics of our weapon systems. It is necessary to use modern materials, today everywhere steel is being replaced by plastic, composite materials. A very important point - the coating of metals. There is still a lot of work. There was no weapon design in our country as such. Designers are always repelled only by the function. In its own way it is justified. But now we are entering global markets, we need to be the best. We need to create rifle complexes.
- What does "shooting complex" mean?

- In modern armies separately rifles or machine guns are used less and less. Systems are being replaced, including helmet-mounted sighting devices, high-power optics, laser and thermal imaging devices, new ammunition storage and transportation systems. For example, the famous Kalashnikov assault rifle requires two hands of a fighter. And if you need to shoot with one hand? Or without hands? It is possible, but uncomfortable. Another solution to this problem: a "parrot" is fixed on the soldier's shoulder, which shoots where the person is looking. Another option: the sight is built into the glasses on the helmet of a soldier. And if he has the devices to look around the corner? Or through the wall? And to this add a device that distinguishes between their own and others? And all this should be interconnected, facilitated and easy to use. We are working on such innovations.
- What technologies exactly do modern weapon systems require?

- Here is a traditional pistol with a metal trigger. The hook is made on a milling machine with three or four permutations of the workpiece plus welding. This method significantly increases the cost of the product and increases production time. But pressed from the powder hook is much cheaper. In the West, a lot of plastic is now used. But such technologies have a minus: plastic in severe frosts crumbles, pricks. This means that such weapons are not applicable in the Arctic. And it may be required there. If we consider and calculate the number of small parts in the mechanism, their potential modularity and interchangeability, the cost of the product can be reduced by several times, if not by an order of magnitude!
Western designs, for example, are more technological than ours in production. But not the fact that it is better. After all, quality manifests itself in specific conditions. Europe is one thing, Russia is another. And the roads are different, and concrete, and glass. We need serious testing programs, improving performance, innovative solutions. Another promising direction: why not print ammo right in the field before the fight?
- Like this?

- Today, there are 3D printers that can reproduce any product of any shape using digital files. The main thing is to have the necessary materials. In the workshop put a line of printers. Need metal tubes for liners, gunpowder, and the bullets can be different - tracer, armor-piercing. In the evening, the commander made an order for two million rounds, in the morning everything is ready. And thus to cancel their logistics by wagons and airplanes thousands of kilometers away and not to carry with them in the wagon train.
Or, for example, in the conditions of the Arctic, which may become one of the theaters of military operations, special coatings are required, which are superior in strength to the metal itself. Ordinary plastic at a temperature of minus 60 degrees turns into a kind of glass. So, we need special composite additives. Instead of a metal handle it is necessary to put a ceramic, in structure resembling a sea shell rapan, it has high strength with less weight. Now from such ceramic materials we make body armor and helmets, they are considered the best in the world. This is the so-called bionic design.
- We went to the equipment of the soldier ...

- Yes sir. This is another direction of our work, the equipment of the future.

- Suit "Warrior", "green men" in the Crimea?

- No, it was, "anteens." Not even the first generation of a new soldier costume. This "Warrior" is already in the army, and this system is very competitive in the context of world analogues. There are now six or seven similar systems in the world.
The costume of the soldier of the future is actually a semi-bottomed complex. The main task that we face is the preservation of the life of a fighter. In general, the difference of this complex from the traditional form is that several systems are linked in it. In the costume of a soldier are built up to fifty different products.
The main task is to integrate the efforts of many enterprises into one complex product. Each company produces some of its own product and at the same time constantly improving it. Moreover, the system should be simplified, the simpler it is, the more reliable in real combat conditions. Elements of the system should be interchangeable, something can be supplied from another kit, if required. And do it right on the battlefield.
- How to solve the problem of survival of a soldier in the event of injury?

- Over this work, too, goes. We proceed from the rule of the "golden hour": if a wounded person is helped in the first hour, he will have an 80-percent chance of survival. In the second hour - only 15-20 percent. Therefore, you need to help the soldier right on the battlefield, and then transfer him to the next level of medical care. So, we need special equipment for transporting the wounded. Which ones? What should be the stretcher? How can a comrade of a wounded man transport him, if on both of them 20 kg of equipment plus weapons? Indeed, in previous wars this was not. During World War II, a nurse could pull a wounded soldier out of a battlefield on a cape. Today it is already complicated. All these are important issues that require special solutions. Recently we were at the exercises in the Moscow region, where exactly these problems were worked out.
"A few years ago, one of our famous designers was already developing a military uniform kit. Not afraid to repeat the sad experience?

- I do not comment on the work of colleagues in the shop. I think that anyone would have professionally fulfilled the task assigned to him. Perhaps there was another time and there were other goals. Honestly, I would not want to go to war at all. But today we need to take care of the protection and fighting efficiency of our young guys, who may have to take part in some of the conflicts. It is necessary that they be confident. And the most important thing is that relatives do not receive bad news.