In addition to the recent Gatling note, we can recall another interesting version of this famous mitraleza, which, unlike the previous ones, did not gain popularity and was not mass-produced, and its images remained only on patent drawings.
In 1893, George Gatling decided to combine it with an electric motor that rotates a block of barrels to increase the rate of fire of his buckshot. According to calculations, it allowed to increase the rate of fire to a fantastic value for those times - 3000 shots per minute. Regulating amperage, rate of fire
weapons
could be changed within wide limits.
Realizing at the same time that the power source can be found far from everywhere (and at the end of the 19th century there were few places to find it), Gatling envisaged the possibility of quickly dismantling the engine compartment and installing a handle with a simple bevel gear instead. Thus, the electric machine gun turned into a normal hand-operated mitraleza.
25 July 1893 of the year Guttling received a patent for his invention. Soon reports about him appeared in the press, but they did not arouse any interest. Electromitraleuza was perceived as something useless and absolutely unnecessary, since its rate of fire was considered to be clearly excessive. Especially since she had the usual for the Gatling power from the vertical cage, and at the maximum rate of fire the whole cage had to "fly out" in a couple of seconds.
It is not known whether the prototype was made and tested, in any case, I did not find any photos of it. Perhaps, the forerunner of the current "Volcanoes", "Minigans" and the GSH-6, which was far ahead of its time, remained on paper.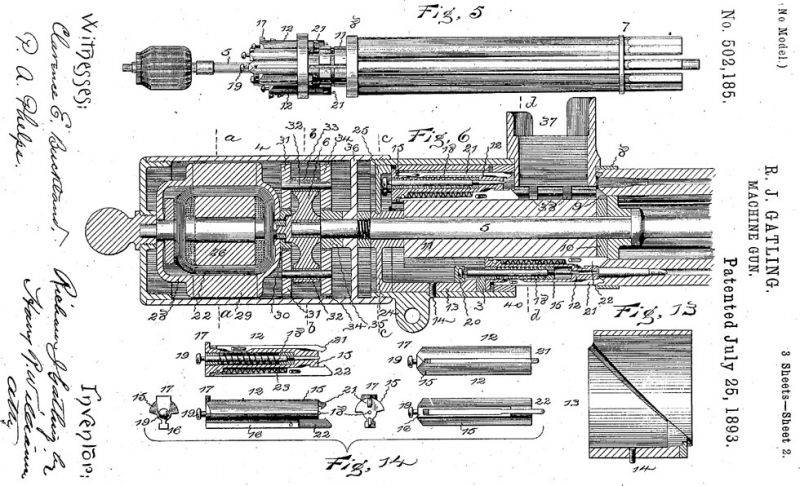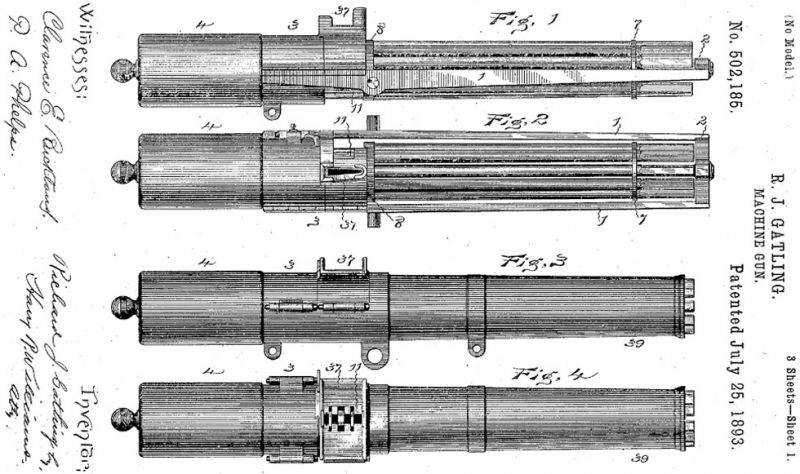 In fairness, it should be noted that Gatling was not the first to come up with the idea of ​​electromitrallase. Back in 1890, the American firm Crocker-Wheeler and Company offered an electric tool for the portable Gatling Bulldog. The weapon was intended for use on warships, which by that time were already mostly electrified, and therefore the power problem was removed.
According to the company, the electric bullet fire rate was 1500 shots per minute. In the event of a power cut, it could also work from the handle, without even having to remove the engine, just the coupling was opened.
As it is easy to guess, the fate of this weapon turned out to be the same as that of the slightly later development of Gatling himself: it did not interest anyone and was not launched into the series.