In the concern Radioelectronic Technologies (KRET), the T-50 (also known as PAK FA) aircraft was called "100% digital".
RIA News
cites the statement of the First Deputy Director General of KRET Igor Nasenkov, who is at the international aerospace show in the UAE (Dubai):
In terms of its purpose, the PAK FA aircraft does not simply belong to fifth-generation aircraft - fundamentally new ideas are embodied in it. That is, this is already a completely digital aircraft, which not only provides the pilot with information on request, but also provides the pilot with full informational support - for this, the aircraft is equipped with "smart trim". By "smart trim" we understand that many surfaces of the aircraft are universal antenna systems, which, when used, ensure the integrated use of the entire aircraft resource.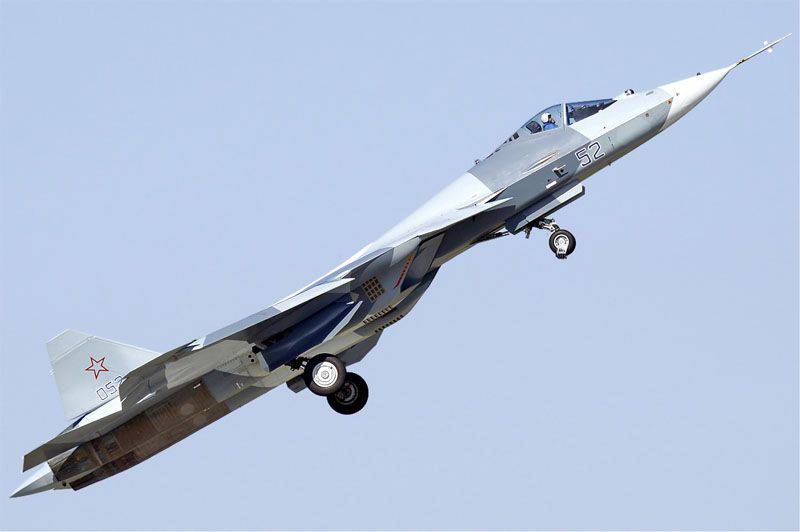 Igor Nasenkov states that the PAK FA radar complex performs both passive reconnaissance and active geolocation functions, and also serves as a means of electronic warfare.
Igor Nasenkov:
The PAK FA radar will work not only in the front hemisphere - it will also have a number of opportunities for a circular view, so that the pilot has full information about the radar environment, so that without taking maneuvering actions you can find out what is happening left, right, behind automatic mode with a projection on the helmet and on the interactive glass of the cabin.
For reference: T-50 (PAK FA) - the aircraft, designed to combine the functions of a fighter, bomber and attack aircraft. According to the developers, many of the features of the T-50 are automated. In particular, the aircraft can return to the home airfield, even if the pilot is unable to fly the T-50. The first flight of the T-50 made in 2010 year. At 2016, the year is scheduled for the start of serial deliveries of fifth-generation aircraft to the Russian Federation Air Force. The number of aircraft T-50 in the first batch is not reported.