For the first time in Lithuania, an open position was voiced that completely disagrees with the state point of view. Of course, many people have been talking about this here for a long time, but what would be similar would come from the mouth of a person who is a signatory of the Act of Independence of Lithuania and, moreover, everything said with the participation of other members of the club of signatories of the Independence, is a kind of nonsense. Rolandas Paulauskas is one of the few who directly expressed his opinion on the situation in the Middle East, in particular, in Syria, pointing out the unacceptability of Lithuanian politics.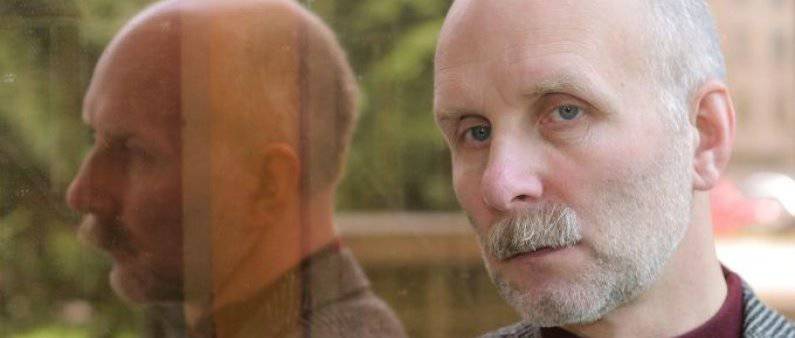 "Well, well, look, I will not pretend that I am a great Arabist or someone else, I've been following attentively and for many years — clearly, with the help of the Internet — and in my first statement I will not answer — why, but I will try answer - as I see this factual material that our viewers and readers should know. To begin with, today's Syria is a piece of the Ottoman Empire, which collapsed as a result of the First World War. And the borders of that Syria were established by the British and the French, who were plotting then, as soon as they wanted, regardless of who lives there, the Shiites, the Sunnis, the Alawites. In fact, they programmed conflicts in most states of the Middle East, drawing borders the way they wanted.
By the way, Syria has been a protectorate of France for a long time, and only in 1946, in fact, Syria begins the life of an independent state. A very interesting fact: at one time, from 1958 to 1961, Syria and Egypt constituted a common Arab state.
There was one state - Syria and Egypt. By this we want to say what a complex genesis, the emergence and development of statehood, a nation. No roots. For example, such a Syrian nation, after 400 years of being in the Ottoman Empire, and this is a Christian country once was, Syria is the cradle of Christianity, and now there 90 percent of people consider themselves Muslims. And so the real Syria begins only with 70-ies, with the coming to power of the father of the current president. He, without any doubt, was an authoritarian leader, but he was holding in his hands all this statehood, all this motley mixture of peoples, ethnic groups. And this son of his only happened to be in his position; there had to be another son of him who died in a car accident. And the current, Assad, an eye doctor, who lived in London, and in general a gentleman, his wife - a citizen of Great Britain, although the Sunnite. And so, when we look at what is happening in Syria today, let us begin by saying that since 2007-10 there has been a terrible drought in Syria. A terrible drought that drove the peasants off the land, and they rushed into the cities in search of help, food.
Further. That is, in other words, social tension has greatly increased. Further. In Syria, as in many Arab countries, there was a downright explosion of fertility. And over the past 40 years, the population of Syria has grown 3 times. There were, say, about 7 millions in 70, and in 2011, on the eve of this war, already 22! Can you imagine - how many people, where to put them? Naturally, unemployment increased, the drought of the peasants drove into the cities, and it was clear that for social unrest the base was solid.
And now in 2011, social unrest begins in one of the large provincial cities, which are immediately supported by obscure forces that have come from nowhere, it is not discussed now, but it is clear that it was immediately given
weapon
, from somewhere who took from those oppositionists, snipers immediately appeared on the roofs, firing in all directions and stirring even more ...
And Assad, having an example of Libya, when Gaddafi did not react to a similar situation, and Libya did not remain, and Gaddafi himself did not remain - Assad, having such an example, and no one expected him, such a doctor. Generally he is of a soft nature ... Yes, yes!
What did he do? He simply surrounded his city, the city of his country, where there were already armed rebels, some of whom were from abroad, and began to bomb their cities. Including civilians who did not have time to retreat. And when the West today accuses him that he killed his people, he is right about that - yes, he did. But I would like to ask critics - what did he have to do? If he had surrendered, today the statehood of Syria would not be the same as Iraq, like Libya. He chose to fight. And since he did not give up, then support from abroad increased, and these, as someone here put it, moderate oppositionists, armed to the teeth, tried to fight with this Assad. But it turned out that he holds. Half of his army fled, half remained, but loyal to him, and now he is holding 4 of the year.
And the Kurds living on a part of Syria got into all this mess, because they dream of their own statehood. They immediately took advantage, but! In this case, they forgot their disputes with Assad and more fought with these ... well. How to call them here ... with these rebels armed ... And with Turkey, who fear that the Kurds will move to Turkey, and also looked at the matter with concern. And so that this does not seem enough to you, this Islamic state appears in Iraq - it appeared in Iraq at the beginning - and by creating its own project, it takes a part of Syria. The third component appears - the fourth component, which means: the official army of Assad, the armed opposition, the Kurds, the Islamic state, behind them are invisible Saudi Arabia, Qatar, which supports all these forces in different ways ... Sunni states ... Yes, the Turks, who also play in your game.
And Russia interferes in all this mess. And here the most interesting thing is that the Russians here are the only ones who legally conduct military operations in this space. All the others who are flying and bombing there today are illegal, absolutely do not pay attention to the sovereignty of the state and do what they want, and the Russians legally.
And here in Syria today two such huge forces have been formed, in this unfortunate Syria: on the one side are, above all, the United States, ... 63 participant ... Turks, 60 members of that coalition, so ... And on the other side - Russians, Iran and China .
Why, the Chinese aircraft carrier is worth it. The aircraft carrier, and the cruiser enters, ... well, yes ...
I just can't, colleagues, get surprised - especially you, Ignas, and you, Mr. Mazuronis, Russia is involved in this conflict, so actively - how many, two weeks? - No, three ... Well, three. And you say everything - here are the Russians, the Russians, the fifth, the tenth ... And the USA has been in this region for several decades. And trying to answer the question - so what do they want from that Syria - specifically, the Americans? Than this Assad did not please them? I cannot fail to recall the entire context that has been there for decades in this region.
And this statement that Qatar wanted to lay a gas pipeline to the Mediterranean Sea through Syria ... Well, open the map and see: if you build a gas pipeline from Qatar, then the easiest way is through Saudi Arabia. Through Syria - the longest way. So no one can explain to me why it is necessary to lay through Syria? Why not through Saudi Arabia? Therefore, this energy question - what is the interest of Qatar and so on? Well, it does not fit into my logic.
Farther. Others will say that there is a conflict between the Sunnis and the Alawites and so on ... Well, colleagues! President Assad's wife is a sunnite. Most of the generals who are fighting today on the side of Assad are Sunni. The ministers. All sorts of government figures there are Sunnis. I think Asad himself took the Sunni faith ...
Well, you see that these things do not fit into any logic. And I can not forget, I apologize that the United States in this region started with what? From iraq. Remember the powders, right? Then there was Libya, Somalia, Sudan, Afghanistan, Egypt - where they simply did not succeed, and if it were not for the military coup, if not for the actions of General Sisi, then today in Egypt there would be chaos, most likely, as in Libya.
Behind all these decades are the United States. And now I ask myself and you. Often I hear such a comment: look, the United States failed, all they failed. They got involved in Iraq - they left chaos there, they intervened in Libya, together with Europe they left chaos. Therefore, the United States is wrong everywhere. Then I ask myself: if it seems to me that such a country, with such special services, with such information, and it seems to me that they are wrong all the time. Or maybe I'm wrong? Maybe I do not understand something? Maybe I look from the point of view of my logic, and it seems to me that they have only errors, isn't it? Or maybe there is some kind of logic that will put everything into a specific, specific system?
Again you are talking about those Russians, but remember that the Russians even donated Libya not so long ago. And now Medvedev is sawing with might and main for this, in black. In black sawing. Russian until the last allowed to do everything. Iraq want to crush? You are welcome! Libya want? You are welcome! We stopped only near Syria. So I ask the question: is the United States mistaken here, destabilizing the whole region, creating chaos in that region? Is this just the result of their obscure, random actions? Well, there must be some thought, no? Now look, I give you two facts, here is the code: there is such a Wesley Clark. He led the bombing of Yugoslavia in his time. So, you can watch Wesley Clark's interview in "YouTube", which he gives around 2001 or 2002.
"After the September 11 attack, 2001, I went to the Pentagon to meet with Rumsfeld and the Deputy Minister of Defense Wolfowitz. I visited the headquarters of many people who had previously worked under my direction. One of the generals invited me over. Mister, come, speaks to me. But you are probably very busy? No, no, I need to talk. We decided to attack Iraq! It was about September 20. I said: attack Iraq? But why? He to me: I do not know. I hope they know what they are doing. I wondered if it was possible that Saddam Hussein had links with Al-Qaeda? No, no, says. In this direction did not find anything. They just decided to fight with Iraq. He said: the deeds are such that we do not know what to do against terrorists. But we have a good army and we can overthrow the government. A few weeks later I went again. Then we already bombed in Afghanistan. I asked: are we still planning to attack Iraq? No, much worse. He took a sheet of paper from the table and said: today, a memorandum was sent from the Ministry of Defense, which said: during 5 years to attack 7 countries, we will start with Iraq, then Syria, Lebanon, Libya, Somalia, Sudan, Iran.
That he, having returned to the Pentagon after the bombing of Yugoslavia, learns from the high ranks of the Pentagon that he is waiting for him, in the next few years, to bombard several countries. And it lists to us those countries, namely Libya, Syria, Iran, and so on. You see, it is Wesley Clark who speaks English in 2001. He himself is surprised - as it is, I have done my job, and he is also offered to prepare to bomb several more countries.
And another fact. So again, this is not my opinion. These are facts. Condoleezza Rice, during the reign of Bush Junior, gives a speech at one conference - she also has it, can be found on the Internet - and now in her speech she says that we in 60 have a certain policy in the Middle East and Africa that boiled down to that, despite the fact that the dictator, but this is our dictator, supported a certain order, through dictators we tried to control chaos. And she says: but now we are radically changing our strategy, and those who were our friends will no longer be our friends. We essentially change our policy in this region. In other words, we are randomizing this region and introducing that idea of ​​controlled chaos. Well, you know, colleagues, knowing all this, through the prism that you advise me here to see that only energy matters, oil, Russians - Russians have intervened here only lately - and now I will try to answer - why - in my third saying.
First of all, when we talk about an Islamic state, there are two aspects. The Islamic state is a local phenomenon, Syria and Iraq, but it is part of a much larger Muslim movement, which can be called the "World Caliphate". And this world caliphate here is completely wrong with us, just like the Islamic State, is understood as some kind of monsters and no more. And they have a great ideological calculation that attracts people, and in the Arab world numbering over a billion, ideas based on social justice and on a religious basis have many admirers. Not for nothing, I remembered the explosion of the birth rate at the beginning and that the states were divided as it happened. There are no roots of statehood, there are no national roots in most of these states either, and this caliphate offers such a general idea, a kind of new utopia, I would say, something like what happened in the 17 year in the Russian Empire, when the Bolsheviks threw out a certain the ideology that has attracted many people is drowning in blood - just the same, isn't it? - but people do not reject this idea, in spite of everything, and the civil war in Russia, no matter how terrible it may be, but some of the people were fascinated by these ideas. So this caliphate has great potential.
And since it is not tied to a specific territory, it is almost impossible to fight it. Unable to fight with the idea. And so the efforts of the Russians here will give little, it seems to me ...
Now look what is being done next. Now, with that caliphate, on the one hand, everything seems to be at war, but on the other hand, you say, the Russians are not bombing them, most of the attacks are not against the caliphate and that Islamic state. But take the other side. One of the main sources of financing is oil, which the Islamic state sells through Turkey, is it wrong? But Turkey is a member of NATO, an ally of the United States, and for some reason they allow the Islamic state, thanks to oil, to have its own budget.
Further, artifacts from all museums come through Europe, through Turkey ... they are stolen ... yes, human trafficking - all this is done by the NATO countries and this European Union knows perfectly well who this oil goes through. But it does not seem strange to you that, if desired, all this could be stifled through finances, but for some reason this is not done. For some reason do not.
And now look. I will start from the other end. This caliphate claims? And on the walls they write in Syrian cities, I saw a lot of videos: "Today is Syria, tomorrow is Russia, the day after tomorrow is China." Different languages. They don't even hide where they will go. This caliphate - he also creates the world Islamic state. He also claims to be Muslims in China, and Muslims in Russia, isn't he?
So I'm not talking about Central Asia! And he claims on Iran and India, right? But what he does not claim? And he claims to Europe, through refugees. But what does he not claim, this caliphate? It doesn't claim the United States at all, because they are far away and cannot sail on ships. And now, even if we discard the possible version, who this caliphate gradually pushed and created, even if this phenomenon and spontaneous, arisen due to any such processes in the Arab world, then for the United States this caliphate is really a gift of the Lord God! Because what Obama said recently and repeats it - who is their biggest enemy? Near this Islamic state. China and Russia. So now this caliphate is against whom? ... They deny it openly ... Oh, there is, there is, I can give links! There are, there are in official documents, China is named, in all strategies, and so on ... Now look: benefit. So you will now fight with this education, which is so useful to you? Now we will remember one more fragment. Fact. George Friedman, president of Stretfor. Here is his famous speech. "Our task in the next decade is not to allow Russia and Germany to reach an agreement between themselves."
Well, this is not what I'm saying - so says Friedman: "Islamism is the problem of the United States, but not a vital threat. It is necessary to do them, but applying proportional efforts, no more. We have other interests in foreign policy. The main foreign policy interests of the United States over the past century, during the First and Second World Wars and during the Cold War, concentrated on relations between Russia and Germany. Because united, they would become the only force representing the vital threat of the USA. Our main task was not to allow such a union. "
And this caliphate did not serve the same, through refugees? And so on. Well, how can you not see this, colleagues? I just wonder how these facts fly out of your head ...
And now look, I finish. China, which today has an analogue of SWIFT, has an analogue of the International Monetary Fund, which bought gold, which is essentially preparing to adopt the entire global financial system - this is a knife to the throat of the United States. Knife! And this caliphate, if it arose spontaneously, then I, in the place of the United States, would have just cherished it, I would have endured it, and, as Hitler's Germany had once been, I would have directed such a force in the direction I needed.
And now about Lithuania ... All these processes that we are talking about now, in fact, are reflections of a large global conflict. This conflict boils down to the fact that the United States will not be able to print a dollar. There was a real threat to their main export product. And worst of all, Lithuania, which is just six in this game and it would be better for her to stand aside, we took the position, we got involved in one of the parties to the conflict, and then when there is a conflict, then there is a winner. And the one who will be the winner in this conflict, alas, will decide the question of our statehood. We did everything to surrender to the mercy of the winner. This is the result of our stupidity.